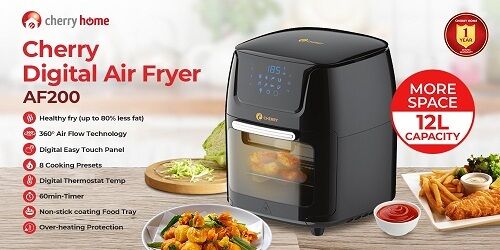 With all the scrumptious dishes you've gobbled up in the past month, we're betting that you've sworn to a healthier
path this New Year. Don't worry for you can still "commit to be fit" without turning your back on fried recipes with the
Cherry Digital Air Fryer AF200.
To start, this cooking essential has a Healthy Fry feature which significantly cuts 80% of fat and oil from your food.
That only means, you can continue feasting on the crowd favorite Fish and Chips or still have your chicken nuggets
for breakfast. No more drenching your bites in oil to make them crisp and golden brown with the 360° Air Flow
Technology that will still give you your desired outcome with just a swoosh of oil.
Make your Household Chores Easier with CHERRY Digital Air Fryer and Clothes Dryer Ionizer
Not only will this essentially trim down your cholesterol intake but also the time you spend in the kitchen. With it's
eight cooking presets and over-heating protection, you can simply throw your frozen goods or viands in the tray and
leave them until finished. Instead of hanging around the kitchen, why not quickly work out in the living room? Now,
that's one way to stay fit and productive.
What else are you waiting for? Start your weight-loss journey now and get the Cherry Digital Air Fryer AF200 for
P7,000 at CherryShop.
Meanwhile, stay tuned to Digital Reg's review of the CHERRY Digital Air Fryer which has a large capacity of up to 4.5L, allowing us to cook huge servings of our best dishes.