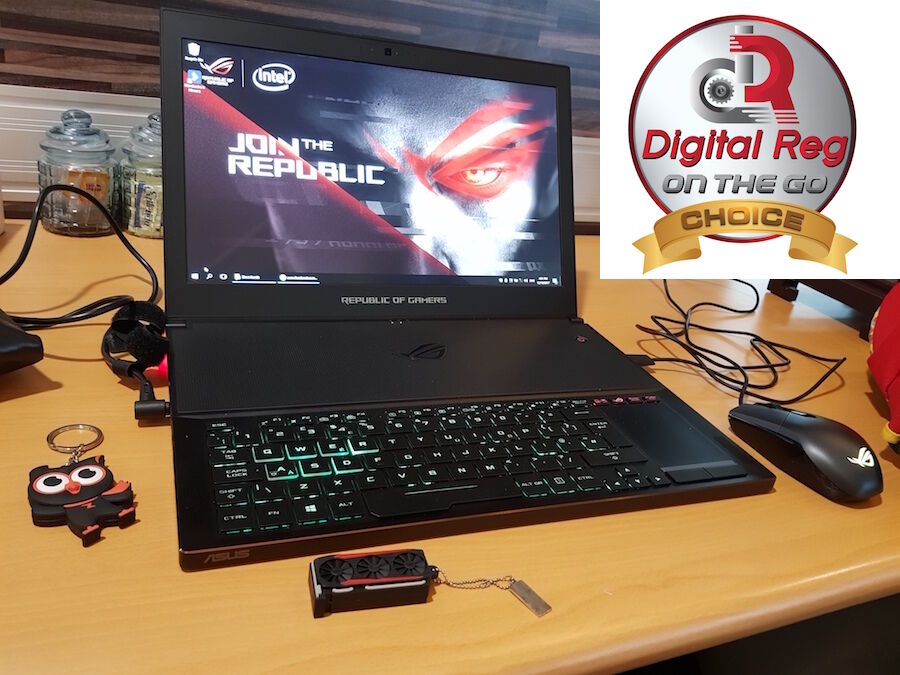 Months ago, I was told that I would be reviewing the ASUS ROG Zephyrus GX501 which was launched locally last June. I didn't take it seriously because I've never really reviewed an ROG laptop before, or any gaming laptop for that matter. But last month, I was sent a heavily packaged box with a laptop review unit inside. Rays of light greeted my face and angels sang Hallelujah in the background – the review unit was the mighty ROG Zephyrus!
Before I continue, I would like to advise everyone that this review will not contain too much technical details. I just like to relate my experience of using this gaming laptop as my daily workhorse.
ASUS ROG ZEPHYRUS GX501 SPECS:
| OS: | Windows 10 |
| --- | --- |
| Display: | 15.6-inch full HD IPS display, 120Hz, NVIDIA G-Sync technology, 1920 x 1080 resolution |
| Processor: | Intel Core i7-7700HQ processor |
| GPU: | NVIDIA GeForce GTX 1080 with Max-Q Design , with 8GB GDDR5 VRAM |
| Storage: | 512GB PCIE Gen3X4 SSD |
| Memory: | 24 GB DDR4 2400MHz SDRAM |
| Connectors: | 1 x type C USB3.1 (GEN2) Thunderbolt; 1 x Microphone-in/Headphone-out jack; 4 x USB 3.0; 1 x HDMI, Support HDMI 2.0 |
| SRP | P179,000.00 |
THE LOOKS AND FEEL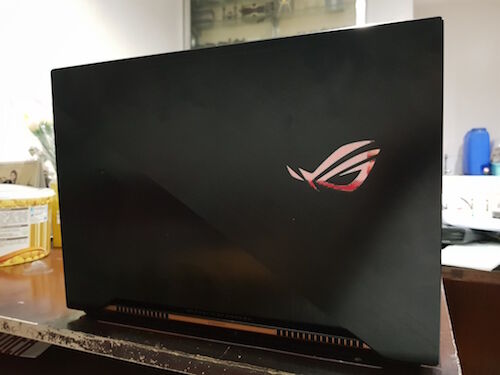 My first encounter with the ASUS ROG Zephyrus GX501 was its launch in Taipei last May. Our jaws dropped when it was shown on stage with ASUS Chairman Mr. Johnny Shih, and even better, the floor was filled with all our salivas when we got close to it in the exhibit area (okay, sorry that gross thing didn't happen.)
I was still in awe months after, marveling the design of the machine made of aluminum chassis from corner to corner. Its unusual thin profile is a refreshing look from the usual chunky gaming laptops we often see nowadays. The Zephyrus is the most elegant and professional gaming laptop I've ever seen and held in my life. It got a lot of stares whenever I use it in a coffee shop, which I reckon is a good sign.
Now that I've got that out of the way, some of you up to now are wondering why the keyboard was unusually and awkwardly placed at the front of the chassis where the trackpad is usually located and rest our palms. ASUS designed it that way so they can place the GTX 1080 GPU video card and other internal components at the back. To cool them off, ASUS incorporated the Active Aerodynamic System (AAS) ino the laptop. Opening the Zephyrus means it will also slightly open the chassis at the back for ventilation, so don't panic because it's not a defective unit.
Back to the keyboard, ASUS Aura RGB lighting technology not only provides backlight but it also makes the gaming laptop really cool and awesome.
THE DISPLAY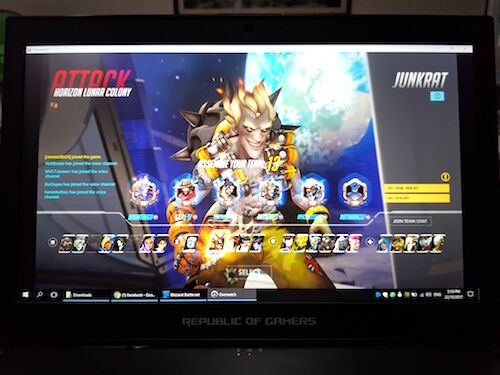 The ASUS ROG Zephyrus GX501's screen is a 15.6-inch IPS display with Full HD resolution. I have never seen this kind of screen quality on any laptops I've used before. The reason for this is because this machine supports the full sRGB gamut which is a godsend for all graphic artists, video editors and of course, gamers. The 120Hz refresh rate and NVIDIA G-Sync support definitely made my playing experience really smooth even in chaotic gameplays. No lags at all!
Using the laptop outdoors is a different story. The screen that is being raved indoors is not really great for viewing outdoors. Unless you really need to work on something, just use the Zeph indoors.
THE PERFORMANCE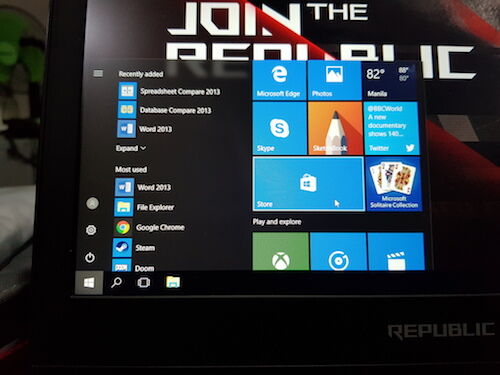 During the review period, I used the ASUS ROG Zephyrus GX501 as my main work laptop. I brought it everywhere I go where I would setup my mobile office for a few hours until I pack up and move somewhere again. I admit it's kinda punishing to carry this thing around. It maybe a thin gaming laptop, but like what I mentioned earlier the body chassis are made of aluminum which makes it heavy.
The awkward keyboard placement may disorient some users but it worked quite fine during my 2 weeks of use. The keyboard in general was alright, except for one thing – the left Shift key. I'm used to the bigger shift keys which is helpful when playing games. Unfortunately, the left shift key is shorter, so instead of pressing it with my left pinky finger, I would always press the Z key instead. It's the same issue my niece encountered when I let her play the Zephyrus so I'm sure there are some people who might experience this caveat.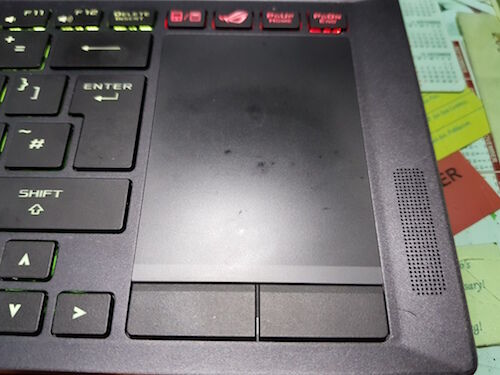 Like the keyboard, the placement of the trackpad was also unusual but thankfully wasn't bothersome whenever I had to use it. The trackpad also doubles as a numberpad and can be useful at times.
The highlight of the Zephyrus is its GPU – the mighty NVIDIA GTX 1080 Max-Q for laptops. The GTX 1080 is the cream of the crop in GPUs, and with ASUS including this GPU in a sexy slim body, the Zephyrus became the most ideal gaming laptop anybody would like to have. With this in mind, working on the laptop was easy and fluid. I edit videos for my blog and I have never edited anything in 4K. So I thought since I have the Zeph with me, why not try it out? I did, and I was pleased that it rendered a 4K video without stuttering.
As much as I wanted to install a lot of games, I was only able to install and play my two favorite games – Overwatch and Player Unknown's Battlegrounds. I was confident on pushing the video settings of Overwatch to epic and wow, I really had a grand time playing! I have never played this game before at 100 frames per second with all these settings pushed to the highest. Graphics were so awesome, it made me play for hours and not care about my pending workload.
EXTRA ACCESSORIES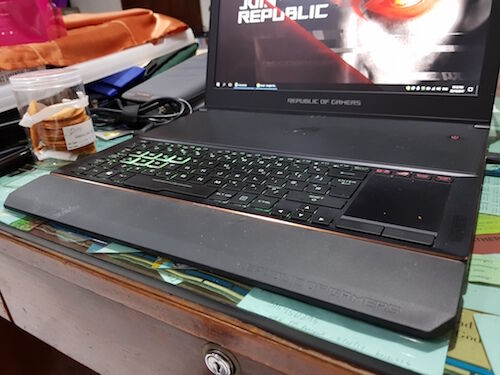 It's nice to know that ASUS included a couple of extra accessories to make my gaming experience with the Zephyrus more pleasurable. A rubber wrist rest that can be simply placed at the front of the laptop were comfortable to use. I didn't bother bringing it anywhere though.
Another nice accessory they threw in is a ROG Strix Impact mouse. The cool thing about it is it's also in RGB!
BATTERY LIFE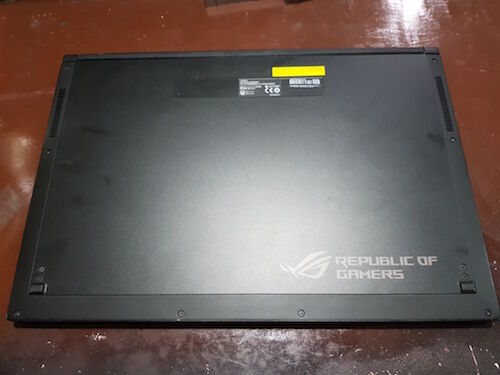 I've read mixed reviews about the battery life of the Zephyrus with some saying they were able to reach 3.5 hours while others registered a miserable half an hour. Their usage did not involve gaming.  In my case, blogging continuously lets me work for around 2 hours unplugged. Gaming on battery gave me a maximum of 1.5 hours. Unless you can't find a power outlet, make sure to plug the Zeph to bring out its best performance.
LED ZEPHYRUS – GOD OF THUNDER GAMING
If I would have a way to own this machine, I would name it Led Zephyrus, or Led Zep for short as a homage to my favorite band Led Zeppelin. The legendary band's guitarist Jimmy Page was described as the God of Guitar Thunder for his roaring riffs. The ASUS ROG Zephyrus GX501 has similarities with Jimmy and Led Zep. It gives a thunderous unparalleled performance in a sleek profile not usually seen in gaming laptops. Having said this, I call the Zephyrus as the God of Gaming Laptops.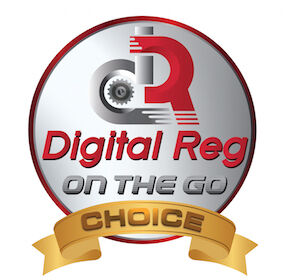 And by the way, this Zeph receives a DR's Choice Award too! It is now a candidate for DR's Gaming Laptop of the Year which will be announced next month.
PROS:
Thinnest gaming laptop
High-end specs
Gorgeous screen
RGB Keyboard
CONS:
Quite heavy
Awkward keyboard and Trackpad Placement
Dismal Battery Life