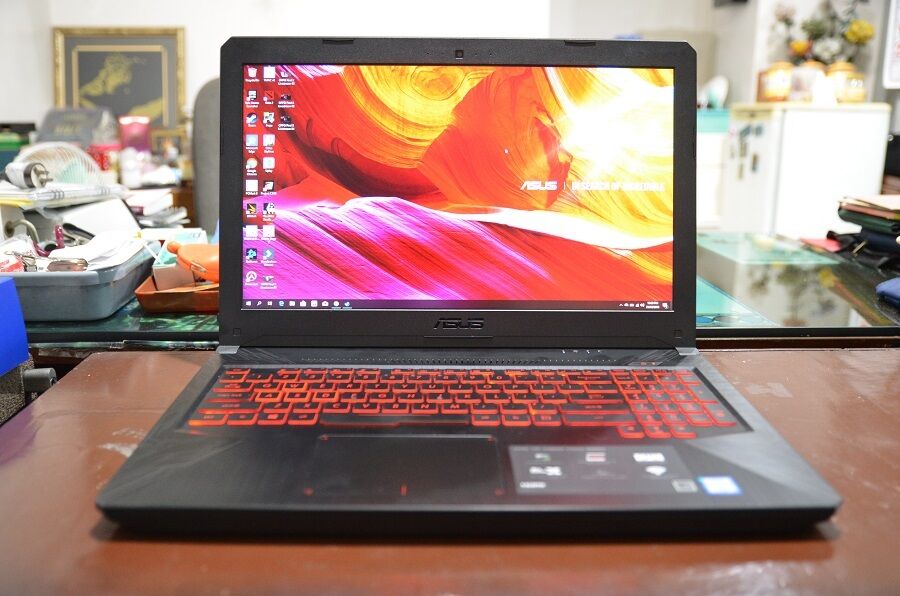 I received the review unit of the new ASUS TUF Gaming FX504 a day before my trip to Taipei to COMPUTEX 2018. I wanted to bring my ROG Strix GL502 VS but its weight and thickness made me choose the FX504 instead. I'm aware that using a FX504 review unit a day before a very busy work week without breaking in may be a bad idea, but that's the fun part of the review (as long as it doesn't interfere with my work.) So how did it fare? Read on to know more about my FX504 review.
ASUS TUF GAMING FX504 SPECS:
| OS: | Windows 10 |
| --- | --- |
| Display: | 15.6-inch full HD TN display, 120Hz, NVIDIA G-Sync technology, 1920 x 1080 resolution |
| Processor: | Intel Core i5 8th Gen - 8300H processor |
| GPU: | NVIDIA GeForce GTX 1050, with 4GB GDDR5 VRAM |
| Storage: | 1TB SATA HDD, 8GB SSHD storage |
| Memory: | 4GB DDR4 2666MHz expandable up to 32GB (2 slots) |
| Connectors: | 2 x USB3.1 (Gen1); 1 x USB2.0; 1 x 3.5mm Headphone/Microphone jack; 1 x HDMI 1.4; 1 x RJ45 LAN |
| SRP | P56,995.00 |
TUF GAMING
TUF (The Ultimate Force) Gaming was originally the branding of gaming motherboards that are more affordable than their ROG counterparts. As more and more people are starting their interests in gaming whether by building their first PC or buying their first gaming laptop, the TUF Gaming series would address this need to provide reliable and affordable gaming laptops, accessories and peripherals to end-users. The FX504 is the first gaming laptop of this series, though you won't see any logo of it on the laptop itself.
THE LOOKS AND FEEL
The design of the FX504 is almost similar to its predecessor, the FX503 but with a bit of aggressive and futuristic patterns. The lid still has the quad-bladed design but accentuates the FX504's stronger persona. This model comes in four different exterior coatings and I got the Premium Steel variant which is enough to show that it isn't an ordinary laptop but it doesn't look too much of a gaming laptop either. The ASUS logo glows in red whenever it is turned on.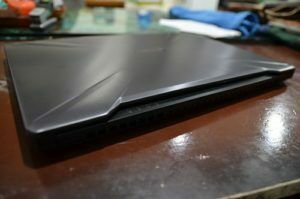 The FX504 has a thin profile at 24.2 cm and weighs 2.4kg. It reminds me of the ROG Strix GL503 VD I reviewed earlier this year and this is the reason why I insisted to myself about bringing this untested review unit to COMPUTEX than my reliable GL502 VS – portability.
Full sized keyboard with red backlight. Not RGB but that's fine since it's entry-level.
All the ports are found on the left side of the laptop: power jack, RJ45 ethernet port, HDMI port, a couple of USB 3.1 ports, a USB 2.0 port and a headphone jack. I'm good with three USB ports but my complaint is the removal of the Memory Card slot. I know you can connect cameras nowadays via USB or even wirelessly but I'm an old school type of guy. I still remove the memory card from my camera and insert it into my laptop. My GL502 VS has it, and so does the GL503 VD and even the Zephyrus. Heck, most ASUS laptops I've used in the past have a memory card slot. It maybe a simple issue that can be easily resolved with a USB card reader (which by the way CD-R King doesn't sell anymore) but I think it's an unnecessary removal.
THE DISPLAY
The display of the FX504 is a 15.6-inch Full HD TN panel display. The videos I have watched were vibrant and I have no complaints even after watching TV shows and animes for 4 continuous hours. Gaming on it gave me something better. I was surprised to see my FPS meter going beyond 60 when I played games like Overwatch and DOTA 2. I then found out that this laptop has a 120Hz refresh rate. This made me happy considering the price point of this gaming laptop.
THE PERFORMANCE
Okay, so this is what happened during my FX504 review. Since I know this is a gaming laptop, I kinda expected for it to have at least 8GB of RAM. I was installing my usual games like Witcher 3 and PlayerUnknown's Battlegrounds when I realized that the laptop is running slow. Puzzled, I checked the apps that were opened and closed my photo and video editing apps. I left my Steam app download the games and Chrome browser open. However, it didn't help that much. By this time I have already suspected that my RAM maybe less than 8GB. My suspicions were correct when I checked the About section – the FX504 indeed has 4GB of RAM.
Now this left me scratching my head and I'm sure you're scratching yours as well. How in the world would ASUS release a gaming laptop with a measly 4GB of RAM? The simple answer is – it's an entry level gaming laptop. Just like in smartphones, an entry level device doesn't get all the best features of its high-end sibling. As an entry-level gaming laptop, ASUS has to cut some cost somewhere and I think the best way to make the price lower, and the easiest thing to do is to simply supply its RAM with 4GB. I'll talk about this again in a short bit.
The FX504 has an Intel 8th Gen i5 processor and an NVIDIA GTX 1050 graphics card. Despite of its 4GB of RAM, I was still able to play games out of the box. Thing is, I have to lower down their settings just to make it playable. On Overwatch, I had to lower down the video settings to play. Framerates would drop at first then after a game or two everything will become normal. DOTA 2 and Counterstrike: Go were very much playable and the graphics were smooth.
Now that I have shared my experience, the good news is there's a simple solution for your games to be played well – upgrade the RAM. There are two slots of RAM and one of them has 4GB already installed. The cheapest thing to do is buy another 4GB RAM to make it a total of 8GB. That combo should give you enough breathing space to play a lot of games. The FX504 is capable up to 32GB of RAM so it's up to you if you want to maximize it.
Unfortunately, the FX504 doesn't have an app that would control the fan speed which ROG laptops have. There are three modes to select: Silent, Balance and Turbo which can be toggled with the FN button and F5 keys. Silent mode is most recommended for documents and excel while Turbo mode is for gaming. Of course, setting to Turbo mode will make the fan noisy.
Even when playing hours of games with Turbo mode on, the CPU temperature of the FX504 was always under 70 degrees Celsius. I have never experienced a gaming laptop this cool before. I think the laptop's heat dissipation design helped a lot to prevent it from becoming hot.
BATERY LIFE – FX504 REVIEW
Doing any work or web browsing while the FX504 is unplugged will let you reach 3 hours. Gaming while unplugged, while I don't recommend it will fetch at least an hour of playtime.
DR'S CONCLUSION ON THE FX504 REVIEW
On paper, the TUF Gaming FX504 is an ideal gaming laptop for entry-level users, but if you want to play popular AAA games then it's best to upgrade its RAM to at least 8GB. Gamers who think they're high-end but with a low-end budget who would like to purchase a FX504, lower down your expectations and don't bitch about the RAM and graphics card.
PROS:
Improved design with a subtle hint that it's a gaming laptop
Thin and lightweight
CPU temperature is always cool
120 Hz refresh rate
CONS:
4GB of RAM
No memory card slot
Thank you to ASUS Philippines for loaning a TUF Gaming FX504 Review unit.