Two months after COMPUTEX 2018 when the ASUS ZenBook S UX391 and ZenBook Pro UX580 were announced, a new series of ZenBooks were introduced again. The ASUS ZenBook UX333/433/533 line claim to be the world's smallest laptop series. Even with their smaller than the average sizes of laptops, these ZenBooks offers office productivity to its fullest potential. Our friends from ASUS Philippines lent us an ASUS ZenBook UX333 review unit and as a bonus, it came in my favorite color – Burgundy Red.
ASUS ZENBOOK UX333 REVIEW SPECS:
| OS: | Windows 10 |
| --- | --- |
| Display: | 13.3-inches FHD display 1920x1080 sRGB 100% |
| Processor: | Intel Core i5-8265U processor |
| GPU: | NVIDIA GeForce MX150 |
| Storage: | 512GB M.2 SSD |
| Memory: | 8GB LPDDR3 |
| Connectors: | 1 x USB3.1-Type C (Gen1); 1 x USB 3.0; 1 x USB 2.0; 3.5mm headphone jack; MicroSD Card Slot |
| SRP | P66,995.00 |
THE LOOKS AND FEEL – ASUS ZENBOOK UX333 REVIEW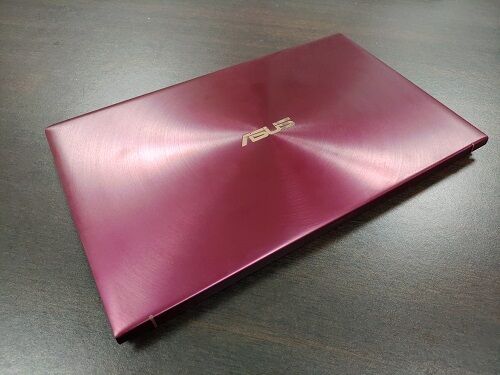 The ASUS ZenBook UX333's lid has that familiar spun-metal finish which we usually see in their previous ZenBooks as well as their ZenFone line. With the Burgundy Red color, it gives an impression that its owner is sophisticated and has luxurious tastes. It also gives an impression to your peers that in spite of that sensual color, you're just simply all business and want to get the job done.
Unlike the ZenBook S UX391, the UX333 comes with more ports. On its left side are the power jack, USB type-A and USB type-C.
On the other side are the 3.5mm headphone/mic jack, another USB Type-A port and a MicroSD Card slot.
The UX333's cover also acts as a laptop stand when opened. This would keep the ZenBook cool thanks to the airflow that goes underneath.
Aside from the Burgundy Red color, I really love its compact size! I am stunned that I can do a lot with this machine which is smaller than an A4 sized paper!
THE DISPLAY – ASUS ZENBOOK UX333 REVIEW
What everyone is raving about the ASUS ZenBook UX333 when it was announced was its display screen. Compared to other 13″ laptops, the UX333 have thin bezels giving it a 95% screen-to-body ratio. Having a laptop with thick bezels don't look cool nowadays. The display quality is generally good, but I noticed it isn't as bright as other laptops I've tested. The ZenBook S UX391 has a brighter screen than this.
THE PERFORMANCE – ASUS ZENBOOK UX333 REVIEW
Powering the ASUS ZenBook UX333 Burgundy Red is an Intel Core i5-8265U processor with 512GB of storage and 8GB of on board memory. In my opinion, these specs are good enough for a laptop targeted for office use. I am not supposed to do any benchmark tests but changed my mind so I did a few of them. Here they are:
I used the UX333 as my main laptop on the go and while in the office. There are a lot of nice advantages that this ZenBook possess. With its small size, it was easy to carry from one desk to another if I need to work with another group. It boots up really fast and I was able to open my office productivity apps without delays. I know I'm used to laptops with at least 16GB of RAM, but its 8GB of memory is already sufficient for all my workload. I was even able to do a few photo editing with GIMP and while I was not able to install my video editing software, I reckon it should also work well with the ZenBook UX333.
There's also a NVIDIA GeForce M150 GPU inside meaning it can also play some of the popular games like DOTA 2, League of Legends and Counterstike Go.
The keyboard is smaller than the ZenBook S but I was able to touch type on this machine without much trouble. If you have bigger, stubbier fingers, then you might have a problem with this laptop size. The touchpad reminded me of how I used my MacBook before. It was responsive for all my usages especially when I scroll through pages of documents or websites.
Speaking of the touchpad, another advantage the UX333 has is the ability to use the touchpad as a number pad. Genius! They must've thought about it for the ZenBook line when they made it as a solution for the ROG Zephyrus. I don't use spreadsheets quite often, but when I asked our intern to work on a spreadsheet file he found the number pad extremely helpful.
THE BATTERY LIFE – ASUS ZENBOOK UX333 REVIEW
This is my favorite feature of the ASUS ZenBook UX333. I didn't complain that much about the ZenBook S since it managed to give me an average of 7 hours of usage before the battery conks out. In the case of the ZenBook UX333, the battery life surpasses that and it gave me an average of 10 hours a day! I was so confident about its battery life that I didn't bother bring my laptop charger whenever I leave the house.
DR'S CONCLUSION
I praised the ASUS ZenBook S UX391 before for its performance and good looks. While I still love that notebook, I am strongly considering the ASUS ZenBook UX333 for its stable performance and long battery life. The price of P66,995 will not get you the specs mentioned for the UX333, it will also get you this ZenBook in Burgundy Red.
On the other hand, if you think Burgundy Red is too powerful for you, there's also a Royal Blue variant.
I. AM. SO. TEMPTED. TO. BUY. ONE.
Check out our video of the ASUS ZenBook UX333 in Burgundy Red.
ASUS Philippines also has a promo this Valentine's Day. Go to their page to join: https://www.facebook.com/ASUSph
PROS
Compact sized laptop that's smaller than an A4 sized paper
Thin bezels
Performs flawlessly for office work
Long Battery Life
It comes in RED!
CONS
Screen isn't as bright like the ZenBook S UX391
No Thunderbolt port