Asus Philippines sent me an Asus Zenfone Laser 6 a couple of months back. I should have opened it before 'coz I didn't expect that I'll be enjoying it this much. Read on to find out my experience with this extraordinary phablet.
ASUS ZENFONE LASER 6 SPECS
| OS: | Android 6.0 Marshmallow |
| --- | --- |
| Processor: | 1.14 GHz MTK MT6753 Octa-Core processor | MALI T720 |
| Display: | 720 x 1280 5.3" HD In-Cell Touch Display |
| Wireless Connections: | LTE, Bluetooth 4.1, WiFi a/b/g/n/ac, A-GPS, GLONASS |
| Memory: | 16 GB Internal Storage expandable with a Micro SD card up to 32GB, 2GB RAM |
| Connectors: | Micro USB |
| Cameras: | 13 Megapixels (Main Camera), 5 Megapixels (Front) |
| SIM Card Slots: | 2x Nano SIM Cards required |
| Battery: | 2,300 mAh |
| SRP: | P8,990 |
THE UNBOXING
Above is the package of the Asus Zenfone Laser 6. The package is bigger than the usual Zenfones.
The package includes a Zenfone Laser 6, battery (inside the phone), USB Cable, USB Charger, in-ear earphones, earbuds and manuals.
THE LOOKS AND FEEL
After unboxing the Asus Zenfone Laser 6, I picked up the phone and admired its size and design. Yes, it's big but not too much for my hand to hold, though it's somehow peeking out of my pants pocket.
I actually liked how slim this Zenfone was designed and what I liked more is it ain't heavy as a brick! It is surprisingly lightweight for a big-ass smartphone yet it's not cumbersome to hold.
Having owned a red Zenfone Laser 5.5 for the past several months, I kinda expected for the Laser 6 to have the same matte finish. To my surprise, my red Zenfone Laser 6 has a brush metal back cover similar to the original Zenfone 2. Not that I am complaining, but I just somehow kinda got used to the red matte finish of the 5.5 variant. Anyway, the red brushed metal back still looks cool.
THE DISPLAY
The screen is the main feature of the Asus Zenfone Laser 6. It has a resolution of 1080 x 1920 which translates to Full HD. I'm glad Asus made that happen, otherwise having a 720 x 1080 resolution on a screen this large will be a bit disappointing for my eyes.
Watching videos on the Zenfone Laser 6 is terrific! I used to binge-watch on iflix on my iPhone 6s Plus but thanks to the Zenfone Laser 6's screen it became my default entertainment device. Screen is bright and details are crisp on every movie I have watched. However, I do not suggest watching under the sunlight unless you want to see your reflection on the screen.
THE PERFORMANCE
The Asus Zenfone Laser 6 is powered by a newly released Qualcomm Snapdragon 616 processor. To give me an idea how this processor would fare, I installed Antutu Benchmark on the phablet.
As we see here, the Zenfone Laser 6 got a score of 30,000+ which means it has a pretty good chipset to deliver a good performance. It actually did, and with the help of its 3GB RAM it was able to juggle all applications without much of a problem. Sometimes I had to close the other unused applications especially the heavy ones to avoid any hassles.
I mentioned earlier that I enjoyed watching videos thanks to its humongous screen. Another reason why I love watching videos on the Zenfone Laser 6 is its built-in speakers. It's very audible, and I think it's the loudest among all the Zenfones I've used.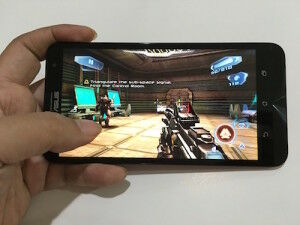 I also installed my favorite game NOVA 3 to check if the phone can handle its heavy graphics. There were some lags in the cut scenes and the dialogs of the characters did not match the animation. There are times that the gameplay played smoothly, while there are other times that I noticed that the game is playing slow.
We also reviewed the Zenfone Laser 6 on The CP Republic. You can watch it here:
THE CAMERA
As the name suggests, the Asus Zenfone Laser 6 uses the laser sensor for quick snaps. It also took nice photos on areas with low-light conditions. Here are some sample shots taken with the Zenfone Laser 6:
Overall the results that I got were great. I know there are a lot of things to tinker with the Zenfone Laser 6's camera so I will be working on them during my free time and hopefully blog it as well.
THE BATTERY LIFE
I was a bit disappointed that the Asus Zenfone Laser 6 only has a battery capacity of 3,000 mAh. With that large screen display, I think it should have been made 3,500 mAh or at least 3,300 mAh.
Based on my actual usage, I was surprised that I am averaging 14-16 hours a day with the phone on moderate use while on a busy day I was able to push it to at least 10 hours. I can't explain how this happened, maybe the processor was underclocked or things like that.
DR'S CONCLUSION
I enjoyed using the Asus Zenfone Laser 6 and I intend to use it as part of my rotation of devices along with the Asus Zenfone Max. I intend to bring this smartphone to my out-of-town trips for navigation and entertainment. I would love to watch streaming movies on the Zenfone Laser 6's beautiful display, listen to music with its loud audio speakers, and take pictures with its reliable 13 Megapixel camera. Basically, I recommend that you get this device for your upcoming summer vacation!
LIKES
Large 6-inch display
Lightweight and easy to hold
Loud Audio
Good Camera
DISLIKES
Need to update 51 pre-installed apps mostly from Asus
A bit tough on games with heavy graphics (will revisit this again soon to observe again)