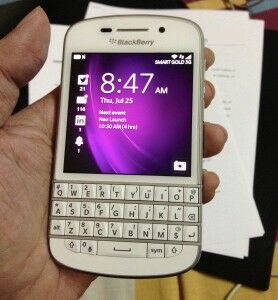 I used to be a BlackBerry user in 2011 when I needed a phone that would help me manage my emails properly. It was an essential tool for my communication needs when I became a freelancer later that year. After almost 2 years, I'm back to a BlackBerry again, thanks to the loaner unit sent by BlackBerry Philippines and SMART Communications.

SPECIFICATIONS:
OS: BlackBerry OS 10
Processor: 1.5GHz Qualcomm MSM8960 Dual-Core Snapdragon
Display: 720 x 720 pixels, 3.1 inches
Wireless Connections: LTE, HSPA+, WiFi 802.11 a/b/g/n, Bluetooth 4.0, GPS w/ A-GPS, NFC
Memory: 16 GB Internal Storage, expandable memory up to 64GB (Micro SD card), 2GB RAM
Connectors: MicroUSB, Micro HDMI
Camera: 8 Megapixels, 1080p video recording at 30 frames per second with LED flash (Main), 2 Megapixels with 720p video recording (Secondary)
Battery Capacity: 2100 mAh Li-Ion
SIM Card Slot: Micro-SIM
SRP: Php 32,990.00
(Available at Smart All-in Plan 1200 with a monthly amortization fee of Php 400)
That Familiar BlackBerry Look
We all know how a BlackBerry smartphone looks like, don't we? The BlackBerry Q10 has that familiar look, with some changes. Screen is noticeably larger, squarish in fact with a 720×720 screen resolution. Having a square resolution looks odd but I always welcome a bigger screen. I would like to note that even if the BlackBerry Z10 has a larger display than the Q10, the latter sports a Super AMOLED screen. This is the reason why existing Q10 users noticed their phones have bright displays.
The screen size may be bigger now compared to the previous BlackBerry Bold models, but that doesn't mean that the device is longer. The Q10 is almost of the same length as the BlackBerry Bold 9900, and to maintain that same size they have removed the navigation buttons and trackpad which are usually found on top of the keyboard. It makes sense to remove it since the Q10 has a touchscreen anyway, and the BlackBerry 10 OS has more touch-centric functions compared to its previous OS.
The keyboard layout is now straight than its usual curved shape form. This may bother some users but it certainly didn't bother me. I enjoy using the keyboard (who wouldn't?) which offers tactile feedback.
The BlackBerry Q10's build is solid, and the white colored-coating definitely doesn't look cheap. Yup, it certainly feels good to hold a BlackBerry again after a long time.
BlackBerry 10 OS
My last BlackBerry was a Bold 9700 with OS6, so when I started using the Q10, I was like "where's the homescreen again?" On the BlackBerry OS 10, the homescreen is where your apps are located. Since this is a touch-centric OS, it took me a couple of days to remember ways of swiping on the screen for the functions to work. The learning curve to learn these is not too hard and I can assure you that you'll get used to it too in a short period of time.
Swiping upwards will show you Active Frames where you can see your active apps. If you're using another app. you can take a peek of your missed calls, SMS, e-mails and social network notifications by swiping up without releasing your thumb. Swiping downwards from the top of the screen will reveal the settings of the phone or an app you're currently using, and swiping to the right will lead you to the BlackBerry Hub.
Remember these basic steps and you should be fine.
Multi-tasking on the BlackBerry Q10 is made possible with Active Frames. You can switch or close any of your 8 opened apps while on this window. The BlackBerry Hub is where you can find all your communication and social media accounts and I find this very helpful. With the BlackBerry Hub, I don't have to go to a separate app or mailbox to check my feeds. A person like me who multi-tasks a lot on a smartphone will appreciate Active Frames and BlackBery Hub.
Instant Action is the latest feature to be added on BlackBerry OS 10.1. It's basically a universal search function that can also let the user enter a command like "Call Dad" or "BBM DJ Matt". I used Instant Action a lot, in fact, I depended on it during the whole course of my review.
There are some popular apps that area already available on OS 10, but not all of them unfortunately. Instagram is still absent from the App World, but there is a workaround for this app shortage by "side-loading" Android Apps to the Q10. Take note that not all apps side-loaded to the phone are guaranteed to work.
Unlike previous BlackBerry phone models, the BlackBerry Q10 doesn't require Blackberry Internet Service (BIS) to be activated. No more specific subscriptions. All you need is an internet connection, whether it's WiFi or 3G/HSPA.
Camera
The camera of the BlackBerry Q10 is great and took decent photos outdoors and well-lighted areas. What I discovered in using the Q10's camera is I don't have to hold the phone in a different position to take landscape photos. It's convenient to take good landscape photos with one hand only.
Battery "Berry" Good
The battery of the BlackBerry Q10 is pretty impressive. With my daily activity that consists of calls, e-mails, instant messaging and watching videos, the Q10 gives me an average of 15 hours of battery life per day. Take note that I am not using LTE for this review so my usage per day is longer. For those who need an extra battery/powerbank, BlackBerry offers a battery charger bundle accessory that will let the user charge a spare battery or act like a powerbank while connected to the Q10.
BOTTOMLINE
During my usage, I seriously contemplated on moving back to a BlackBerry. Anyone who has used a BlackBerry would always say they missed using a physical keyboard, and I do miss it too. They keyboard is not just a factor, the whole OS 10 experience was also pretty good for my communication and social media activities on the smartphone. The impressive battery life made it possible for me to use the Q10 during a business day without bringing a powerbank.
What's holding me back? The lack of apps. Not all Android apps I rely on can be sideloaded to the Q10 and I am not certain if they will ever see their existence in the BB App World. If ever they will in the near future, I will seriously consider the idea of switching to a BlackBerry Q10.
LIKES:
BlackBerry OS10 offers easy multi-tasking and Instant Action features
Love the built-in keyboard!
"Berry" good battery life
DISLIKES:
Lack of apps in BlackBerry App World
* Special thanks to BlackBerry Philippines and Smart Communications for loaning me a review unit.