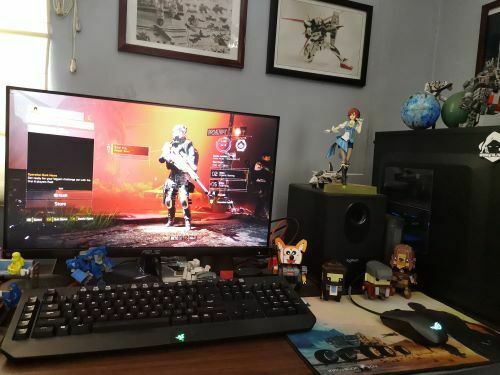 Before I ended up with the ASUS VP249QGR review, I was in the market recently for a new monitor to replace my (really) aging Samsung PX2370 monitor I bought almost 10 years ago. The following are requirements  I need to have in a new gaming monitor. It needs to have a high refresh rate. A monitor that uses IPS technology as IPS then were slow, and more expensive. Monitor should have a bigger screen size starting at 27" and have a higher resolution. And finally, the new monitor should be at an affordable price, as I am saving up on a new build.
With prices of gaming monitors having gone down to less than Php 10k in recent years, thanks to the arrival of "new name" brands overseas that offered gaming monitors at very competitive introductory prices. While the more established brands, like ASUS, ACER, ViewSonic and others, have been releasing gaming monitors to their higher tiered product lines. I was going to try my luck on one of these new brands then, but…
ASUS for its part, have released a low cost gaming monitor: the ASUS VP249QGR just around the end of last year outside of the country. Then ASUS shared a press release recently of their TUF 280Hz IPS gaming monior, as well as the VP249QGR's availability here in the Philippines. With my own money, I bought the VP249QGR last March, just before the quarantine began. Now, I'll be doing a review of the budget gaming monitor, the ASUS VP249QGR.
Features – ASUS VP249QGR Review
Hardware
The ASUS VP249QGR offers a bezel/frame less design offering a 23.8" screen. It is made up of mostly high grade ABS plastic for both the monitor and base, with a sturdy steel skeleton (for the base and parts of the monitor). It is VESA mountable, allowing for additional flexibility, should I get another unit and set-up a dual monitor configuration. It makes it a fairly light monitor in my opinion, easily holding it and attaching the base without effort. The only set of cables I found included are the power cable and an HDMI cable.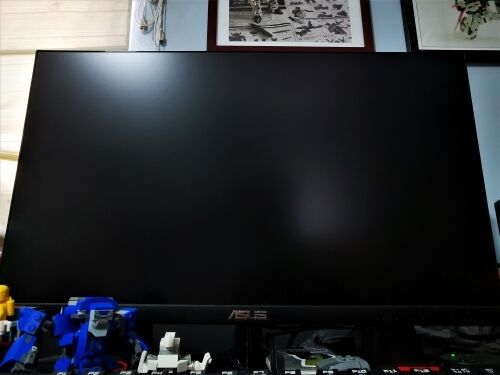 It uses a full HD (1080p) IPS panel, which gives a 178 degree viewing angle and 72% NTSC/99% SRGB color gamut. This gives the monitor 16.7 million colors to output onscreen. Response rate is 1ms MPRT and 4ms GTG, a fair trade-off for using an IPS panel. And the important spec for gaming monitors is the refresh rate. The VP249QGR's refresh rate is at a fast 144Hz, a very impressive feature, given the panel type and price range.
On-board Menu
Along with the hardware features, this gaming monitor comes with a suite of on-board video features. It carries the SPLENDID Video modes (8 modes), Blue Light, Extreme Low Motion Blur (ELMB), Skin Tone, Color Temperature, and GamePlus. These are controlled through a set of buttons on the bottom right side of the monitor.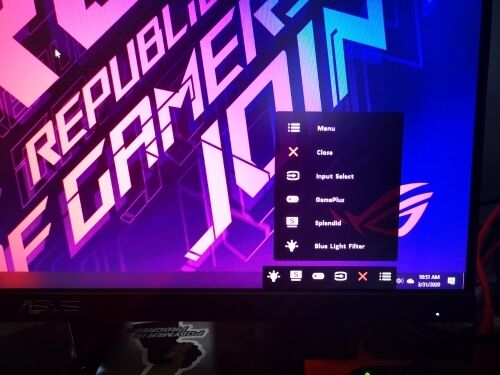 Ports
The monitor has the following ports to connect to the PC: DVI, HDMI (with cable), DisplayPort, and Audio In. Power is directly connected to the monitor and does not need a separate adapter for it.
As an addition, it also comes with built-in speakers! There are two 2-Watt speakers located below the monitor. Now let's see how the monitor stacks up.
Performance – ASUS VP249QGR Review
General Use
After pulling the ASUS VP249QGR out from the box and plugging to the PC and power, the monitor will initially run on 60Hz refresh in Windows Desktop. We will need to switch to 144Hz under the display property settings as it will be detected as a new device. Based on my observation, screen output looked sharper than normal after the switch. A simple test can be done by rapidly shaking the Advance monitor and graphics driver properties after setting to 144Hz. I noticed the smooth movement of the dialog box as I rapidly shook it with my mouse.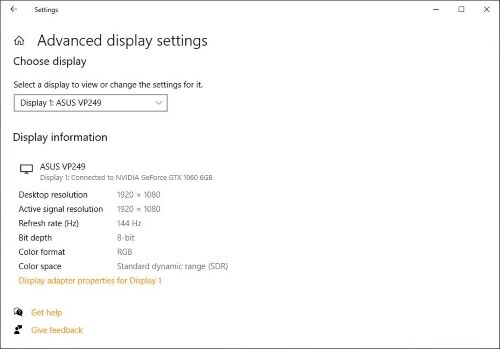 For color, sharpness and response, I again tested it with the online Eizo Monitor Test. While the result showed great color accuracy and sharpness, the response time test did show a difference from my old monitor and comparably better than the bigger Designo MX38V I previously reviewed. The test registered lower response time to that of its 38" brethren. Like the Designo Curve, I can do better image processing out of it; albeit lacking screen real estate when opening multiple windows.
Gaming
For gaming, it's a notch above my old monitor (Samsung PX2370) in both color and performance. Both have the same brightness values , but color wise the ASUS VP249QGR beats the older TN monitor by more than a mile. Playing both Division 2 and Daemon X Machina returned incredibly rich colors. However, its resolution is still stuck with 1080p FHD, which is now dated. On the bright side, my current gaming machine will be able to handle 1080p gaming well. I found no screen tears while playing either games, especially with the high speed action in Daemon X Machina.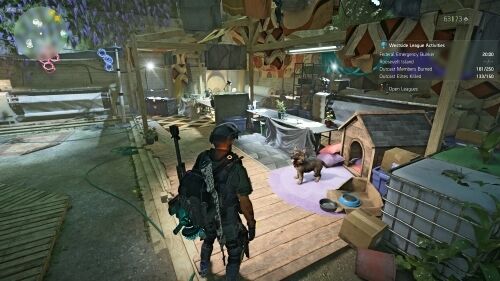 Now as for the size, I don't mind the 23.8" monitor at all on my desk. It feels just right. While the bonus of the likes of the Designo MX38V Curve is its higher resolution, and larger screen for work, my primary purpose for my desk is simply for gaming, which I'd focus more on the aspect of having better color/brightness AND refresh rate that things wouldn't be a blur while playing.
And I almost forgot about the speakers… they're bad. But can be used as a back-up if we're only listening to like an audio book, or testing system sounds.
Summary
Kudos to ASUS in releasing a budget friendly gaming monitor, even if it doesn't have the ROG badge. While other monitors at the price range offer just one out of four features or the most two, but having either an expensive price (mostly expensive), the features packed into the ASUS VP249QGR is hard to beat. I could've gone with a 27" 144Hz curved monitor from a "new" brand, but one thing I forgot to add into the requirements was warranty and reputation for quality, which ASUS has. And that I did, and I end up buying a pair of 8GB DDR-4 3200 memory sticks for my next PC as extra from my budget.
PROS:
IPS Panel: Rich Colors
144Hz Refresh Rate
Very Affordable price (Php 10,450 SRP, but can be cheaper in some stores that officially carry ASUS products)
CONS:
1080p FHD resolution, already dated
Cheap construction, mostly plastic
Speakers. What Speakers?