For someone who isn't very fond of watches, can this watch turn it all around?
Watches are definitely not my thing. I think they're expensive, not that functional, and quite stuffy on my wrist. Plus, I lose my things easily. However, once I got my hands on the Cherry Mobile Flare Active, it was definitely a game changer for me.
A smartwatch for less than Php 1,500 that's thin and lightweight?
THE UNBOXING: CHERRY MOBILE FLARE ACTTIVE REVIEW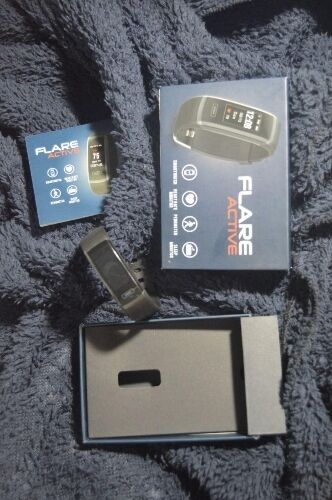 WHAT YOU'LL GET: The watch, the warranty card, and the user's manual. The charger for the watch is under its straps.
THE LOOKS AND FEEL: CHERRY MOBILE FLARE ACTIVE REVIEW
The flare active is very minimalistic in design and that works splendidly for me! Recently, I brought this with me to our field trip and it perfectly matched with my outfit. The all black color doesn't pose much of a problem to me because the solid color makes the watch versatile to whatever you pair it with. The straps are all made of rubber so it would work fine with sweat. The only thing I had to get used to in terms of feel was that the watch body too long for my taste. When I ran around with it more though, the discomfort soon floated away. If you'd feel the same, the straps work the magic! Also, it's so light it's barely noticeable.
THE PERFORMANCE: CHERRY MOBILE FLARE ACTIVE REVIEW
You can connect the watch to its official app, Wearfit. It synchs the watch to the time, date, and makes adjusting settings so much easier! It also opens more functions than using the watch as a standalone.
I first took it for a whirl when I rode my bike across the neighbourhood. There was no hassle for me and I biked around as usual. It's simple to use and if I had to check anything, all I had to do was tap the bar below the screen.
I managed to ride around at 1.1km!
There are many functions present such as, time, steps, kilometers covered, calories burned, heart rate, sport, sleep, stop watch, messages, and a phone finder!
You'll see first in the app it's three main functions: Steps, Sleep, and Heart Rate. However, all along I wasn't able to see my heart rate at my phone though the watch was in sync with the app. I can see my heart rate at the watch but not the app. The app also crashed a few times while I was exploring into it. There were these functions that I liked!
I can also check my progress towards a healthy lifestyle with the app conveniently! There are charts for daily, weekly, and monthly progress.
There's a few more functions to see within the app, such as a user info, health weekly, picture mode, run mode, device management, and settings.
THE BATTERY LIFE: CHERRY MOBILE FLARE ACTIVE REVIEW
It lasted me about a week before the battery went totally down. I didn't use it much then. By practice, whenever I checked the time, I still used my phone. However, charging only took about an hour and a half so it's definitely a good choice should you be chasing after battery life. To charge, you'll only need to connect the watch to a USB charger or a laptop.
CONCLUSION
The Cherry Mobile Flare Active is an awesome, ultra- convenient watch! Though it has its flaws in the app department, it fulfills its smartwatch responsibilities well. To be versatile with any outfit, to last long in battery, and to provide lots of functions. If I wanted to try out a smartwatch for the feel, I'd choose the Flare Active as my first time. For only Php 1,299, it's definitely worth a shot.
YASSS
Affordable
Long battery life
Multi-functional
Minimalistic
NAAAH
Faulty App
Can't perform all functions