Dual-lens cameras on smartphones became popular thanks to the commercial success of the Huawei P9 last year. Other phones have followed suit, including the iPhone 7 though their secondary cameras have different functions. It didn't take too long before Cherry Mobile would also release their own dual camera phones. They announced the availability of the Flare P1 and P1 Plus last summer and today, I will tackle the smaller and cheaper P1 which may interest people who are looking for an affordable dual-lens camera smartphone.
CHERRY MOBILE FLARE P1 SPECS:
| OS: | Android 7.0 Nougat |
| --- | --- |
| Processor: | 1.3 GHz MTK 6580 Quad-Core processor | MALI T720 |
| Display: | 720 x 1080 5" HD IPS Screen |
| Wireless Connections: | 3G, Bluetooth 4.1, WiFi b/g/n, GPS, A-GPS |
| Memory: | 16 GB Internal Storage expandable with a Micro SD card up to 32GB, 1GB RAM |
| Connectors: | Micro USB |
| Cameras: | 13 Megapixels + 2 Megapixels (Main Cameras), 5 Megapixels (Front) |
| SIM Card Slots: | 2x Micro SIM Cards required |
| Battery: | 2,350 mAh (Removable) |
| SRP: | P3,999 |
THE UNBOXING
The Cherry Mobile Flare P1 package includes the usual accessories. Inside are the Flare P1, battery, USB Cable, USB Charger Head and a pair of earphones. The bonus here is the inclusion of a Cherry Prepaid SIM Card which the user may use right away and enjoy cheap call and text rates.
THE LOOKS AND FEEL
After reviewing the Flare J1 2017 recently, my hands got acquainted immediately with the Cherry Mobile Flare P1's slimmer profile. It's made of plastic alright, but at least it's not thick like the Flare J1. Because it's slim, the phone feels light and easy to hold. The chrome lining on its side may fool anyone into believing that the phone's sides are made of metal.
THE DISPLAY
While other smartphones in the entry-level segment have qHD screen resolutions, the Flare P1 comes with a 720 x 1080 HD screen. Cherry Mobile did the right thing by choosing an HD screen so that users will experience smoother images and larger screen real-estate. Pictures looked fine and watching videos were satisfactory, and I think people who intend to buy this phone will have the same experience too.
THE PERFORMANCE
The MTK 6580 is the choice of Cherry Mobile for the Flare P1's processor. As you can see in the Antutu score above, the Flare P1's chipset isn't suited for graphic intensive apps and games. Nevertheless, it is capable enough to run common social networking apps like Facebook, Facebook Messenger, Instagram and other common apps. I had no problems making phone calls or sending text messages with the Flare P1, but I was disappointed to find out that it does not support LTE.
Can anyone play Mobile Legends with it? Yes, it can. However, games with intense graphics such as NBA 2K17 might give you a hard time when played at its highest video settings. It is strongly suggested that you adjust it to its lowest settings to be able to play. I won't guarantee it won't stutter anymore but at least you can still play it. I understand why the Flare P1 only has a measly 1GB of RAM because obviously they have to lower down the cost of the phone.
At least the Flare P1 already comes with the latest Android 7.0 Nougat. Thing is, there may not be any updates for it.
THE CAMERA
The main feature of the Flare P1 is the aforementioned dual lens camera. If you have used a Huawei P9 or an iPhone 7 before, you need to lower down your expectations because doing the "bokeh" shots is a bit difficult on the Flare P1. To make your bokeh shots work, the subject of the photo should be positioned at the center of the auto-focus frame. Tapping the screen with your finger will make the camera focus on a subject, after which you can adjust the blur of the background.
Here are some sample photos of the bokeh shots:
It's good to know the bokeh feature works. However, not all shots will give you positive results, so I suggest finding the right angle to take that photo. Focusing is also slow compared to its high-end counterparts. You'll need to be extra patient on focusing the subject.
Depending on the amount of lighting, quality of the pictures can turn out to be decent. But there are times were some photos look washed out and do not have the correct colors. These are common in Cherry Mobile entry level smartphones. It could be "okay" for those people who just want to take photos, but definitely this will disappoint advanced smartphone users and experienced photographers.
THE BATTERY
The 2,350 mAh battery of the Flare P1 can last you at least 8 hours when connected to WiFi, an hour of gaming and occasional viewing of YouTube videos.
BOTTOMLINE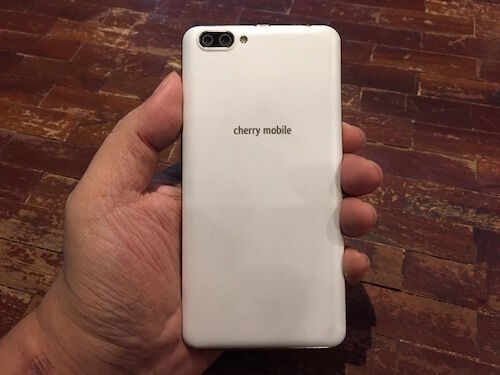 Patience is needed if you want to take these artistic photos with the Cherry Mobile Flare P1. Once you get the hang of it, then your photos should turn out fine. If you have the extra dough, I suggest getting its bigger brother, the Flare P1 Plus which I think takes better pictures.
PROS
Dual Lens Camera
HD screen display
Slim form-factor
CONS
Blur is circular. User needs to find a good angle to create a good bokeh effect.
Auto-Focus is slow.
No LTE connectivity
CONTEST TIME!!!
I will be raffling off a Cherry Mobile Flare P1. Please read these contest mechanics to join:
1. Like DR on the GO's FB page. 
2. Share my Cherry Mobile Flare P1 Review on your Facebook page and tag 5 of your FB friends. Please share this link: http://bit.ly/CMFlareP1
3. Lastly, answer this question: If you have a Cherry Mobile Flare P1, who/what will be your subject in your photoshoot?
Post your answers in the comment section of the Flare P1 Review. Please be creative in posting your comment. The best answer will win a Cherry Mobile Flare P1! Make sure to follow all these 3 easy steps as I will check them one by one.
Contest will end on 11:59pm, July 21, 2017. Announcement of winner will be held on DR on the Go's Facebook page via FB Live.
CONTEST RULES:
1. Participant must live within the Philippines.
2. If one of the contest mechanics is not followed, participant will be disqualified.
3. Winner will be notified via Facebook. Prize will be given via meetups.
4. If winner is outside of Metro Manila, prize will be shipped. Winner will shoulder the shipping expenses.