INTRODUCTION
The sub-P5,000 segment is a very lucrative segment for smartphone makers. These days you can get a lot of the same features found in high-end smartphones in that segment. All thanks to the trickle-down effect, whereby the high-end features of yesteryears are now prevalent all along the product stack.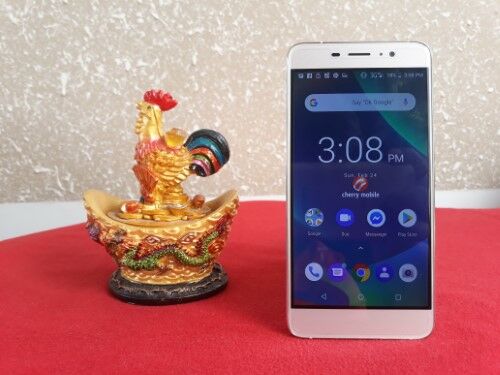 But just how much of these features can you cram into such a low price? For the Cherry Mobile Omega HD Duo, it turns out there's quite a lot.
CHERRY MOBILE OMEGA HD DUO SPECIFICATIONS
Cherry Mobile Omega Lite 4
OS:
Android Oreo 8.1
Processor:
MediaTek MT6737VW 1.30 GHz (4x ARM Cortex-A53)
Mali-T720 GPU
Display:
5.3" 1280x720 IPS LCD
Wireless Connections:
Dual SIM
4G LTE support
WLAN 802.11 b/g/n
Bluetooth 4.0
Memory:
2 GB RAM
16 GB internal storage
microSD up to 128 GB
Connectors:
Micro USB 2.0
3.5mm audio jack
Cameras:
Rear cameras: 13 MP + VGA w/ dual LED flash
Front camera: 8 MP w/ single LED flash
SIM Card Slots:
2x Micro SIM Cards

Battery:
2,650 mAh
SRP:
P4,999
DESIGN AND BUILD QUALITY
The last Cherry Mobile I reviewed, the Omega Lite 4, was one of the lightest smartphones I've ever held. Even though it carries the same name, the Cherry Mobile Omega HD Duo is on the opposite side of the spectrum. This is one reassuringly hefty smartphone. Thanks to its aluminum frame, the phone has very rigid and solid feel to it. The chamfered edges takes me back to my old Samsung Galaxy Note 4, which used the same design. Coincidentally, this also has a removable plastic back that clips onto the body very snugly and firmly. Inside there's the removable 2,650 mAh battery, two micro SIM slots, with the second one also acting as a microSD expansion slot.
At the back is the very protruded dual lens setup with dual LED flash. The fingerprint sensor sits right below the camera and you'll often find yourself smudging the camera before hitting the sensor first. The sensor itself is responsive enough and rarely misregisters my taps.
On the front we find the 5.2″ HD screen, the front 8 MP camera, and the earpiece. The left side is blank while the right side is occupied by the volume rocker and power button. Strangely, the power button is above the volume rocker. It's usually the other way around so it took some time for me to get used to it. Otherwise, the buttons are fine and functional, if a bit mushy. The bottom is occupied by two speaker grills, though sound only comes from the left one. The microUSB port and 3.5mm jack are both located up on the top.
DISPLAY AND UI
The display is a step up from its more affordable Omega Lite 4 sibling. It's a 5.2″ 1280×720 HD IPS LCD display. That's a fairly low resolution these days. But at 5.2-inches, that translates to roughly a pixel density of 282 ppi. Text and UI elements are still fairly sharp. Being IPS, color and viewing angles are also quite good.
The protective glass isn't Gorilla Glass, but that's nothing some 3rd party tempered glass can't fix. Cherry Mobile has even pre-applied a screen protector for you. One problem I've had with the Omega HD Duo's display is the automatic brightness. There's a setting for it, but it only seems to limit peak brightness. At maximum brightness, sunlight legibility is passable. Just make sure to turn it down during the evening.
The only really noticeable change to the mostly-stock Android UI is the settings menu. The UI remains mostly untouched, such as the Google feed to the left, the app drawer, the quick settings and notification tray.
PERFORMANCE & BATTERY LIFE
The Cherry Mobile Omega HD Duo is equipped with a MediaTek MT6737VW quadcore and 2GB of RAM. Upon checking with CPU-Z however, it turns out that the ARM Cortex-A53 cores are capped at 1.09 GHz. The overall feel navigating the UI and in-app browsing is sluggish, especially in switching between apps and opening apps. It surprisingly feels slower than the Omega Lite 4, which ran an Android Go version of Android Oreo. So I really think the Omega HD Duos' more powerful hardware could've benefitted more from a lightweight OS such as that.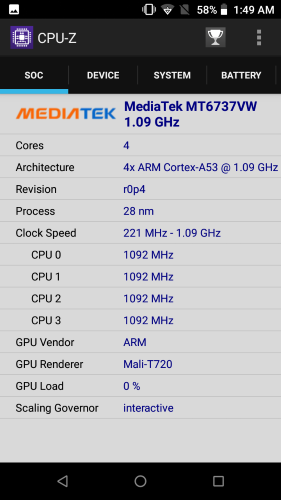 As a benchmark, I ran Mobile Legends: Bang Bang. In short, it's playable at mid 20-30 fps. But framerate drops are definitely pronounced during graphic intensive scenes.
The 2,650 mAh battery isn't high capacity anymore these days. As such, during my regular use of Messenger, Facebook, 9gag, and YouTube, the Omega HD Duo was getting me about 4-6 hours of screen-on time. All in all, you can reasonably expect the Omega HD Duo to last your regular 8 am to 5 pm day with some careful considerations of data, Wi-Fi, and GPS usage.
One thing to watch out for is that there's a screen saver turned on by default. That uses a substantial amount of power and can have a big impact on charge time. So make sure to disable it for faster charging.
CAMERA
The camera app and features is naturally more fleshed out on the Cherry Mobile Omega HD Duo than the Omega Lite 4. It now has an SLR mode. Which, not to be mistaken for manual/pro controls, is used for taking pictures with a bokeh effect. I initially thought that this mode utilized the secondary rear VGA camera as a depth sensor. But upon closer inspection, SLR mode only applies a sort of radial blur effect around the center of the image via a purely software approach.
That secondary VGA camera probably has a more important job anyway: focus. In my rudimentary focus test, which you can see below, the Omega HD Duo focuses on the foreground and background objects quite confidently. Exposure is a bit finicky, and detail is pretty scarce considering video only goes up to 720p. Good lighting is required to maintain a steady 30 fps.
For outdoor still images, the Omega HD Duo produces some useful shots. There's a tendency to oversaturate vivid colors, but shots of flora and fauna came out overall better than expected. Panorama shots also turned out nicely and exposure is handled better here than on the Omega Lite 4.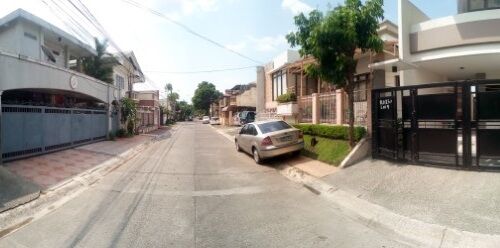 HDR mode help tremendously with bringing more light into shadowy parts. But like the Omega Lite 4, it's best not used with fast moving subjects to avoid ghosting. Here are some HDR samples you can check out (HDR Off – top, HDR On – below):
There are more settings for beauty mode which you can play around with. If that sounds too complicated, playing around with the master control alone should suffice. There's a single LED flash on the front for low light selfies too if you're into that.
Beauty Master Control 0%

Beauty Master Control 50%

Beauty Master Control 100%
CONCLUSION
The Cherry Mobile Omega HD Duo is, on paper, the logical upgrade from the smartphone basics, Android Go-powered Omega Lite 4. Hence why I've brought it up plenty of times throughout this review. The Omega HD Duo has a much more powerful SoC, a bigger battery, a better display, a much better camera, more robust build quality, and a full Android OS. It's not as fast as the Omega Lite 4, but it can certainly do any basic tasks from mobile browsing to playing games.
PROS
A step up from the Omega Lite 4 in terms of camera & battery life
Reassuring heft and metal frame feels really nice and premium
CONS
Hardware doesn't deliver substantially smoother Android experience over Android Go sibling.