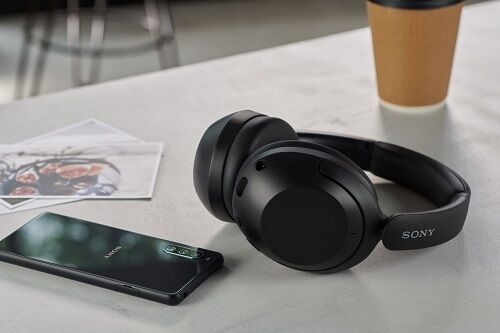 Sony is making it even easier to listen to music your way, with the announcement of a new wireless headphones – WH-XB910N. The WH-XB910N overhead headphones transport you to your favorite music venues from the comfort of your home with improved noise cancelling and outstanding club-like bass.
The WH-XB910N is equipped with soft, oval-shaped earpads so you'll never need to take a break from your favorite music, movies or shows, making these headphones the perfect companion for your travels. This is thanks to a comfortable synthetic leather and urethane materials with optimum ear pad structure and dimensions for exceptional wearability. With a handy design, the WH-XB910N allows the ear cups to swivel inwards, to be neatly packed into a compact and durable carry case, which includes a cable for wired listening so you can take your music with you wherever you go.
The WH-XB910N overhead headphones feature exceptional bass with improved noise cancelling to replicate the feel of your favorite festivals or clubs. The WH-XB910N feature EXTRA BASS for an impressively deep, punchy sound. A dedicated bass duct on the headphone housing and increased air-tightness between the driver units and eardrums help to create precise rhythms that elevate every track. All this is achieved while still maintaining vocal clarity making it sound as though your favorite artists are performing in your bedroom. With Dual Noise Sensor technology, the WH-XB910N take digital noise cancelling to the next level so you can truly shut out the world around you.
The WH-XB910N feature Precise Voice Pickup Technology, which combines two built-in microphones with advanced audio signal processing, to pick up your voice clearly and precisely for hands-free calls.
With up to 30 hours of battery life 1 , the WH-XB910N provides enough power for lengthy road trips and long festival weekends. And if you are running low, 10-minute quick charge gives you up to 4.5 hours' worth of extra play time with the optional AC adapter.
The WH-XB910N also features Sony's popular Multipoint connection which means the headphones can be paired with two Bluetooth devices at once. So when you receive a call, your headphones know which device is ringing and seamlessly connect to the right one automatically. Switching devices is as easy as just pressing a button.
The Sony WH-XB910N is now available in the Philippines priced at P9,999 available in colors
black and blue. Click here to add the Sony WH-XB910N to your Shopee cart now!