I've been wearing various smart devices for the past 5 years. The first wearable I owned was a Pebble smartwatch, a device that can sync with a smartphone and does things what a normal watch can't do. While I'm fine with using a fitness band as my regular watch, sometimes I want to wear a real-looking watch that has smart features. There's a smartwatch I want, but it's too pricey for my budget. Thankfully, there's a smartwatch that has style and price-friendly for my wallet, and that's the Honor Watch Magic Review.
HONOR WATCH MAGIC REVIEW SPECS:
| OS: | Light OS |
| --- | --- |
| Display: | 390 x 390 1.2" AMOLED Display |
| Wireless Connections: | Bluetooth 4.2, GPS, GLONASS, GALILEO |
| Memory: | 128 MB Internal Storage, 16 MB RAM |
| Battery: | 178 mAh |
| SRP: | P7,490 |
THE UNBOXING: HONOR WATCH MAGIC REVIEW
The Honor Watch Magic package is a big, sturdy box that gives me an impression the watch has a 5-digit price tag. Inside the box is a Type-C USB cable and a dock for the Watch Magic.
THE LOOKS AND FEEL: HONOR WATCH MAGIC REVIEW
I had no idea what the watch looks like, so I didn't know what to expect. Upon opening the package, my jaw dropped in awe and I felt excited! Seeing the Watch Magic was like love at first sight! It looks pretty similar to the Huawei Watch GT 2, which is not surprising since Honor is a sub-brand of the Chinese giant.
The Watch Magic's body is made of 316L stainless steel. With its Lava Black color and tachymeter on the rim, the Watch Magic can be mistaken as a premium watch. Its diameter is measured at 42mm and only 9.8mm thick. Unlike other smartwatches I've reviewed in the past, the Watch Magic isn't thick and feels light on my wrist. The back of the watch is made of plastic, which might be one of the reasons why it's lightweight.
There are two buttons on the right side of the Watch Magic. The button on top opens the menu, while pressing the lower button reveals monitoring of different activities like Running, Walking, Climbing, Cycling, Swimming and Triathlon.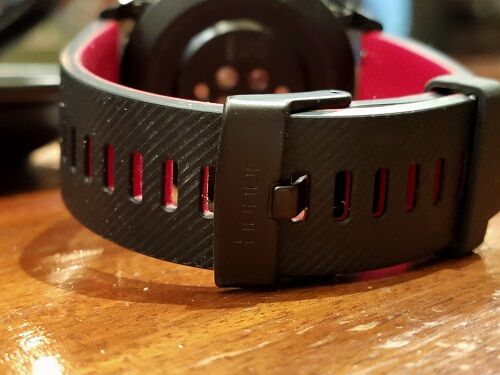 The silicon strap goes well with the watch and doesn't look cheap at all. You have an option to change the straps according to your style preference.
THE DISPLAY: HONOR WATCH MAGIC REVIEW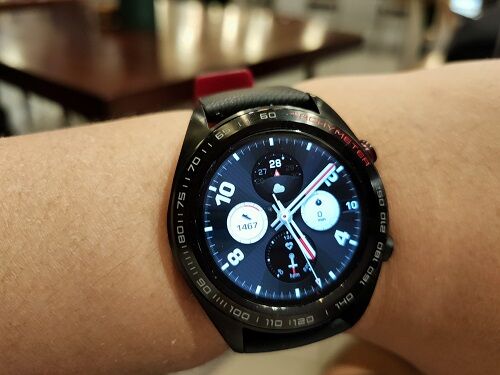 One of the first things I love about the Watch Magic is its bright 1.2-inch AMOLED display. Colors are rich and vibrant and details in the watch can be easily seen even under the sun. I found the size of the display adequate for reading notifications especially messages.
Watch faces can be changed with the Huawei Health app. There are thirteen watch faces already pre-installed and you can even download more.
There's an option for the watch face to be turned on for the whole time. I wouldn't recommend this though since it will shorten the watch's battery life.
THE PERFORMANCE: HONOR WATCH MAGIC REVIEW
Setting up the Watch Magic with my non-Honor/Huawei phone was a breeze. It was able to detect the watch and immediately downloaded its software update. Navigating the watch can be done by swiping the display with a finger. User-Interface is smooth and responsive. Swiping down with the watch turned on will reveal shortcuts to important functions while swiping up will show the recent notifications.
I mentioned earlier that the Watch Magic can track your physical activities so I tried that function by doing an indoor cycle exercise. The watch displayed my heart rate, burned calories and time duration of my exercise. More information about the exercise can be seen in the Huawei Health app.
Unfortunately, I am not allowed by my doctor to run yet, but once I have the go signal, I would definitely take advantage of the GPS tracking that supports 3 satellite positioning systems for accurate location.
Having a sleep tracker is very important to me and this is my frustration with some of the smartwatches and fitness bands I've user over the years. I've been looking for a wearable that could track my sleeping patterns accurately. Thank goodness the Watch Magic did not disappoint as it was able to track my short naps to my deep sleep. Not only that, the Watch Magic has a TruSleep function that analyzes my sleeping habits and provides scores to improve the quality of my sleep.
THE SOFTWARE: HONOR WATCH MAGIC REVIEW
The Huawei Health app is necessary to be installed in a phone since all the data recorded by the Watch Magic will be synced to it.
It can tell you how many steps you have taken even on an hourly basis.
The Health app showed more information about my Indoor Cycle exercise. In this chart, I reached my maximum bpm at the tailend of my exercise.
With TruSleep turned on, it was able to detect the time of my light and deep sleep and gave me a score, which is low. The times of my sleep were indeed accurate.
While the Watch Magic is categorized as a smartwatch, unfortunately, apps cannot be installed on it. You cannot play music with the watch, which might turn off some users since they don't want to pull out their phones while exercising.
THE BATTERY LIFE: HONOR WATCH MAGIC REVIEW
Just like smartphones, battery life is also a concern for potential smartwatch users. The Watch Magic's battery comes with a 178 mAh battery, and my usage lasted exactly for 5 days (continuous heart rate turned off). Battery life is not bad, though I wish it could reach at least 7 days so I just have to charge on a weekly basis.
DR'S CONCLUSION
The HONOR Watch Magic has that handsome look that can be considered as a premium sport watch while possessing features of a smartwatch. It's surprisingly less expensive than other popular smartwatches in the market, with a price tag of P7,490! I know I can't install apps on it like a music player, but that's fine with me. As long as I can receive notifications and read messages from my phone and more importantly, track down my physical activities and sleep patterns, I can definitely settle for the Watch Magic.
PROS:
Handsome Premium Looks
Large AMOLED Display
Accurately tracks physical activities and sleep patterns
Less expensive than other smartwatches
CONS:
Can't install apps
Battery capacity could be bigger but limited only to 178 mAh