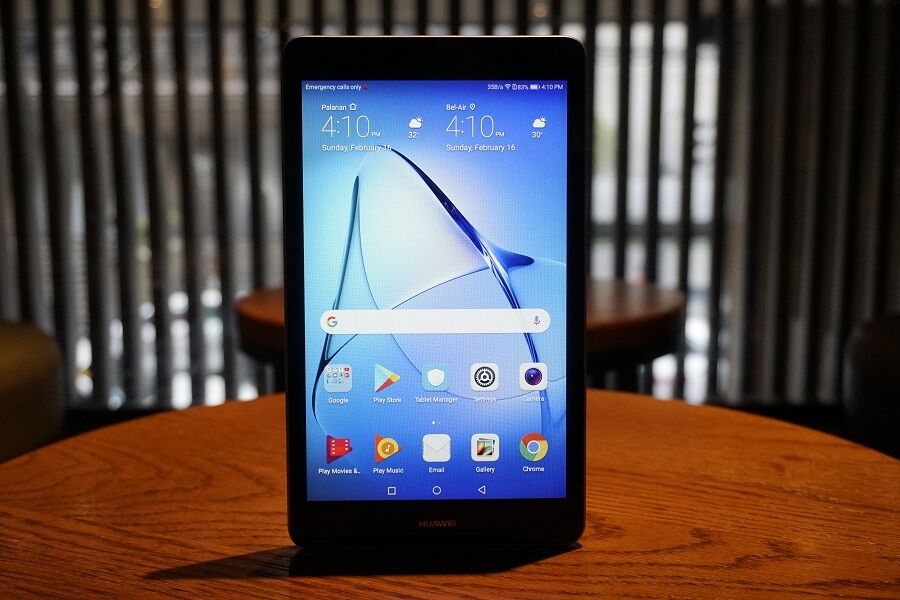 It's been a while since I last used and reviewed a tablet. I was already contented with smartphones with large screens which are pocketable at the same time. Huawei Philippines sent me a Huawei Mediapad T3 8 for review and they're hoping that I could change my mind about using tablets. I am going to give this a shot so read on to check out my findings.
HUAWEI MEDIAPAD T3 8 REVIEW SPECS:
| OS: | Android 7 EMUI 5.1 |
| --- | --- |
| Processor: | 1.4 GHz Qualcomm Snapdragon 425 Quad-Core processor | Adreno 308 |
| Display: | 800 x 1280 7.12" HD+ |
| Wireless Connections: | LTE, Bluetooth 4.0, WiFi 802.11 a/b/g/n, A-GPS, GLONASS |
| Memory: | 16GB Internal Storage expandable with a Memory Card up to 128GB, 2GB RAM |
| Connectors: | Micro USB 2.0 |
| Cameras: | 5 Megapixels (Main) 2 Megapixels (Front) |
| SIM Card Slots: | 1x Nano SIM Card |
| Battery: | 4,800 mAh |
| SRP: | P6,490 |
THE UNBOXING – HUAWEI MEDIAPAD T3 8 REVIEW
The Mediapad T3 8 comes in a small carton box unlike the harder but nicer boxes of the Huawei Y9 2019 and others. It just confirms that this tablet is in the entry-level segment.
Inside the packaging are the tablet, USB cable and USB charger. No headphones are included, most likely to bring down its price.
THE LOOKS AND FEEL – HUAWEI MEDIAPAD T3 8 REVIEW
The last time I used tablets, they were big and a bit on the heavy side. The Huawei Mediapad T3 8, thanks to its compact size is lightweight to carry. I've never complained of its weight even if I was holding it for the whole time. Its slim profile at 8mm makes it easy to hold too. It can easily fit inside my PacSafe messenger bag and has been part of my everyday carry essentials for the past week. The tablet only comes in Space Grey color.
THE DISPLAY – HUAWEI MEDIAPAD T3 8 REVIEW
This Mediapad T3 variant I'm reviewing has an 8-inch screen. One of my favorite pastimes is watching streaming videos on my devices, and while I'm contented with my 6-inch smartphones, there is still a big difference when you watch it on an 8-inch display. Since the Mediapad T3 8 became part of my everyday carry bag for the past week, I was able to easily pull out the tablet and watch Netflix or YouTube videos. The screen is still usable even when watching on the tablet under daylight.
Some might be bothered by the large bezels of the Mediapad T3 but I don't mind at all. Having bezels means I can hold it in Portrait or Landscape mode without accidentally touching the screen. The resolution of the display is only HD+, but given the pricepoint, this is understandable.
THE PERFORMANCE – HUAWEI MEDIAPAD T3 8 REVIEW
The benchmark scores I got above for the Mediapad T3 are lower than some smartphones less than P10,000. The reason for this is the Snapdragon 425 processor, which, honestly speaking is quite old for today's devices. Having said that, it's still capable for popular social media apps like Facebook, Instagram, YouTube or Netflix. They should do fine with the Mediapad T3 8.
Gaming is possible with the tablet, as long as you adjust it to the lowest graphic settings. I was able to play Call of Duty Mobile and it was very much playable at the lowest settings. There should be no problem playing casual games since they require less graphic power.
My issue with the Mediapad is its low amount of storage. Usually, 16GB of storage is fine but the problem is, I'm used to having at least 64GB of internal storage. I had no choice but to limit the apps I install. You could try transferring them to a memory card, but I cannot guarantee it will work with all apps. Another thing is the 2GB of memory. Again, I'm used to having at least 4GB which is enough room for me to leave apps open and jump around whenever I need to use them. With 2GB, tablet limits my multi-tasking activities, eventually slowing me down.
THE CAMERA – HUAWEI MEDIAPAD T3 8 REVIEW
I rarely take photos using the tablet's cameras. But for the sake of this review, here are some photos taken with by the Mediapad T3 8's 5 Megapixel camera:
They're nothing spectacular, but the camera does take decent photos. Come to think of it, Huawei is serious about their phones' cameras even if they were entry-level.
THE BATTERY LIFE – HUAWEI MEDIAPAD T3 8 REVIEW
The Mediapad T3 8 is equipped with a 4,800 mAh battery. My usage over the past week involves 4 hours of accumulated streaming videos, 1 hour of Spotify music, occasional web browsing and social networking, an an hour of playing games. I usually ended up with at least 20% of battery juice left at nighttime. It would be a different story if this tablet is souped up with a faster processor and larger memory.
DR'S CONCLUSION
The Huawei Mediapad T3 8 made me consider of using an 8-inch tablet again. It's easy to carry and it's a great partner for entertainment. For the price tag of P6,490, I recommend this to anyone who loves to watch videos, especially kids. I would buy my mom a Mediapad T3 8 since she's requesting for a tablet to watch her favorite Korean TV shows.
PROS:
8-inch screen display. Not too big, not too small either.
Slim form-factor, easy to carry
Decent cameras
CONS:
Only 16GB of Storage
Memory is only 2GB.