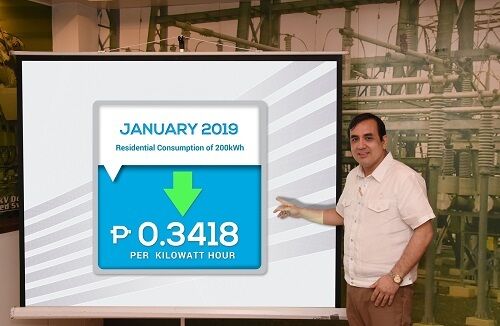 The country's largest electricity distribution utility has announced that overall electricity rates for the first month of the year is down to P9.84 per kilowatt-hour (kWh), lower by P0.34 per kWh from prior month's P10.18. This translates to P68 savings in electricity costs for typical households consuming 200 kWh of electricity per month.
This decrease was brought about by lower generation charges from Meralco's Power Supply Agreements (PSAs) with power generation companies. Historically, movements in electricity rates are driven by generation charges which are pass-through charges, meaning these are only collected by Meralco in behalf of entities like the power generation companies.
Among these pass-through charges are transmission charges paid to NGCP, and taxes and other public policy charges that are remitted to the government. Meanwhile, Meralco's distribution, supply, and metering charges – the only charges that count as Meralco revenues – have remained unchanged since July 2015.