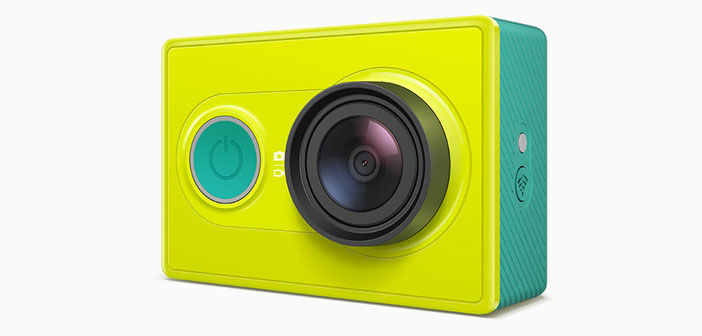 Xiaomi, a brand known for making expensive technology more affordable, goes head-to-head with GoPro as it reveals the Yi Action Camera at the Mobile World Congress (MWC).
The Yi Action Camera is similar to its rival, the GoPro Hero. However, the former shows better specs on almost every front: where the Hero shoots 1080p at 30FPS, the Yi goes for 60FPS. The Hero has a resolution of 5MP, while the Yi snaps at 16MP, flaunting its Sony Exmor R CMOS image sensor that creates effective shots with low noise even in low-light conditions. The Yi also weighs 39g less than the Hero at 72g, making it a lighter traveling companion.
Aside from premium branding, what the Hero has over the Yi is the fact that it has a wider viewing angle at 170 degrees (the Yi only has 155), and that it comes with a set of useful accessories (the Yi only has a selfie stick option). However, with Xiaomi pricing their camera at only ¥399 (approximately Php2,115) those hoping for a GoPro may start thinking twice once the Yi released locally.
Xiaomi Yi Action Camera Specs
Dimensions: 60.44mm (width), 21.2mm (depth), 42mm (height), 72g (weight)
Camera Configuration: HD optical glass aspherical lens / F2.8 large aperture 155 ° super wide-angle, diving depth of up to 40 meters (with proper waterproof shell)
Shooting Format: High Definition H.264 encoding, MP4 format
Shooting Performance: 16MP, 4608×3456 max. resolution, 3-15s time lapse, 7/sec trajectory shot
Video Frame Rate: 1080P at 60fps, 1080P at 48fps, 1080P at 30fps, 1080P at 24fps, 960P at 60fps, 960P at 48fps, 720P at 120fps, 720P at 60fps, 720P at 48fps, 480P at 240fps
Storage: can support up to 64GB via microSD
Wireless Connectivity: supports both WiFi and Bluetooth 4.0
Battery: Panasonic high-density lithium-ion at 1010mAh