It seems I am not yet done reviewing these True Wireless Earphones. Last month, I reviewed the Huawei Freebuds 3 and I've just received my Samsung Galaxy Buds+ which is a freebie for my Samsung Galaxy S20 Ultra. Then a few weeks ago, I received a package from OPPO Philippines and it happened to be their new wireless earbuds called the OPPO Enco Free. I immediately took it for a spin and became my main pair of earphones. Let me share with you my experience with the OPPO Enco Free Review.
OPPO ENCO FREE SPECS:
| Weight (Entire device) | 48.2g |
| --- | --- |
| Driver | 13.4 mm dynamic driver |
| Driver sensitivity | 120 dB @ 1 kHz @ 1 mW |
| Frequency response range | 16 Hz~20 kHz |
| Microphone sensitivity | -42 dBV/Pa |
| Bluetooth Version | 5.0 |
| Wireless range | 10 m |
| Charging port | USB Type-C |
| Battery capacity | 31 mAh (headphones), 410 mAh (charging case) |
| Price | TBA |
THE UNBOXING: OPPO ENCO FREE REVIEW
The package arrived in a white hard box with an image of the Enco Free.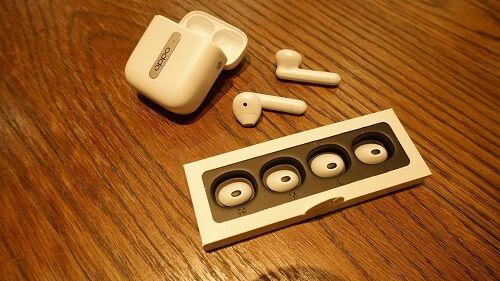 Inside it are the wireless earphones, USB Type-C Cable, Charging Case and different sizes of earbuds.
THE LOOKS AND FEEL: OPPO ENCO FREE REVIEW
The charging case of the Enco Free is a bit smaller than the Apple Airpods'. It has a matte finish that makes the white case look a bit shiny and less resistant to fingerprints. The OPPO logo and the battery indicator inside an aluminum band are found at the center to make it recognizable. The case is very comfy to hold and can easily be slipped into my pocket.
The case has a spring-loaded lid that snaps open or close. A pair of earbuds are securely held with a magnet, which prevents the earbuds from falling off in case the charging case is accidentally opened.
The Enco Free is inspired by the design of the Airpods but with some tweaks. The stems are noticeably thicker and shorter with smooth silver accents on its sides. These accents are actually where the touch-sensitive sensors are found.
Despite of its low price, my impression is that they were not cheaply made. The earbuds can be used for working out since they are water and sweat resistant.
THE PERFORMANCE: OPPO ENCO FREE REVIEW
Unlike the cheap wireless earbuds I've used a couple of years ago where I had to pair each bud with the phone, pairing the Enco Free with my phone was quick and painless. Both earbuds connected simultaneously and I was able to use it right away. I paired it first with my Samsung Galaxy Note9 then with the OPPO Reno3 Pro which is my current phone, so it should work with any non-OPPO phone. It fits almost perfectly on my ears, though I doubt if it won't fall off while I jog or exercise. This can be remedied by changing the tips of the buds, and that's another issue I've encountered. The one that came with the Enco Free are hard to remove and I have a bad feeling that I might rip them off.
The sensor can detect if the earbuds are being worn or pulled off from the ears. You will hear a notification when worn and music can be played or paused when buds are worn or removed.
Tapping the silver accents on the side of the earbuds lets me control the music I play. I was able to adjust the volume by sliding my finger upwards/downwards on my left earbud, while skipping tracks can be done with the right earbud. Double-tapping on either earbud will play or pause the track you're listening. I also activated the Voice Assistant feature with the Enco Free and instructed it to play music for me. It did by opening Spotify and played the current track.
I got used to these controls and found them useful whenever I'm walking with the phone in my pocket, except there were a few times I didn't get any response from my phone after double-tapping the earbuds. These controls are fixed and cannot be altered with an app, a feature found on more expensive True Wireless Earphones.
I listened to different genres of music and I can say that the Enco Free is a good pair of True Wireless Earphones. All of the tracks I listened to were clear and immersive, even without the presence of an Active Noise Cancellation (ANC) feature which sadly this pair doesn't have. Changing the tips of the buds can help give you a better sound quality, but I'm pretty much contented without them. Didn't feel any booming bass even with the funky tracks I listened to, just the right amount to balance it off with the clear sound it produces.
I also used it for phone calls even on noisy environments and my voice was still loud and clear to the other party. The reason for this is the Enco Free's built-in Noise Cancellation for calls which blocks the surrounding noise.
THE BATTERY LIFE: OPPO ENCO FREE REVIEW
I average around 5 hours of continuous music playback before it runs out of battery juice. Charging the Enco Free in the case takes around a little over an hour and can recharge the buds up to four times.
Charging the case will take less than 2 hours and can be charged via USB. Personally, I'm contented with 5 hours of continuous playback. The Huawei Freebuds 3, in spite of its pure awesomeness, can last only up to 3 hours on a single charge.
DR'S CONCLUSION
The OPPO Enco Free offers great value for only P5,499. It's a pair of True Wireless Earphones that's simple and easy to use with adequate battery life. I highly recommend this pair for anybody who wants to have a similar Airpods look for a much lesser price.
PROS:
Matte finish prevents fingerprint marks and light scratches
Fits just right into my ears without changing the tips
Touch sensitive controls
Clear, balanced sound on all genres.
Adequate Battery Life
Affordable
CONS:
Bass lacks some oomph
Anti-Noise Cancelling only available for phone calls
Double-tapping to play/pause music is sometimes not responsive
Tips are hard to remove