The time has finally come for us to share our review of the OPPO Reno3 Pro! OPPO Philippines has already announced the new OPPO Reno3 series last Friday so I am now sharing my review of this new phone. I suggest you also read our first impressions of the Reno3 Pro which you can find here: https://digitalreg.net/first-look-oppo-reno-3-pro-first-impressions-specs-antutu-benchmark-photo-samples/
OPPO RENO3 PRO SPECS:
| OS: | Android 10 with ColorOS 7 |
| --- | --- |
| Processor: | 2.2GHz MediaTek Helio P95 Octa-Core processor | PowerVR GM9446 |
| Display: | 2400 x 1080 6.4" FHD+ Super AMOLED Display with Corning Gorilla Glass 5 |
| Wireless Connections: | LTE, Bluetooth 5.0, WiFi 802.11 a/b/g/n/ac, A-GPS, GLONASS, BDS |
| Memory: | 256 GB Internal Storage expandable with a MicroSD, 8GB RAM |
| Connectors: | USB Type-C, OTG Support |
| Cameras: | 64 Megapixels f/1.7 (wide) + 13 Megapixels f/2.4 (telephoto) + 8 Megapixels f/2.2 (ultrawide) + 2 Megapixels f/2.4 depth sensor (Main Cameras), 44 Megapixels f/2.4 wide + 2 Megapixels f/2.4 depth (Front) |
| SIM Card Slots: | 2x Nano SIM Cards required |
| Battery: | 4,025mAh |
| SRP: | P28,990 |
THE UNBOXING – OPPO RENO3 PRO REVIEW
The sleeve of the package looks hypnotic, making up for its sub-standard white box we normally see in their F-series or A-series phones.
Inside are the OPPO Reno3 Pro, USB Type-C cable, USB Charger Head, earphones, Silicon Case, SIM Card ejector and the usual manuals. I noticed that the charger is unusually big. It's a 30W charger that can fill up your phone's battery quicker than watching a whole episode of Crash Landing on You.
THE LOOKS AND FEEL – OPPO RENO3 PRO REVIEW
This is the third OPPO Reno phone I've reviewed and it felt totally different from the previous versions. I found the Reno3 Pro's size to be smaller, slimmer and lighter. While having a slimmer profile and a lightweight phone is an advantage, holding it feels quite underwhelming considering how premium the OPPO Reno 10x and Reno 2 used to be.
The smooth elegant glass back found in the first two Reno phones are gone and replaced with polycarbonate material. I somehow have already accepted this but I'm kinda disappointed that the cameras are now protruding, making it susceptible to scratches when the phone is placed on a table. The only thing I liked about it is its Aurora Blue color inspired by night skies of Northern Europe. For me, it's a refreshing color to look at since it reminds me of the blue waters of the beach, where I should be at right now instead of being quarantined at home.
SIM Card/Memory Card slots and volume controls are found on the left side while the power button is located on the right.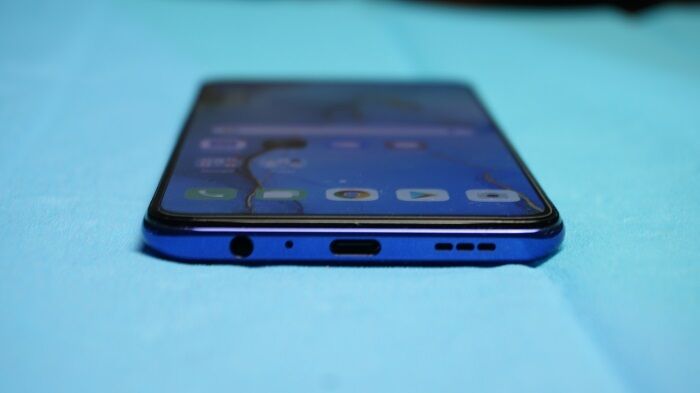 A 3.5mm headphone jack, type-C USB port and speaker grille are found at the bottom of the phone.
THE DISPLAY – OPPO RENO3 PRO REVIEW
I mentioned in my first impressions post that I was slightly disappointed when they took out the "shark's fin" pop-up camera. The "shark's fin" gave the OPPO Reno series its own identity and users of the Reno 10x Zoom/Reno 2 were able to enjoy full view displays. Why did this happen? Maybe the dual cameras would not fit with the shark's fin pop-up design, or OPPO wants to lower down cost. The only consolation here is the dual-hole capsule is not that big to be considered a nuisance.
Screen is smaller by 0.1″ but it still has Full HD+ resolution and Super AMOLED. As usual, I love Super AMOLED screens thanks to its vibrant colors. I was still able to watch Netflix videos under direct sunlight while on queue at the supermarket.
Also Read: OPPO Enco Free Review: The Affordable Alternative for True Wireless Earphones
THE PERFORMANCE – OPPO RENO3 PRO REVIEW
OPPO ditched the Qualcomm Snapdragon processor in favor of MediaTek's Helio P95. The results of the benchmark tests show the Helio P95 is slightly better than the Snapdragon 730. Having said that, the Reno3 Pro's performance is unquestionably fast! Also, thanks to its hefty 8GB of memory, I can juggle all the open apps and games and the phone still performs flawlessly.
With this kind of performance, I was able to enjoy playing mobile games on the Reno3 Pro. I played Call of Duty Mobile with High Graphic Quality and Frame Rate and NBA 2K20 with High video settings. Both games played very smoothly and didn't cause any hiccups on the phone after long gameplays. With the video settings and frame rates set to high, I felt some heat on the Reno3 Pro but this is natural and it didn't cause any discomfort while playing.
ColorOS 7 does a good job for adding some nice touches to make the phone even more "smart." The Smart Sidebar is still a favorite of mine as it lets me use two applications at the same time. I can watch a Netflix video while composing a text message, or browse my Facebook feed while I have a calculator popped up on my screen. Game Space lets me play my mobile games without any distractions by blocking calls and notifications.
The fingerprint scanner of the Reno3 Pro is very effective and recognized my fingers fast. The same can be said with its face recognition feature.
THE CAMERAS – OPPO RENO3 PRO REVIEW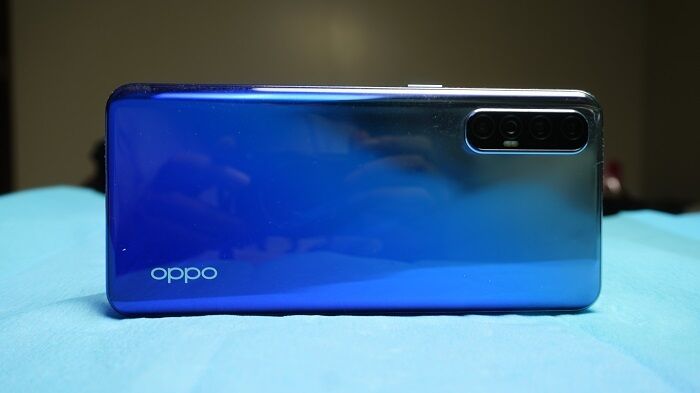 Just like the previous Reno phones, the Reno3 Pro boasts of quad-cameras suited for creative people. It has a 64 Megapixel main lens, 13 Megapixel telephoto, 8 Megapixels ultra-wide and 2 Megapixels depth sensor. Here's the thing, the 64 Megapixel lens, though listed as a main camera, is defaulted to 16 Megapixels. I had to access the shortcut menu to change it to 64 Megapixels.
Here are some photos I took with the Reno3 Pro:
Outdoor photos looked really great! The wide-angle lens is very helpful in capturing the tall buildings in Makati. Unlike other smartphones in its class, the wide-angle lens of the Reno3 Pro doesn't produce distorted images. Close-up photos have a lot of detail but I had a hard time using the bokeh feature of the camera. The cameras have 2x optical zoom then combines with the software as 5x hybrid zoom and can digitally zoom up to 20x. The hybrid zoom can produce photos with good quality while photos taken with the 20x digital zoom are still considered usable. Photos taken at night are good enough and can be enhanced with the cameras' Night Mode and Ultra Dark Mode.
Selfies taken with its dual cameras composed of 44 Megapixels and 2 Megapixels Depth Sensor creates natural looking photos. In my opinion, OPPO should not market their beauty feature as their selfie cameras are already doing a good job. Portrait mode for selfies are easy to capture too!
THE BATTERY LIFE – OPPO RENO3 PRO REVIEW
Battery capacity of the Reno3 Pro is rated at 4,025 mAh. I averaged 12 hours on days with heavy usage: 6 hours of mobile data that includes 3 hours of video streaming, 2 hours of music streaming and the rest of the day connected to WiFi with occasional calls, messaging and social media browsing. On non-busy days with the phone only connected to WiFi, I would usually have around 30-40% of juice left.
The Reno3 Pro comes with a super-fast 30W charger and thanks to VOOC Flash Charge 4.0, I can charge the phone from empty to 100% in an hour!
DR'S CONCLUSION
The OPPO Reno series is about Escaping the Conventional. Except for the cameras, my impression is OPPO is back to the conventional ways of making smartphones. I am not sure if this is the direction they want to go to, but I hope they would reconsider.
The OPPO Reno3 Pro retails at P28,990, the same price of the Reno 2 when it was launched last year. I still think it's a good phone, but others might find it difficult to purchase it for this price.
PROS:
Lightweight
Excellent for Gaming
Cameras take very good photos
Fast Charging
CONS:
Display now has a capsule for the front cameras
Back cover is made of polycarbonate
Shark's Fin pop-up camera is missing
Cameras are protruding
Bokeh is inconsistent with the main cameras