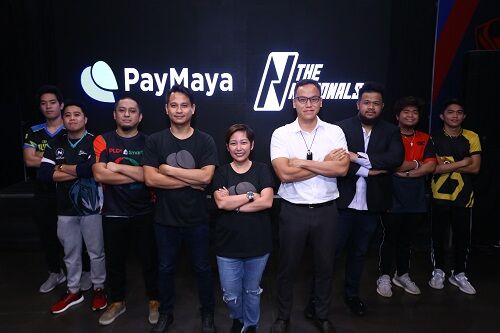 Pinoy gamers can expect even better ways to power up their gaming experience as PayMaya, the best payment partner for gamers and esports athletes, unveils its partnership with The Nationals, the country's first and only franchise-based esports league.
Whether they are playing their favorite PC games or hacking and slashing with friends on mobile, gamers can enjoy a convenient cashless experience for gaming using their VISA and Mastercard-powered PayMaya cards or via the various gaming pins available in PayMaya's in-app shop.  
And for the various professional esports players battling it out The Nationals, PayMaya is also throwing its support as the official digital payments partner of the league.
"It's never been this easy and seamless to power up your gaming experience with PayMaya. Whether you're a casual gamer or a professional esports player like the teams in The Nationals, it's easy to purchase power-ups and upgrade your gaming experience with PayMaya. We're excited with our partnership with The Nationals and we are looking forward to helping grow the local gaming community as well as the esports landscape in the Philippines, so watch out for other things we have in store in the coming months," said  Raymund Villanueva, Director and Head of Growth and Marketing for PayMaya Philippines   
"As esports continues to flourish in the Philippines, we're excited that PayMaya, a homegrown digital payments company, is invested in supporting homegrown talents in the gaming scene. Our esports athletes are brimming with so much potential and having PayMaya with us in this journey is definitely a big boost, not just for the athletes, but for the entire gaming community," Ren Vitug, Commissioner for The Nationals.
The esports athletes participating in The Nationals, starting with with the first Mobile Legends: Bang Bang conference, now have their own PayMaya accounts – enabling their passion for gaming through safe and convenient cashless payments. As the digital payments partner for The Nationals, the winnings of the participating teams will be received through their PayMaya accounts, allowing them to continue to live the hassle-free cashless life, even after the games.   
Gaming enthusiasts can also enjoy safe and convenient cashless payments, not to mention amazing deals, when buying skins or new games using their PayMaya account. Whatever game you play, wherever you play it on, PayMaya offers the best gaming experience for you.   
For PC gamers, using PayMaya's virtual card is the easiest way to pay for your in-game purchases and new desktop games, even without a credit card.
For mobile gamers, PayMaya offers the BEST deals when you purchase gaming pins at the in-app shop. All you need is your PayMaya app and you can already purchase gaming pins for you or a friend.
And when we say the best deals, we really do mean it. Until July 31, users get a 10% discount when they buy Mobile Legends gaming pins at the in-app shop. What's more is that you can also enjoy up to 100% cashback when you spend at least P100 in the shop. That's a 10% discount, on top of the chance to get your money back!
Win every game with PayMaya! Download the app now and register to enjoy cashless convenience and the best value for your money when you pay for your gaming purchases. To stay on top of our awesome offers, visit https://www.paymaya.com/deals.