In my realme 8 Pro review last year, I questioned if the phone is worth an upgrade from the realme 7 and 6 series. In the end I said it wasn't worth the upgrade. Same ol' processor, no 5G, no fast refresh rate for a Super AMOLED display were among my concerns.
REALME 9 PRO PLUS REVIEW
And while the 108 Megapixels camera of the 8 Pro is impressive, my question is, who would use that anyway? While that didn't stop realme from being the number 1 smartphone brand in 2021, we saw the number series halted after the 8 Pro's release. We expected the realme 9 series to arrive at the second half of the year but to our disappointment, nothing arrived.
I suppose realme thought it's about time to go back to the drawing boards and attempt to do something different with the realme 9 series.
After some rumors sprouting for the past couple of months, the realme 9 Pro and 9 Pro+ have finally surfaced! We received the realme 9 Pro+ review unit last week and we were thrilled to use it for the past several days. We wish there is more time to evaluate it, but since we know you are all excited, here it is – the realme 9 Pro+ review!
REALME 9 PRO PLUS REVIEW SPECS
OS:
Android 12 with realme UI 3.0
Processor:
2.5 GHz MediaTek Dimensity 820 Octa-Core Processor | Mali-G68 MC4
Display:
6.4" Super AMOLED Display 1080 x 2400 FHD+ with 90Hz refresh rate and Corning Gorilla Glass 5
Wireless Connections:
5G, Bluetooth 5.2, WiFi 802.11 a/b/g/n/ac/6, NFC, A-GPS, GLONASS
Memory:
256GB Internal Storage; 8GB RAM
Connectors:
Type-C USB 2.0, OTG Support
3.5mm audio jack
Cameras:
Rear: 50MP f/1.8 wide + 8MP f/2.2 ultra-wide + 2MP f/2.4 macro; Front: 16MP f/2.4
Security:
on-display fingerprint sensor;
Face unlock
SIM Card Slots:
2x Nano SIM Cards
Battery:
4,500 mAh with 60W fast-charging
SRP:
P21,490
THE UNBOXING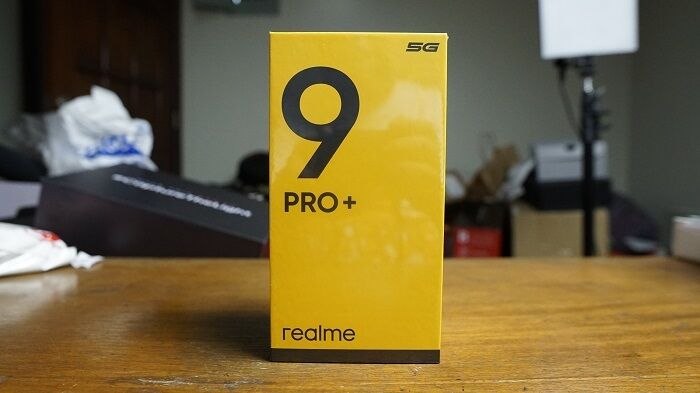 We have posted our unboxing and first impressions of the realme 9 Pro+. Read it here: https://digitalreg.net/realme-9-pro-unboxing-and-first-impressions/
THE LOOKS AND FEEL
For comparison, I brought out my realme 8 Pro from its box to help me check what's new and different with the realme 9 Pro+. Dimensions are almost the same, but according to the specs sheet, the 9 Pro+ is slimmer at 7.9mm.
A plastic frame is sandwiched between the display and the back panel. This is fine with me since this is normally used for mid-range smartphones.
The back panel is made of glass, a first in the number series. Even with this change, realme still managed to add some shimmer thanks to its 3-layer Grain Process, The Aurora Green color is so cool to look at, though I wish we also received the Sunset Blue which can change to color red.
Thank goodness they removed the hideous "DARE TO LEAP" slogan which I think was too loud and doesn't fit with the new back panel's looks. However, the absence of the textured material in the back panel means the phone can be slippery while holding or while placed on top of a slippery surface.
In addition, the glass back panel instantly becomes a fingerprint magnet. Personally, I'm fine using the 9 Pro+ "naked" but if you want to protect the phone you may use the supplied silicon case.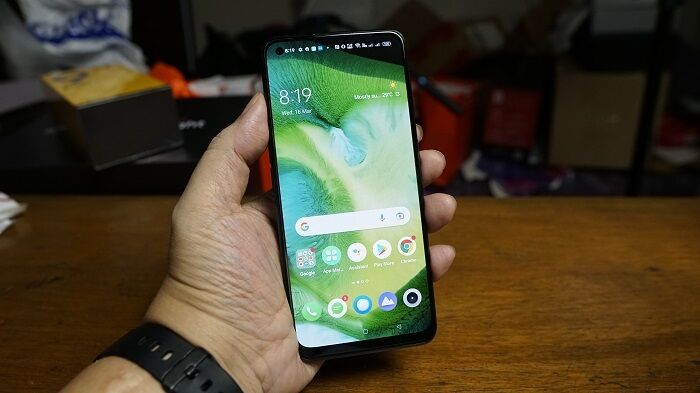 I could really feel the thin profile while holding the realme 9 Pro+.
It feels light and doesn't bulge on my pants pocket. I do sure miss the textured panels of the previous realme phones but this is still a welcome change for me.
THE SOUND AND DISPLAY
The realme 9 Pro+ comes with the same type of display from the realme 7 and 8 Pros – 1080 x 2400 Full HD+ Super AMOLED Display with 20:9 screen ratio.
I'm happy to report that realme has finally broken these stagnant specs by adding a 90Hz refresh rate into the mix! FINALLY! I've been harping for years that having a 90Hz refresh rate is better suited for AMOLED displays. I heard that the lower 9 Pro with IPS display now has 120Hz but I don't mind, at least we have 90Hz on our 9 Pro+ with much better display technology.
Not only that, realme has added some added protection with Gorilla Glass 5 coating on the screen.
The sound department of the 9 Pro+ got some improvements too! It now comes with stereo speakers so you can enjoy listening to your music or watch streaming videos without a headset.
It's definitely louder compared to the mono speakers of its predecessors, and I'm glad realme added this feature. You still have the option to use a wired headset via the 3.5mm headphone jack or a bluetooth headset by DIZO.
THE PERFORMANCE
Aside from the display, realme has finally updated the processor of the realme 9 Pro series.
Found under the hood of the 9 Pro Plus is a MediaTek Dimensity 920 5G processor, instead of the usual Qualcomm Snapdragon.
On the other hand, the lower 9 Pro now has the Snapdragon instead of MediaTek's chipset. I welcome this change as I have used a smartphone powered by Dimensity 920 and was very impressed by it. Here are some benchmark tests I did with the realme 9 Pro Plus: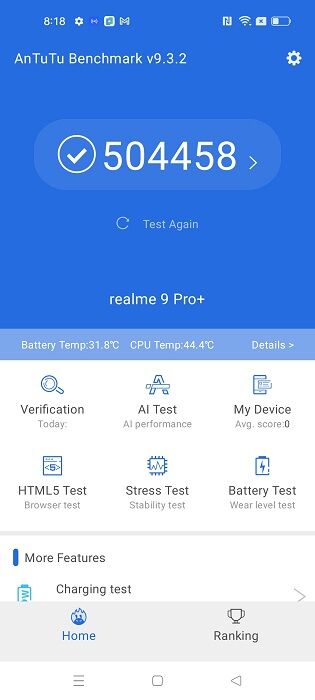 These scores are miles away from the realme 8 Pro! On some tests the 9 Pro Plus got higher scores than the vivo V23 5G which we reviewed last month and also uses the same processor.
While we got the processor upgraded we've been yearning for the past couple of years, sadly, storage expansion was removed from the 9 Pro Plus.
Instead, you get a storage bump to 256GB which is now a standard for upper mid-range and high-end smartphones. Plus, we finally have 5G on top-of-the-line model in the number series! If you really need the extra storage, you may go for a realme 9 pro instead.
Gaming is very much possible with 9 Pro Plus. We installed and tested Genshin Impact at the highest settings in extreme motion blur and somehow it provided decent performance.
Although there are occasional lags upon teleporting, they soon become smooth after a minute. Placing the settings on High may alleviate a little of the initial lag.
We didn't experience any heat on the phone while playing for hours thanks to the cooling system realme has built-in to the phone.
The realme 9 Pro Plus runs on the latest Android 12. While setting up the phone after unboxing, we received a notification to upgrade to the newer realme UI 3.0. We did just that and so far, so good. I noticed some improvement for customizing the homescreen which makes it different from other smartphones.
Some of the widgets like the clock now looks better than the standard Vanilla widget it used to look like. I just hope realme will take time to customize their widgets to further differentiate themselves from other smartphone brands.
realme UI 3.0's GameSpace was a nice add-on for playing mobile games. You can adjust the performance of the 9 Pro Plus, chat on your preferred messaging app while playing, or turn off notifications. Temperature and battery meter are found on top so you'll be aware if the phone gets hot or will run out of juice.
THE CAMERAS
The 9 Pro Plus' cameras were hyped last month which we got a sneak preview of its imaging capabilities. Composed of a 50MP Sony IMX766 flagship camera, realme said they're the first to use this sensor in the mid-range smartphone segment. Supporting the main camera is an 8 Megapixel ultra-wide lens and a 2 Megapixel macro lens.
Similar to previous models, the main camera is not defaulted to the advertised 50 Megapixels. Based on my usage, the main camera is defaulted to 12 Megapixels, which isn't bad at all. In fact, most of the photos I took during daytime looked great even in landscape photos with the sky very visible.
I didn't find any distortions on the images taken with the ultra-wide angle lens. The camera has an optical zoom up to 2x and digital zoom up to 20x. If you need more details in the image then you can simply select the 50MP mode in your camera menu.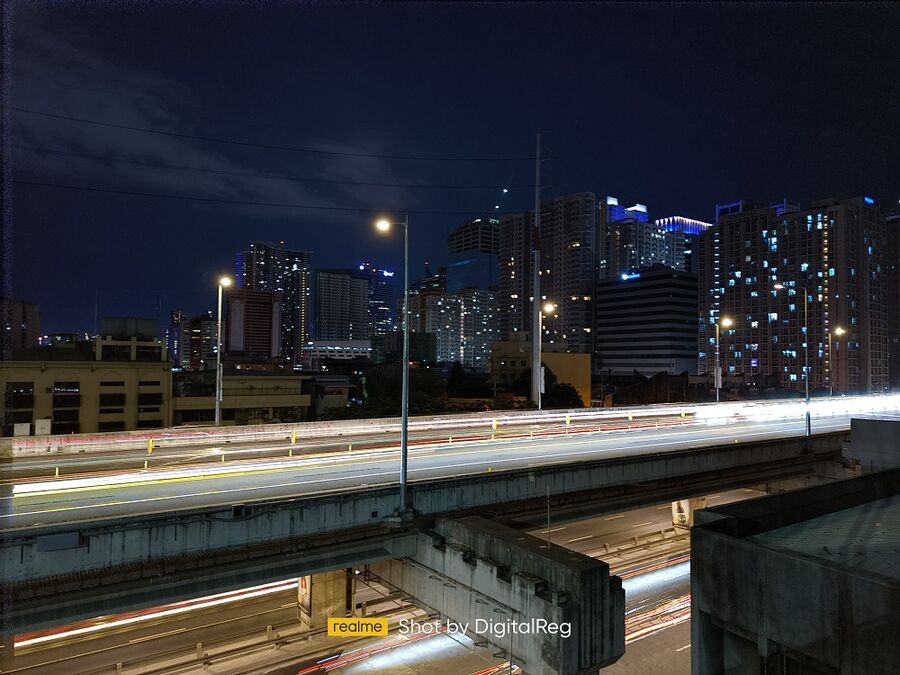 Night photography with the 8 Pro was already impressive so with the hype surrounding the 9 Pro+, we expected to see something better. True enough, we found the images very clean with no noise at all. There are other night photography features the camera is equipped with but we were only able to try Street Mode.
Exposure time varies from 5 seconds to infinity depending on the type of artistic shots you want to achieve. We tried the Neon trail which has a 5 second exposure and it looked awesome! A tip we can give here is to make sure that there are a lot of cars passing on the road you wish to take a photo of, and also make sure to bring a tripod to achieve taking this type of photo.
The front camera was retained at 16 Megapixels and had no problems with its imaging quality. It does not have an LED flash, but rather uses the phone's display to act like a flash. It's bright enough for me to take a decent selfie at night.
The main camera comes with both Optical Image Stabilization for photos, and Electronic Image Stabilization for videos. I prefer OIS for both photos and videos as I find it to be more stable. So far, having EIS for videos is better than nothing. Speaking of videos, the the 9 Pro+ can record up to 4k at 30fps.
Here are the rest of the sample photos taken by my realme 9 Pro Plus review unit: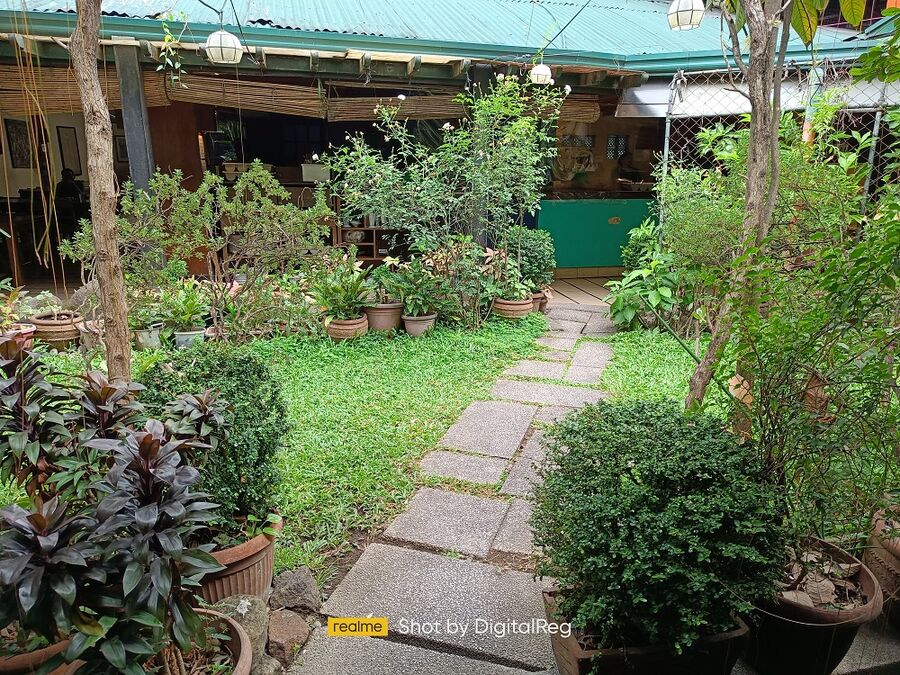 THE BATTERY LIFE
Battery capacity is the same as before at 4,500 mAh. I averaged 12 hours per day with around 20& left on my battery meter. I normally watch videos/listen to music for 4 hours, mobile games for an hour, the rest of the day for the usual calls, emails and social networking.
I am still wondering what happened to the SuperDart 65W charger of the realme 7 Pro and why it wasn't brought back to the 8 Pro. We kinda have good news for this because the SuperDart 60W charger was supplied with my realme 9 Pro+ review unit. The phone charges from 0 to 100% in less than 50 minutes, so that is already impressive.
DIGITALREG CONCLUSION
The realme 9 Pro+ is the upgrade I've been waiting for and it did not disappoint! I am definitely will still keep using this phone to try out more of its camera features especially for out of town trips.
The price of P23,990 might be a concern for most people in the realme squad as we are used to the 10-17k price range of the number series. With the realme 9 Pro+ now here, I think realme wants to expand their horizons beyond that price range.
The upper mid-range segment (P20k and above) has other brands like Samsung, OPPO and vivo, so why not push the 9 Pro+ in that category? It has the specs to slug it out with those brands. My guess is the 9 Pro+ will replace the spot of the GT Master Edition so they can expand the number series further to the upper mid-range segment and probably have the GT series concentrate on the high-end. It's a strategy that was done by big players in the smartphone market for years, and realme wants to take a step further in their quest to retain their number 1 position in the smartphone market.
PROS:
Glass back panel that shimmers (thank goodness they removed that hideous DARE TO LEAP logo)
90Hz refresh rate on a Super AMOLED Display (with bonus Corning Gorilla Glass 5)
Upgraded 5G processor performs really well
High-end camera sensor
60W SuperDart Charging
CONS:
No Storage Card expansion
realme fans might find it too expensive for a number series model
Visit the realme Official Store at Shopee – https://shp.ee/zmp8pc6
realme 9 Pro+ Review
The realme 9 Pro+ is the upgrade I've been waiting for and it did not disappoint! I am definitely will still keep using this phone to try out more of its camera features especially for out of town trips.
PROS
Glass back panel that shimmers (thank goodness they removed that hideous DARE TO LEAP logo)
90Hz refresh rate on a Super AMOLED Display (with bonus Corning Gorilla Glass 5)
Upgraded 5G processor performs really well
High-end camera sensor
60W SuperDart Charging
CONS
No Storage Card expansion
realme fans might find it too expensive for a number series model
Add your review
|
Read reviews and comments