The last time I reviewed an entry-level smartphone was last December with the Realme C1. I was so impressed with its looks and performance I felt I wasn't using an entry-level phone at all. I even gave it an award as the Best Entry-Level Smartphone in the DR's Yearend Awards for 2018. I've been playing with its replacement, the Realme C2 which I unboxed and gave my first impressions last month. It's time to share my review about the brand's new entry-level phone.
REALME C2 REVIEW SPECS:
OS:
Android 9.0 Pie with ColorOS 6 Lite
Processor:
2.0 GHz MediaTek MT6762 Helio P22 Octa-Core processor | PowerVR GE8320
Display:
1560 x 720 6.1" HD+ IPS LCD Display with Corning Gorilla Glass 3
Wireless Connections:
LTE-A, Bluetooth 4.2, WiFi 802.11 b/g/n, A-GPS, GLONASS
Memory:
16/32 GB Internal Storage expandable up to 256GB MicroSD Card, 2/3 GB RAM
Connectors:
Micro USB 2.0, OTG Support
Cameras:
13 Megapixels f/2.2 + 2 Megapixels f/2.4 (Main Cameras), 5 Megapixels f/2.0 (Front)
SIM Card Slots:
2x Nano SIM Cards required
Battery:
4,000 mAh
SRP:
16/2 - P5,490
32/3 - P6,490
THE LOOKS AND FEEL — REALME C2 REVIEW
I was wowed by the appearance of the Realme C2 the first time I saw it during my unboxing. Unlike other generic, pale looking entry-level smartphones, the C2 looks refreshingly trendy that it could even pass as a mid-range phone. I liked the phone's slimmer design compared to the C1's chunkier profile. It's more comfortable to hold as there are no sharp edges around it.
Instead of a shiny glass or two-toned back covers, Realme chose a prism-like design to distinguish itself from the rest. I liked it, and since it's not glossy it doesn't slip out of my hands or attract any fingerprint marks.
THE DISPLAY – REALME C2 REVIEW
The screen of the C2 is smaller by 0.1 inch which honestly doesen't make much of a difference. Screen is made of IPS display and as expected it produced good color accuracy. It also has some layer of protection since it was coated with Gorilla Glass 3. It's not the latest but it's good to know that an entry-level phone has this feature to offer.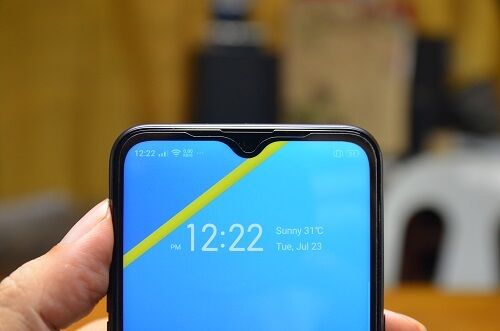 The C2 still has a notch where the 5 Megapixel front camera is placed. It's a smaller one this time in a form of a tearddrop. Thanks to the smaller notch, I was able to watch videos and play games with little obstruction.
THE PERFORMANCE – REALME C2 REVIEW
Realme opted for a MediaTek processor for the C2 instead of the C1's Qualcomm Snapdragon 450. The MT6762 a.k.a. Helio P22's benchmark scores shows its slightly better than its predecessor. Navigating the phone was always smooth and no signs of stuttering, unlike the other entry-level phones I've tested before. I was drawn to its performance and began to use it more like my main phone, and it didn't disappoint. The apps I used everyday like Gmail, YouTube, Netflix as well as its telephony features all worked without hiccups.
The C2 can play some of the popular games, but you have to lower down your expectations. PUBG Mobile can be played with Balanced graphics and Medium framerate at max and while it stuttered in the first few seconds of the game, it became very much playable until the match finished. Framerates aren't smooth but if you don't mind it as long as it can be played, then it should be fine.
Mobile Legends is also playable when HD Display and High Frame Rate settings are turned on. The problem I encountered with the C2 while playing this game is the WiFi or data connection keeps on dropping, resulting to lags once in a while. I only encountered this issue with the C2, and I didn't experience this with the other phones I'm currently testing.
There are two variants of the C2: 16GB of Storage with 2GB of RAM and 32GB storage with 3GB of RAM. If you could add P1,000 more, get the bigger storage. Otherwise, the 16GB should be fine. However, you might get to use around 8GB since ColorOS occupies the other half of it, as I've experienced with the C1.
There's a positive side of having ColorOS on the C2. The apps are organized in alphabetical order which makes it easier for me to find in the app drawer.
Since the C2 isn't slow for an entry-level phone, I was able to use the Smart Bar a lot more for quick access to my shortcuts.
THE CAMERA – REALME C2 REVIEW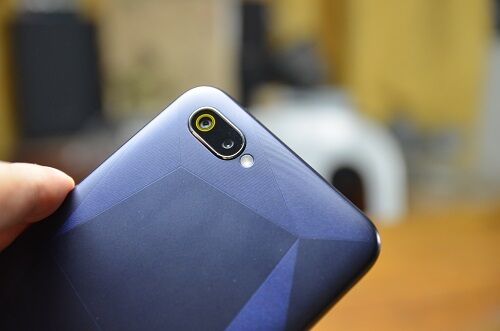 The dual cameras of the C1 are still the same for the C2. 13 Megapixels and 2 Megapixels were a good pair for taking photos as long as there are good amount of lighting involved. Here are some samples:
Night and indoor photos are challenging for the phone. For these situations, Chroma Boost can help sometimes, but you need to have steady hands and patience whenever you use it.
THE BATTERY LIFE – REALME C2 REVIEW
The Realme C2's battery is 230 mAh lower than its predecessor, but I think nobody would notice anyway. Battery life with 1 hour of gaming, 3 hours of video streaming and other tasks would leave me with 45-55% before I call it a day. Other phones in this price range would conk out just before they get out of their offices.
DR'S CONCLUSION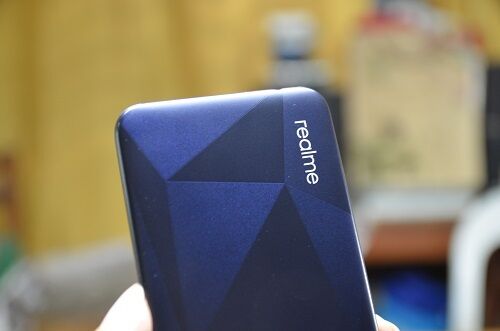 To be honest, I don't like to evaluate entry-level phones because they make me pull my hair. They're usually slow, and sometimes I find them ugly. My experience with the Realme C2 is totally different. I confidently used it as my main phone without worrying about apps crashing or horrible looking overexposed photos taken by its camera. It feels like I'm using a mid-range phone too. It's a lot better than the rest of the entry-level smartphones. Actually, I think it's the best among entry-level smartphones of today.
In my book, Realme retains its crown in the entry-level smartphone segment with the Realme C2.
PROS:
Prism design back isn't flashy but looks trendy.
Reliable processor
Decent Cameras
Long Battery Life
CONS:
ColorOS occupies a lot of space in storage
Night photos are dismal.