I feel old already. The first tablet I've owned was the Samsung Galaxy Tab in 2010, when they were still small, have big bezels and lack of usable apps. Throughout the years, I had the privilege to review some of these tablets ranging from 7 to 12-inch displays. This time, we have the opportunity to review the Samsung Galaxy Tab S8 Plus.
The purpose of the Samsung Galaxy Tab S8 Plus Review
Honestly, I find the Galaxy Tabs quite expensive for them to be considered as laptop replacements. For the price of the premium Tabs with keyboard, I would still consider getting a laptop with a fully powered Operating System. Will it be the same with the Galaxy Tab S8 Plus? Read on to find out!
Add the SAMSUNG GALAXY TAB S8 PLUS to your Shopee Cart NOW!
SAMSUNG GALAXY TAB S8 PLUS SPECS:
| OS: | Android 12, One UI 4.1 |
| --- | --- |
| Processor: | 3.0 GHZ Qualcomm SM8450 Snapdragon 8 Gen 1 | Adreno 730 |
| Display: | 1752 x 2800 12.4-inches Super AMOLED Display with 120Hz refresh and aspect ratio of 16:10; coated with Corning Gorilla Glass 5 |
| Wireless Connections: | 5G, Bluetooth 5.2, WiFi a/b/g/n/ac/6e, A-GPS, GLONASS |
| Memory: | 256GB Internal Storage expandable with a Micro SD card, 8GB RAM |
| Connectors: | USB 3.2 Type-C, OTG |
| Cameras: | 13 Megapixels f/2.0 wide; 6 Megapixels f/2.2 ultra-wide (Main Camera), 12 Megapixels f/2.4 (Front) |
| SIM Card Slots: | 1x Nano SIM Card required |
| Battery: | 10,090 mAh (non-removable |
| SRP: | P54,391 |
THE UNBOXING
The packaging of the Samsung Galaxy Tab S8 Plus must be the thinnest of all tablets I've reviewed in the past 10 years.
Inside the box are the Samsung Galaxy Tab S8 Plus review unit, S-Pen, Type-C USB Cable, SIM Card Tray ejector, and User Manuals. Sadly, the charging head and headphones are not included in the package.
Add the SAMSUNG GALAXY TAB S8 PLUS to your Shopee Cart NOW!
THE LOOKS AND FEEL
I have reviewed large versions of the Galaxy Tab for the past several years. The largest I reviewed was the Galaxy Tab S Pro which had a 12-inch screen, then the Galaxy Tab S2, Galaxy Tab S4, then the most recent was the Galaxy Tab S7 FE. The Samsung Galaxy Tab S8 Plus was like the Tab S Pro and the Tab S7 FE – a large 12-inch display, though the distinction of being the largest Android tablet now belongs to the Galaxy Tab S8 Ultra which has a 14-inch display.
Comparing to the erstwhile largest tablet of Samsung, the Galaxy Tab S8 Plus is slightly smaller and thinner at 5.7mm. At 572 grams, the tablet is quite light to carry. However, it becomes heavier to hold especially with the smart keyboard attached while gaming.
On top of the Galaxy Tab S8 Plus are the power button and volume controls, and a SIM Card tray on the other side.
Each side has a set of stereo speakers. The right side (on landscape mode) has the Type-C USB port.
The bottom section has a port and holes for the Book Cover Keyboard Slim.
The Galaxy Tab S8 is made of aluminum, which means the tablet has a premium because it's well-built. So far, there is only color available for the Tab S8 Plus according to the Samsung website, and that is graphite. We are not sure if there are other available colors. Found at the back is a dual camera on the upper right corner.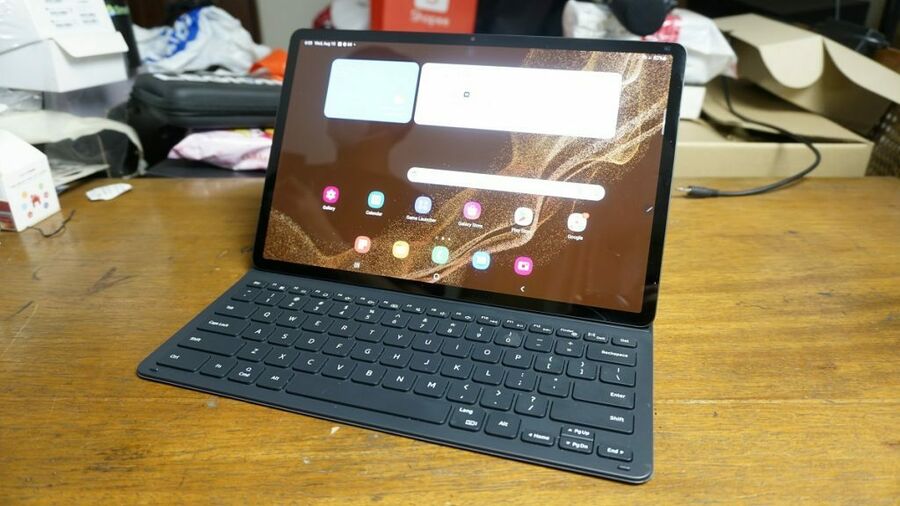 We find the Galaxy Tab S8 to be a handsome device that upper management executives would love to carry to their meetings. Its sleek appearance is a welcome alternative to bringing bulky laptops to a boardroom.
THE SOUND AND DISPLAY
As mentioned earlier, the Samsung Galaxy Tab S8 Plus has a 12.4-inch Super AMOLED display with a resolution of 1752 x 2800 and an aspect ratio of 16:10. It also has a 120Hz refresh rate which makes screen navigation smoother like most premium smartphones nowadays. Bezels aren't too thin but that is fine with us. The thickness of the bezels gives the front camera enough space to be placed on top portion of the display.
The screen supports fingerprint recognition for added security and S-Pen for additional pen functions. We will discuss the latter in a little while.
There are some pros and cons watching on a Tab S8 Plus. Its large screen makes it really enjoyable to watch streaming videos. During my 2-week forced quarantine vacation, the Tab S8 Plus kept me company by letting me watch TV series, movies documentaries and vlogs on Netflix, Discovery+ and YouTube. Before I had my quarantine, my nieces and I were to watch animes thanks to the Tab S8 Plus's large screen with good viewing angles.
Because of its size, holding the Tab S8 Plus while watching can be quite tedious over a period of time. It is best to place it on a stand or attach it to its smart keyboard.
As expected, its Super AMOLED display produced amazing colors. I laud Samsung for having a 16:10 aspect ratio on the tablet, but some of the apps looked silly on landscape mode like Facebook. Samsung isn't to be blamed here. Currently, there isn't an Android tablet that is able to show apps perfectly on landscape mode.
The Tab S8 Plus comes with two speakers on each side and they are all tuned by AKG. I loved these speakers so much! They're loud, so loud that I had to lower it down wherever I watch a video or play games in a public place. That's why I always brought my Galaxy Buds 2 with me. Otherwise, I would turn that sh*t up inside my room.
Add the SAMSUNG GALAXY TAB S8 PLUS to your Shopee Cart NOW!
THE PERFORMANCE
Under the hood of the Samsung Galaxy Tab S8 Plus is one of the world's fastest and most powerful processors – the 3.0 GHz Qualcomm SM8450 Snapdragon 8 Gen 1 Octa-Core processor. Any smartphone or tablet having this processor automatically gets the flagship description.
We haven't tried this processor before. The closest to the Snapdragon 8 Gen 1 we reviewed was the vivo X80 5G which had a Dimensity 9000 processor. As always, we did some benchmark tests to find out where this processor ranks.
These results show that the Samsung Galaxy Tab S8 Plus is one of the most fastest Android tablets in the market today. The scores may be lower from other devices with Snapdragon 8 Gen 1, but there's no denying that this tablet is really this dominant.
Paired with its colossal display, the Tab S8 Plus can definitely be used for gaming. Its 120Hz screen refresh rate makes gameplays even more smooth and immersive. MOBA games like Mobile Legends: Bang Bang are absolutely delightful on the tablet. It supports Ultra graphics and it never encountered any lags.
We also play Genshin Impact and it performs the smoothest at high settings, 60 fps high motion blur. Although the highest settings at 60 fps with extreme motion blur performs well in the spiral abyss, the overworld tends to have slight lags on highest compared to high settings.
Regarding the device's heat while playing the game, we found it to be average for all the games we tested. Overall, we found it enjoyable to play the latest mobile games on the Tab 8 Plus.
S-PEN WITH THE SAMSUNG GALAXY TAB S8 PLUS
An S-Pen is included in the box of the Samsung Galaxy Tab S8 Plus. This make the tablet more functionable as a writing tool compared to other tablets without pen input. Some of the new Android tablets now have pen inputs, but in my opinion, they do not stand a chance with the Tab S8 series.
The S-Pen features from the defunct Note series were carried over to the Tab series. The S-Pen has a clickable button. Pressing the button will show the S-Pen features you can use on the screen.
Throughout the years of using the Note and Tab series with S-Pens, the features I commonly use are Create Note, Smart Select and Screen Write. Create Note lets me write notes on a jiffy while Screen Write is helpful when I have comments on an article or website I'm reviewing. I reckon feature is helpful to students.
The S-Pen is also useful for transcribing your scribbles into text. Whether they're written in print or script, The Tab S8 Plus automatically transcribes them.
As always, the S-Pen writes smoothly on the tablet. To be honest, this is my favorite digital pen, far better than the pens of the other tablets in the market.
Unlike the Note series, the Tab series doesn't have a silo to store the S-Pen. You can charge it by attaching it to the back of the tablet in line with the cameras. Careful though as you may have the tendency to lose it.
Add the SAMSUNG GALAXY TAB S8 PLUS to your Shopee Cart NOW!
DeX: THE PC-LIKE EXPERIENCE ON THE SAMSUNG GALAXY TAB S8 PLUS
Samsung has developed DeX, short for Desktop Experience originally introduced with the recalled Samsung Galaxy Note 7 in 2016. This feature made me get hooked to Samsung, because it shows that the smartphone can be transformed into a desktop computer in your office, home or even your hotel room. With the Samsung Galaxy Tab S8 Plus, it can be a laptop replacement that you can use in the office or doing remote work at coffee shops.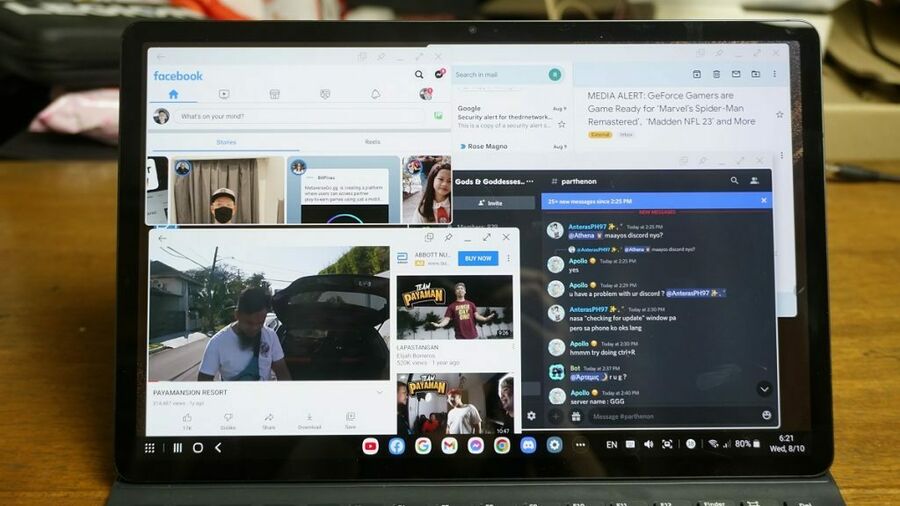 Compared to its competitors, I strongly agree that DeX is much more superior. It truly gave me the PC desktop experience I need even though I'm using Android OS. I am able to multi-task similarly to a PC or laptop, with several apps open simultaneously. It can handle multiple Google Chrome tabs with ease.
I used the Tab S8 Plus as my main work machine for almost a month. I brought my laptop as a backup, but there wasn't a time that I needed to open it because the tablet was able to do everything. I was able to write articles, write and respond to emails, create and edit documents with Microsoft Office app, and edit photos.
It is also helpful that the Tab S8 Plus comes with 5G connectivity. I popped-in my Smart BRO 5G SIM Card and it helped me get connected 24/7. I was able to get a lot of work done like publishing articles on the go thanks to my 5G connection.
In my office, I was able to use the Tab S8 Plus with our office printer by printing documents wirelessly. I connected it to a bigger monitor using an HDMI cable and activated DeX. I then paired it with my bluetooth keyboard and mouse. I was also able to connect USB peripherals to Tab S8 Plus, like my USB hub.
Lastly, I'm able to sign documents like NDAs thanks to the S-Pen. With a laptop, I would have the document printed first, sign the document, scan it then send it back to the sender.
If you prefer using the usual One UI of Samsung and need to multi-task, the good news is it's possible. There is an app shortcut on the side where you can drag the selected app to the screen. Two apps are ideal for multi-tasking in One UI but you can push it to three that floats on top of the other two apps.
THE BOOK COVER KEYBOARD SLIM
Samsung's Book Cover Keyboard Slim is an additional accessory you can purchase to make your Galaxy Tab S8 Plus into a laptop. The tablet attaches to the cover at the back with a magnet, then its ports are connected to the base of the keyboard.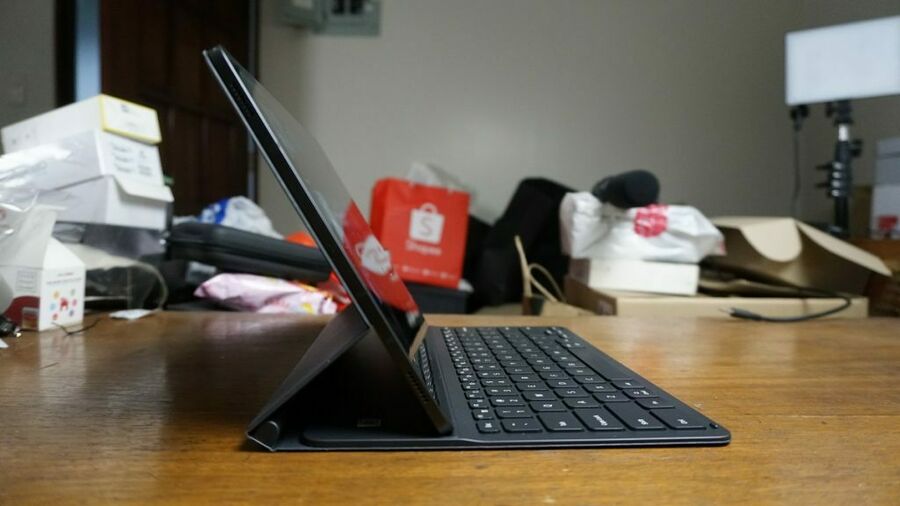 Transforming the tablet to laptop mode is only limited to one angle, unfortunately.
The book cover has a magnetic storage for the S-Pen. Props to Samsung on this. Note that the S-Pen doesn't get charged when placed in the book cover. The only way to charge it is by attaching it to the Tab S8 Plus.
I really enjoyed typing articles and emails with the Book Cover Keyboard Slim. Keyboard is pretty responsive and has nice clicks. The challenging part here whenever I work in the dark is the lack of backlit keys.
Holding the Tab S8 Plus with the Book Cover Keyboard Slim can be heavy especially for a long period of time, like playing games or watching videos. We recommend removing the tablet from the cover if you want to hold the tablet.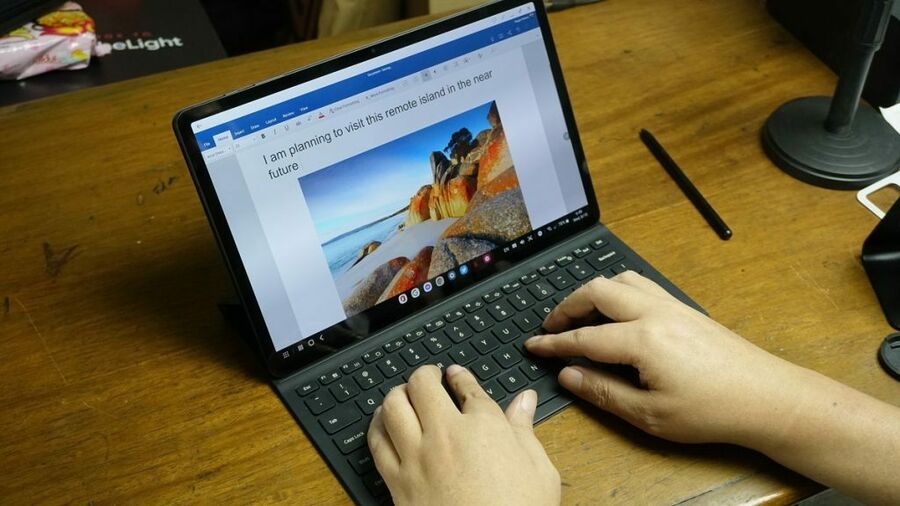 The Book Cover Keyboard Slim is worth P7,099. If you find this too expensive, then you can settle for those cheapo bluetooth keyboards and a tablet stand to make it as your mobile workstation.
Add the SAMSUNG GALAXY TAB S8 PLUS to your Shopee Cart NOW!
THE CAMERAS
The Samsung Galaxy Tab S8 Plus comes with a dual-camera setup consisting of 13 Megapixels and 6 Megapixels, while the selfie camera has 12 Megapixels. Like what we've said in the past, we don't like using tablets' cameras because it feels to awkward to take photos with them. Nevertheless, we still tested the cameras to give potential users an idea of their picture quality.
Photos with good natural lighting turned out pretty well. Night photos can be a bit challenging as there were photos that looked washed out. It's a hit and miss actually. Unfortunately, I only have one selfie photo taken and it looks underwhelming. If it was under good lighting, the turnout could have been acceptable.
Here are some sample photos taken with the Samsung Galaxy Tab S8 Plus:
THE BATTERY LIFE
Battery capacity of the Samsung Galaxy Tab S8 Plus is rated at 10,090 mAh. We had two types of usages with different results. Usage 1 consists of 5G on for 5 hours, then WiFi on for 7 hours. What we did on 5G was mostly video streaming and occasional Facebook browsing. For 5 hours we consumed an average of 40-45%, leaving us with 55-60% of battery juice left. The rest of the day connected to WiFi was an hour of mobile games and emails, and blogging work. We usually end up with 11-12 hours of runtime.
Usage 2 on the other hand was connected to WiFi for the whole time and I watched Netflix, Discovery+ and YouTube non-stop. In less than 7 hours, I received a notification that my battery is already low.
For its price, we were bummed that Samsung didn't include a charging head with the package in line with their sustainability efforts.
Add the SAMSUNG GALAXY TAB S8 PLUS to your Shopee Cart NOW!
DIGITAL REG CONCLUSION
For years, I am discouraged to buy the Galaxy Tab S series as laptop replacements due to their prices. Our argument before was if we are going to shell out more than P50,000 for a tablet plus the cost of the additional keyboard, might as well buy a laptop instead. After using the Samsung Galaxy Tab S8 Plus for almost a month, we are changing our stand on this.
As we have shared above, we have proven that the Tab S8 Plus can do most of the tasks a laptop can do. And with the S-Pen feature, you can do more like writing notes, sketches or sign documents on the fly. I would definitely suggest the Galaxy Tab S8 Plus to middle/upper-management executives who need a versatile tablet that can be used for presentations and double as a laptop workhorse.
If you find 12.4″ quite big, then we suggest getting the smaller Galaxy Tab S8 with an 11-inch screen. It's cheaper too.
Add the SAMSUNG GALAXY TAB S8 PLUS to your Shopee Cart NOW!
Samsung Galaxy Tab S8 Plus Review
After years of being discouraged to buy the Galaxy Tab series instead of a laptop, we have now changed our minds. The Samsung Galaxy Tab S8 Plus during our evaluation period proved it can also multi-task like Desktop or Laptop PCs. Samsung DeX has greatly improved and its interface is the closest I've experienced with a full blown desktop OS. With the keyboard and S-Pen, the Galaxy Tab S8 Plus is definitely a powerful and reliable machine you would like to carry everyday.
PROS
Premium Build Quality
Superior Display
Loud Speakers
Flagship Performance
Samsung DeX is close to a true Desktop OS
S-Pen is the best pen input among all Android Tablets
5G connectivity
CONS
Some apps do not appear perfectly on landscape mode (Android issue)
No charger head included
Expensive
Add your review