I haven't held a Sony handset in ages. The last one I owned was a Sony Ericsson K610i way back in 2007. It gave me a good run, so I was pretty psyched about going back to the brand and reviewing the Sony Xperia E1. Placed at the lowest end of the Xperia family, the E1 is pretty clear about what its focus is: great audio. The good news is it offers more than that.
Sony Experia E1 Specifications

OS: Android 4.3 Jellybean with update to Android 4.4 KitKat
Processor: Dual core 1.2GHz Cortex A7 (CPU), Qualcomm MSM8210 Snapdragon 200 (Chipset), Adreno 302 (GPU)
Display: TFT capacitive touchscreen, 480 x 800 pixels
Wireless Connections: Wi-Fi 802.11 b/g/n, HSDPA, 21 Mbps; HSUPA, 5.76 Mbps, Bluetooth v4.0
Memory: 4GB internal memory expandable to 32GB via microSD, 512RAM
Connectors: microUSB v2.0
Camera: 3.15MP rear
SIM Card Slot: available in single and dual sim options
Battery: Li-ion 1700mAh battery
SRP: single SIM: Php6,990; dual SIM: Php7,890
Unboxing
The Sony Xperia E1 package comes with the unit, the battery (not in photo), a USB charging cable, a USB charging head/travel adapter, in-ear earphones, a Startup Guide, Customer Care/Warranty Card, and a pamphlet containing other technical information.
Look and Feel
The Xperia E1's look is reminiscent of other higher models of the Xperia line. Although most of it is made of plastic, it's pretty durable, and can survive a few accidental drops. There's no glass display here either, which means that you won't need to worry much about shattering your screen, but you'll probably need a protector to keep it safe from scratches. Unlike other Xperia models, the E1 isn't water-resistant, so don't try dunking it in a pool.
The body is rounded and compact, and it fits just right in one hand. The trademark Sony power button rests on its right edge just below the volume controllers, while the USB port, which unfortunately isn't covered, sits on the left. The camera rests right in the middle of the back panel, and at the bottom is the Xperia's powerful speaker.
The top edge has the intuitive Walkman button that controls the Walkman app even without accessing the screen.
Display
The Xperia E1's 4-inch display goes for a resolution of only 480×800 pixels, but colors still manage to look clear and crisp. Tilting the screen a bit does make the 233ppi pixel density obvious, but it's forgivable.
With regard to video viewing, this phone delivers a satisfying experience, considering that the display specs aren't all that beefed up. Although the contrast could use a little work to give more imagery depth, the E1 still manages to bring smooth video playback without much pixelation.
One thing about this device is that the screen is very – and I mean very — sensitive to the touch. The plus side of this is that it makes texting a breeze. On the other hand, I've had instances when the screen would flip on an app or go to another window even before I've tapped anything, which made me wonder if my review unit was possessed.
Software and Battery
One of the most impressive things about the Xperia E1 is its intuitive UI.
A quick swipe from the app drawer pulls out several options regarding app housekeeping. App downloads can be done through Sony Select, or through the more traditional Google Play. The UI also has an easy-to-manage Update Center, which reports any available updates for apps or the system itself.
The fluid UI experience trickles to its contacts and text messaging apps, giving great aesthetics to the otherwise straightforward versions on other phones.
I personally love how customizable the keyboard is. The UI helps give the best keyboard option for any kind of typing style. It allows skin changes, too, which is something that not all phones in its range offer.
The Xperia E1 even has power management covered: it automatically suggests the optimum battery saving mode depending on usage. It shows an approximation of how long its remaining juice can last whatever mode it's in, which is really very useful during times when there's no way to plug and charge. If you're looking for a smartphone that you can rely on during rainy season when power usually gets cut, then this definitely is it.
Although the Xperia E1 comes out of the box running on Android 4.3 Jellybean, a KitKat update is readily available.
The Walkman

Sony has long been known to deliver one of the best audio experiences on mobile, and the Xperia E1 does not disappoint. I thoroughly enjoyed playing my favorite tracks on its sleek-looking Walkman app.
The app is easily accessible through the Walkman button located at the phone's top edge. Pressing the button once allows you to pause or play a song, while pressing it twice enables you to go to the next track. Provided that the Shake Control is on, shaking the phone plays a random track.

The Walkman app is probably one of the most customizable audio tools on any smartphone to date. It has a built-in equalizer which you can set according to modes or you can tinker with yourself. The best parts are the Clear Bass and Clear Audio+. Turn Clear Audio+ on and adjust Clear Bass according to your taste and you'll get seriously deep tones whether you're wearing a headset or blasting away on speakers.
The Xperia E1 also features the Unlimited Music app, which offers unlimited tracks that can be listened to offline with no ads, but it only comes with one month of free trial. Personally, though, it would be better to download other music apps like Spotify if you're into music streaming, as it does the same things for less the price.
Camera
Sadly, the Xperia E1's 3.15MP rear snapper isn't as great as I initially thought it would be, and from going through features that managed to exceed my expectations in spite of limited specs, it was a huge downer.
The camera had no auto-focus, and shots almost looked VGA. There were lighting options available, but they didn't help improve the washed-out colors of its photos. Good lighting is a must since the E1 isn't equipped with LED flash, which makes it harder for the device to compensate in dim environments.
One camera feature that I had a hard time working with was panorama. I had to pan from left to right at a certain speed, and as the phone was so sensitive I almost always had an error message which told me that I should pan in the correct direction. Another annoyance I had was that it crops the edge of the first frame, and I had to guess the distance from where I'd click to where my first subject is. It's all very tedious.
General Performance
Putting the camera issue aside, the Xperia E1 works pretty well for a phone at the end of the spectrum. It managed to play Beach Buggy Racing smoothly and without issues, although once you stack the device with apps, it does get a little laggy. It's not surprising given the 512MB RAM.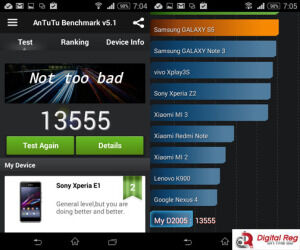 On AnTuTu it falls below the older Nexus 4, which still isn't bad considering that it's supposedly an entry-level smartphone.
Conclusion
The Xperia E1 is really a phone for music lovers who are looking for a smooth experience. The going rate for the single SIM variant is Php6,990, while the dual SIM version goes for Php7,890. The prices may be a bit steep for phone with a 3.15MP camera, but if you think about it, it's equipped with the best audio features hands down. Yes, their target market may be a bit too specific, but if I were someone who finds battery management a priority, or one who spends hours and hours with the soundtrack of my life, then this is the phone that I would buy.