Who was the lucky guy to snag a week with the LG G3 last month? It was Me, hahaha! So before I start my review, I'd like to thank LG Philippines and DDB Philippines for lending me an evaluation unit of the LG G3.
SPECIFICATIONS:
OS: Android 4.4.2 KitKat
Processor: 2.5 GHz Qualcomm MSM8975AC Quad-Core Snapdragon 801 processor | Adreno 330 GPU
Display: Quad-HD 1440 x 2560 pixels, 5.5-inches True-HD IPS Display with Corning Gorilla Glass 3
Wireless Connections: 4G LTE, HSDPA+, Bluetooth 4.0, WiFi 802.11 a/b/g/n/ac, NFC, GPS w/ A-GPS, GLONASS
Memory: 16GB/32GB Internal Storage expandable with a MicroSD card up to 128GB, 2GB/3GB RAM
Connectors: Micro USB port, USB OTG (On-The-Go) 
Camera: 13.0MP Optical Image Stabilization and Laser-Auto Focus Detection with Dual-LED Flash (Main Camera) Auto-Focus with LED flash (Main), 5.0MP (Secondary)
SIM Card Slot: 1x Micro SIM Card Required
Battery: 3,000 mAh (removable)
SRP: Php 31,990.00 (16GB), Php 35,990.00 (32GB)
THE UNBOXING
The package comes with the LG G3 unit, battery, USB Cable, USB Charger Head, and headphones (not seen on the pic.) The box looks more premium now than the G2's simplistic white packaging.
The Quick Case wasn't included with my review unit but that's okay, though it would've been nice to see the new watch interfaces while the cover is closed.
THE LOOKS AND FEEL
Bringing out the LG G3 from the box made my jaw drop in awe. It's bigger, more elegant and definitely looks better than its predecessor, the LG G2. The   curves at the back of the G3 is similar to the G2, but the former's back cover looks even more appealing with its metallic finish. Having said that, LG did not make the move to a metal or aluminum structure but I think it's okay to stay with plastic to make the weight of the smartphone lighter.
The power and volume buttons are still found at the back of the G3 and I instantly felt right at home using it for adjusting the volume of the phone. Holding the G3 feels so perfect for my hand that I don't want to let it go. The curved back of the G3 made it very comfortable to hold and it is not slippery at all. In a nutshell, masarap hawakan!
THE DISPLAY
The screen of the LG G3 features a whopping 5.5″ display without making the phone the size of a big phablet. How so? LG reduced the bezels on the front panel and made the display bigger. As you would see in the pictures above, there's nothing much on the front panel except for the camera and sensor at the top and the LG logo at the bottom.
Now, LG didn't just make the screen bigger, they were one of the first to feature a Quad HD display on a smartphone. The resolution of the G3's Quad HD is 2,560 x 1440 pixels which produces one of the most spectacular displays I've seen in a smartphone.
There were a couple of video files that were included in my evaluation unit and I was floored by what I saw. Watching those videos made for QHD is so effin' awesome! It's like bringing a pocket-sized LED TV.
THE SOFTWARE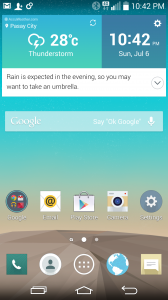 I liked LG's software ever since I used the LG G2. I find it simple to use and they're not gimmicky at all unlike what other brands are promoting. Their best feature is the Knock Code where you can tap on different areas of the screen to unlock the phone. LG thinks it's better than using a pattern lock or a pin code and I agree with them.
I also like the way my SMS pop-up on my screen while I still see my other app running in the background. The same can be done with other apps like notes and calculator and you can even adjust their transparency so you can still view what's behind those apps.
LG made some modifications on the recent apps screen and to my knowledge, the G3 is the only phone so far that can show 9 recent apps on one page.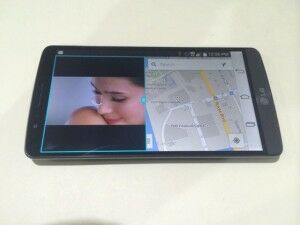 If you want to close an app, all you need to do is just swipe it away, but if you want to work on two tasks simultaneously, just tap on Dual Window and it will let you select which apps to be opened. Since most flagship smartphones care for its users health, LG also included a health app that lets you track the number of steps you've made on that day. I still prefer my Samsung Galaxy S5's version as it lets me check my heart rate and stress condition, as well as track my sleep if I have the Galaxy Gear Fit.
The weather app on the G3 is quite intelligent so if I were you, always listen to its advisory. It was a Sunday and the G3 advised me that it will rain that day and I should bring an umbrella. I didn't listen. When I was about to leave the cafe, it rained!
THE PERFORMANCE
The LG G3 is powered by the latest Qualcomm 2.5 GHz Quad-Core Snapdragon 801 processor which is also being used by the latest flagship phones of other international brands. Since it comes with a Snapdragon 801 processor, I expected it to work smoothly throughout my review period, but I did experience some lags in the UI when moving from one desktop panel to another. Not really a big deal, it's just that I don't experience these kinds of lags with my Samsung Galaxy S5 which is also powered by a Snapdragon 801 chipset.
Other than this small issue I found, all the other stuff that I've done with the G3 were all good. I've installed a couple of games including Edge of Tomorrow and they all played smoothly without any hiccups.
To give you an idea what the LG G3 looks like with other smartphones, its UI and gaming performance, check out this video:

THE CAMERA
The star feature of the LG G3's 13 Megapixel camera is its Laser Auto-Focus Detection, which makes focusing on subjects very snappy. Oh yeah, it works as advertised and it made me take a lot of photos with gusto!
Here are some sample photos of the LG G3:
Most of the photos look great, except for those outdoor evening shots. The one I posted above looks good when it's zoomed out, but you'll see a lot of noise when you zoom in. Indoor photos on the other hand look great.
The front camera only has 2.1 Megapixels but takes good, if not acceptable photos. Here's a selfie sample:
Like all other flagship smartphones in the market, the LG G3 also has a beauty mode to enhance the image of your face. Obviously I made the wrong settings here 'coz it almost turned me into a red lobster.
BATTERY LIFE
Since the LG G3 is equipped with a 3,000 mAh battery, I am pretty sure that I don't have to bring along a powerbank with me, even if 4G is turned on. That was my experience with the G2 last year. What makes the G3 better than the G2 in this department is it's removable battery, so if you encounter a problem with the battery in the future, all you need to do is replace it with a new one.
On busy days, the G3 can last me up to an average of 12 hours, while on less busy days I'm able stretch it to 19 hours.
DR'S CONCLUSION
What can I say after reviewing the LG G3? Overall the improvements on both the hardware and software were really impressing. Sure, there are some quirks with the software lags, but comparing it to the other flagship phones I think the LG G3 still has the aces to be the best smartphone of 2014. I was even tempted for weeks whether to get one or not – it's that awesome I tell ya!  So if you're looking to buy a new flagship smartphone from a known international brand that doesn't have a waterproof feature, go ahead and get the LG G3. If you currently own the LG G2, I still encourage you to upgrade. It's totally worth it!
YAYS!
I love holding the LG G3 thanks to its design
Large 5.5″ QHD Display at a compact size
Expandable Storage with a MicroSD up to 128GB!
Qualcomm 2.5 GHz Quad-Core Snapdragon 801 processor. 'Nuff said!
Camera is great!
Removable 3,000 mAh battery
NAYS
Software lags once in a while
*Special thanks to LG Philippines & DDB Philippines for loaning this review unit.