Coming from the successful launch of its Super App in Malaysia and Thailand, the airasia Super App has officially arrived in the Philippines! A digital venture of Capital A (formerly known as AirAsia Group), the airasia Super App is aiming to further stimulate the country's strong e-commerce market. 
The launch of the airasia Super App complements the findings of AirAsia Philippines in a study commissioned end-2021, where respondents have highlighted their interest in an integrated end-to-end travel experience. 6 out of 10 respondents are keen on booking packages composed of Flights + Hotel + Tours and Activities, followed by discounted Flight + Hotel bundles (61%), and discounted Food + Activities bundles (59%). Such packages are available on the Super App, supported by other lines of businesses present in the Philippines like SNAP, and those soon to arrive  such as ride-hailing service airasia ride, digital food delivery airasia food, and digital tax-free shopping platform TravelMall. 
Capital A is confident that Super App will perform well in the Philippines as the country gears for its post-pandemic recovery. Differentiating the Super App from others in the market is its capability to  allow users to compare and book flights to more than 3,000 destinations with over 700 airlines to choose from.
Aside from flights, customers can also conveniently book hotels, travel packages, activities, car rides, parcel deliveries and even shop for food, clothes, and other products at lower prices in just a few taps, all in one app. Since its global launch, the Super App has partnered with over 200,000 hotels to secure the best deals. 
The chat option also allows app users to interact real-time and get feedback about the products and services in the airasia Super App.
Tony Fernandes, CEO of Capital A Berhad said: "The airasia Super App has arrived in the Philippines, and we are looking forward to serving all Filipinos with three key things – convenience, reliability and affordability. We are an everyday app, for everyone and we aim to create value for all airasia Super App users. We have grown from just an airline into a full-fledged super app today with strong products across key business verticals such as travel and delivery. With the reopening of borders across the region, we are sure that Filipinos will find the best travel deals on our super app, and enjoy other lifestyle offerings such as airasia food, airasia ride, airasia xpress and more when they travel to other countries like Malaysia, Thailand, Indonesia and when they're introduced in the Philippines soon."  
In the coming months, airasia Super App will be opening its ride-hailing and parcel delivery services in the Philippines.
Amanda Woo, CEO of airasia Super App said: "This launch today will be the beginning of something great and there will come a day where the airasia Super App will be a household name for every Filipino, as we strive to be part of your everyday lives – as we introduce more and more offerings here. We are now a complete super app, and the only super app who is able to offer products and services across both travel and delivery verticals in one place. As an OTA, we now offer flights from over 700 airlines to more than 3,000 destinations across the globe, apart from over 200,000 hotels. The SUPER+ subscription plan, which was launched last week is also something that brings value to any subscribers and we hope that more Filipinos will subscribe once more services are introduced here in the Philippines." 
Capital A said the Philippines is a very important market. It hopes to expand the Super App consumer base in the Philippines by the fourth quarter of 2022.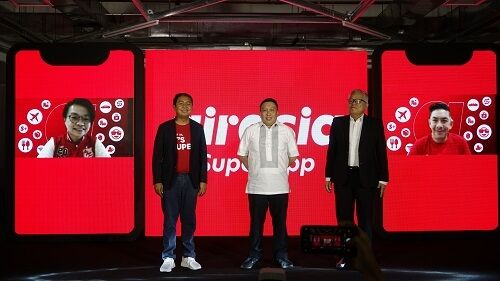 At the helm of airasia Super App Philippines is Managing Director Ray Berja. Berja shares: "We at airasia firmly believe that 'diversified offerings' in an 'integrated platform' presents the future of brands – a future wherein experience is seamless from one end to the other. This is what airasia Super App is set to offer Filipinos. We have grown beyond being a travel company as we know the customer journey going to and from their travel destination is much more complex. Our answer to these complexities is a simple one-stop hub for all essentials, making life more convenient one tap at a time."
Berja also remarked on the economic activity that the Super App Philippines aims to spur in the coming months. "As part of our efforts to help boost the country's economic recovery, airasia Super App is offering a more diverse platform for businesses at any level. We want services to be available at their best value to stimulate commerce for businesses of all sizes as we all gear for recovery," Berja shares.
To celebrate this milestone, Super App is offering a month-long SUPER SALE with big flight, accommodation and shopping discounts. Headlining these promos is the Fly Home to Vote Promo, with booking period 03-10 April and travel period from 03 April to 03 September. This promo is also targeted at encouraging Filipinos to practice their right to vote on 09 May. 
Another promo is the The SNAP (fly + stay) promo at Amorita Resort in Bohol for only P10,199 per person for 3 days and 2 nights, with booking period of 04-10 April 2022 and Travel Period from 4 April to 30 September 2022. 
Those ready to fly again to both international and domestic destinations will also enjoy availing promos such as a 20% OFF in all Malaysian Hotels with promo code SLAYSTAY20, bookable from 04-10 April 2022; and the airasia Super App Online Travel Agency 20% discount with promo code PHSUMER20. And lastly, if one plans to fly back home, the airasia Travel Mall has a special promo from 01-30 April. With promo code PASALUBONG50, shoppers can slash off as much as 50% off of TravelMall items – perfect for family pasalubong boxes.
Download the airasia SuperApp from the Apple App Store, Google Play and HUAWEI AppGallery.