Austin Texas, AMD recently launched the next generation Ryzen 7000 series during its "together we advance_PCs" live stream over at Youtube earlier today. Featuring a new AM5 LGA socket, increased performance and support for PCIe 5.0; the Ryzen 7000 Series is launching this September. Here are tidbits of information gleaned from their live stream earlier.
New Architectures Introduced
To coincide with the new Ryzen 7000 Series CPUs, AMD has laid out its roadmap for the future. Under Zen4 CPUs are "Raphael", "Genoa" and Phoenix. Raphael is the current release of desktop Ryzen 7000 Series, while Genoa are the new Epyc Server CPUs that have released a few months back. Phoenix, meanwhile is the upcoming APU that will sport RDNA 3 GPUs for mobile systems.
AMD's RDNA 3 is their follow up to the current series of Radeon 6xx0 Series of GPUs. While there are rumors of a September release, it was not stated during the live when its actual release; only a tease. Whereas Zen4c, and AMD XNA are all mentioned in the architecture list but were not discussed, only focusing on Zen4 CPUs.
Ryzen 7000 Series Features and Performance
The meat of the video cover the improvements the new Ryzen 7000 Series has to offer performance wise against the previous Zen3 CPUs and against Intel 12th Generation.
Mentioned in the stream are core features made to Zen4. It now uses a 5nm process, supports the new AM5 LGA socket, the latest PCIe 5.0 technology for upcoming GPU and storage, and DDR5 memory.
Performance
Based on AMD's claims, the Ryzen 7000 Series' R9 7950X perform 20% better gaming performance (on average, four games shown) better that the current R9 5950X. While it has an average of 42% better creator performance (on four benchmarking apps) also on the R9 5950X.
Against a competing brand, like Intel's i9 12900k; the R9 7950X is better by 9% on average (on the same list of games) for gaming performance. While for creator performance, the R9 7950X commands a 45% (on average, on the same benchmark apps) advantage over the i9 12900k.
Improved IPC and AVX-512
Part of the Zen4 core architecture are an increase by up to 13% core IPC (instructions per clock), a new front-end design for improved instructions. Whereas Intel removed its AVX-512 support, AMD introduces it as a feature used for AI and High Performance Computing Acceleration. What AMD did to make this feature work well is to double pump 256bit data width.
AM5 Socket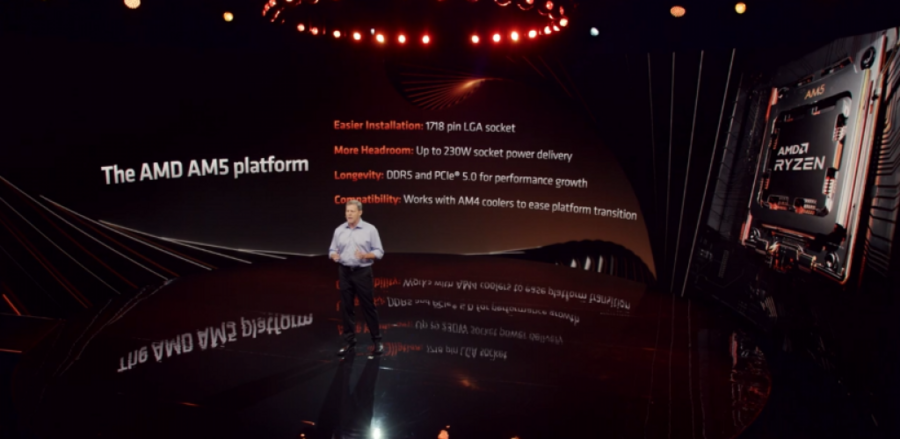 With the new LGA 1718 pin socket, AMD's AM5 would allow for the appropriate number of pins to provide up to 230W of socket power delivered to the CPU. Which is high, considering the announced Ryzen 9 7950X flagship is rated for 170W TDP. Support for AM5 is planned for up to at least 2025 (and may go beyond, like AM4).
As for motherboards, we do know right now that there are four versions of AM5 motherboards: X670E (E for Extreme), X670, B650E, B650. The X670E and X670 were announced to become available on September, alongside the CPUs. The B650E and B650 motherboards will follow on October.
These motherboards will exclusively support DDR5, and have PCIe 5.0 for devices like the GPU and/or storage (Extreme series will allow BOTH PCIe 5.0 for GPU and Storage on X670E and B650E). More details on motherboards once manufacturers release finalized specifications once they are distributed.
AMD also announce their own implementation of Intel's XMP technology for memory overclocking called EXPO. At launch, over fifteen DDR5 memory kits from different partners will be put on sale. It was also mentioned that maximum speeds of up to DDR-6400.
Utilizing 5nm Process
The 5nm process technology allows for performance and efficiency with smaller and lower power transistors used. This translates to having a smaller die size, allowing for backwards compatibility with AM4 coolers. And it keeps the CPU thermally efficient.
Ryzen Roadmap
As with all AMD CPU product launches, part of the presentation is providing an overview of what's next. Expect a new AMD Ryzen processor with 3D V Cache to popup soon. Further down the line will be Zen5 using a 4nm process and so on.
Ryzen 7000 Series Lineup and Price
The following are CPUs that will be included at launch as well as their SRP (in USD). Philippine street price will be expected to be higher, owing to the current exchange rate of $1: Php56 +/-
Ryzen 9 7950X – $699
Ryzen 9 7900X – $549
Ryzen 7 7700X – $399
Ryzen 5 7600X – $299
These CPUs will be out on September 27 2022.
Want to watch the entire video?