ASUS Business is doubling down on Business Solutions for the Philippine market. While the ProArt Open House Event last September focused on the new ProArt monitors and laptops, we cannot possibly deny that these are also ideal devices for work. That is why part of the event there were the ASUS Business devices placed around. Businesses do need high caliber devices to deliver results to their customers too.
ASUS Business PCs and Laptops Re-Exhibited
Having a regular day job in the IT Industry as a software guy, my most immediate need is to have access to a reliable and powerful machine. While companies before would go for a desktop build that can handle menial office tasks like Word, and some basic level of Excel. However, with more companies shifting to a digital based work environment, computers are no longer just a tool for typing up reports, creating slide presentations or basic spreadsheet. In general, the modern worker seeks for more powerful machines. Compound the recent trend of working from home, pushing for laptops having a comparable performance to desktops. And let's not forget about ease of maintenance if having multiple machines to look after.
ASUS with its history of releasing sought after gaming components and laptops now doubles down on the corporate market by introducing solutions for businesses. This allow for flexibility, catering a large set of varying requirements corporate customers have for their machines.
ASUS Business held a small event reintroducing the laptops, PCs, devices and peripherals in partnership with Blackmagicdesign and Epson. Several corporate scenarios were provided: Multimedia Studio, Standard Office/Call Center setup, and Design/Engineering/Architecture use.
Video Editing Studio Machine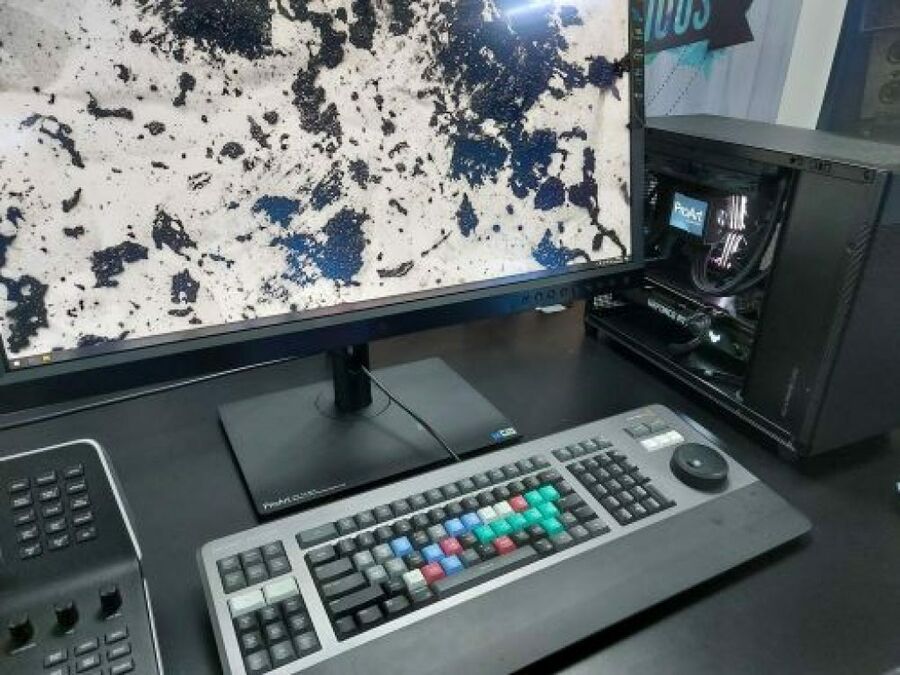 For its Multimedia scenario, a custom built Media Workstation running an Intel i7 processor, cooled with an ROG Ryujin II AIO cooler and running on a ROG Strix Intel Z series motherboard with at least 16GB of memory. It sports an NVIDIA RTX-30 Series TUF GPU and encased in an ASUS Prime AP201 Chassis. The PC is used for running Blackmagicdesign's Da Vinci Resolve Studio video editing software. Along side it are two 27″ ProArt monitors and of course Da Vinci Resolve Editor Keyboard and Da Vinci Resolve Mini Panel.
The flexibility of allows efficient production of video quickly thanks to its Intel i7 CPU. There's more than enough leeway for peripherals (Blackmagicdesign Resolve Editor Keyboard and Mini Panel), since it uses an ROG Zseries motherboard. The included TUF GPU allow for a performance with renders in Resolve.
Work Use Laptops and Mini PCs and Peripherals
The next station of the exhibit features two laptops and an Intel NUC or Mini-PC. These models specifically target office workers of various backgrounds. ASUS Expertbook and BR series are the bread and butter of ASUS Business for office use. Unfortunately there are no BR models exhibited. Powered either by an AMD or Intel mobile CPU, with either Intel Iris or NVIDIA MX graphics as standard graphic output. These laptop specifications will remind you of another product line from ASUS, the Vivobook series, but having Enterprise grade security features like fingerprint sensor, Kensington security lock slot, Webcam privacy shield and TPM 2.0 chip; all providing a layer of security not usually found on consumer grade laptops. The unit on display is the ExpertBook B5 OLED laptop
There are also machines that cater office based workers. The first is a Mini PC or a NUC, a very compact PC (which we have covered releases of several models back) which functions similar to a full sized PC in a tiny form factor. It saves on space, allowing for bigger table space for its user, as well as for other corporate functions like kiosks.
While ASUS Business does offer pre-built machines, the group still provides another offering for corporate clients looking to have enterprise level features while allowing for custom builds. The CSM motherboard is a type of motherboard under ASUS Prime series that allow for long term use for business (supply wise) with integrated IT management software. The demo unit is a custom built PC using consumer grade parts and geared towards smaller architectural/engineering/design firms looking to have a more flexible solution for PCs while having stable support.
For small offices, the ASUSTOR LOCKERSTOR offer flexible storage for backups. The demo unit is a LOCKERSTOR 2 for small/medium office use. It runs on an Intel quad core Celeron CPU, 4GB of DDR4 RAM. It serves as an affordable onsite device for small offices (or even personal users) without the need to purchase a high-end server.
And there's even a large format Technical Printer from Epson displayed which is used for printing out blueprints on A1 paper.
For Software Developer / Designer / Engineer / Power User: ProArt Studiobook
Crossing over to another part of the exhibit, are more laptops. These set of laptops however are ProArt Studiobook units and are recommended for power users within a company. These laptops would more or less fit well with my role at work; performing a plethora of Development, Design, Prototyping (setting up a virtual server running server side applications), to even recording and editing videos for work. Other professions such as architects, engineers, designers, that are usually on the go that also require powerful hardware to complete work.
ASUS ProArt Studiobooks can be tailored to client requests. May it be an AMD or Intel CPU, or a range of NVIDIA RTX graphics and the benefit of having an incredibly clear and vibrant OLED screen. While some laptop brands have a rubber nub in the middle of the keyboard as a replacement for a mouse (and the trackpad); The ProArt Studiobook comes with a customizable control wheel called ASUS Dial that aids designers/editors for quickly accessing features on applications like Adobe Premiere, Adobe Photoshop and more. Users can also customize the wheel's functions through ProArt Creator Hub.
All of these features and performance of a gaming laptop, yet in a sleek black finish, the ProArt Studiobook has it.
Work Monitors
And finally, we have monitors. ASUS headlines its ProArt series of monitors for Creatives (PA329CV, PA279CV,PA32UCR), but for the office looking for a modest monitor with the necessary features like Full HD 1080p resolution, 23.8″ screen size WITH an integrated camera and microphone perfect for remote conferences and software for organizing multiple windows, then the BE24EQK monitor will fulfill the need for work monitors.
ASUS Business offers volume purchases for companies looking to upgrade or starting up and procure new hardware. They can be contacted through https://www.connect.asus.com/ph/VolumePurchase, or their Facebook page.