ASUS Republic of Gamers has recently announced their release of Electro Punk themed peripherals. First announced April of this year, the Electro Punk peripherals come in a striking black and (hot) pink color theme. This theme comes available to the following peripherals: ROG STRIX Go 2.4 gaming headset, ROG STRIX Scope TKL gaming keyboard, ROG STRIX Impact II gaming mouse, and other gaming lifestyle accessories. Let's go over each peripheral and briefly cover their features.
ROG STRIX GO 2.4 Electro Punk Gaming Headset
The ROG STRIX GO 2.4 is a USB Type-C 2.4GHz wireless gaming headset that has a stable, lag-free audio on smart devices aside from PCs such as Sony PlayStation, Microsoft XBox, or Nintendo Switch (handheld mode). The Electro Punk Edition features pink piping around the headband, earpads and on the ROG logo. The rest of the headset will retain its black color to contrast with the pink highlights.
Aside from the Electro Punk color theme and wireless connectivity, the STRIX GO 2.4 features a detachable boom mic. This comes with AI noise cancelling technology intelligently removes unwanted background noises. It has a relatively quick charge of 15 minutes give a 3 hour operating time, but on a full charge, expect up to 25hours of use. Built in buttons on the headset allow users to adjust microphone and sound. And for compatibility with various plugs, the STRIX Go 2.4 comes with a USB Type C to Type A adapter, and even a 3.5mm connector.
Also Read: ASUS Expands TUF Gaming Monitors with Two New Additions
ROG STRIX SCOPE TKL Electro Punk Gaming Keyboard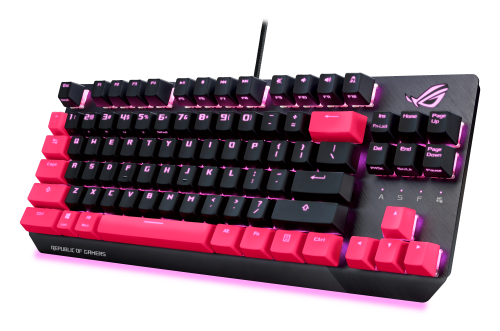 The ROG STRIX SCOPE TKL Electro Punk gaming keyboard features an eye-catching pink keycaps for its spacebar, backspace and cursor keys. It still retains its customizable Aura Sync RGB lighting across all keys, the ROG logo and underneath the keyboard's chassis. As this keyboard is geared for competitive gaming, it has features such as an enlarged Ctrl key that is easier to access during frenetic engagements. Cherry MX switches are supplied for tactile and responsive key strokes. The chassis of the STRIX SCOPE TKL is made of aluminum for rigidity and its TKL design makes it portable for carrying on backpacks.
ROG STRIX Impact II Electro Punk Gaming Mouse
Designed for professional gaming in mind, the STRIX Impact II Electro Punk gaming mouse features a smooth glide operation on surfaces. It features comfortable ergonomics and a pivoted button mechanism for responsive mouse clicks. Its 79g weight provides the ample weight allowing for precise movement. A 6200dpi sensor ensures accuracy as well. A dedicated DPI button allows gamers to swtich between 4 sensitivity modes on the fly. An exclusive push-fit socket design allows users to change click resistance and can also extend the mouse's lifespan. There are a total of five programmable buttons for use. The scroll wheel, ROG logo, and programmable buttons are colored in pink, making them stand out well on the otherwise black frame of the STRIX Impact II mouse. Aura Sync RGB is also found integrated in the scroll wheel, and front.
ROG Sheath Electro Punk Gaming Mouse Pad
This large gaming mouse pad measures at 35 inches across (length) and 17 inches deep (wide), the Sheath gaming mouse pad will sure to provide comfort and cushion for ROG peripherals. It has a tightly woven fabric, allowing smooth surface for gliding mice. A non-slip back ensures it will stay in place. To prolong the life of the mouse pad, its edges are stitched in pink thread to reinforce the mouse pad and avoid fraying. The right side of the mouse pad is predominantly black to limit scuffing.
Free Cyberpunk 2077 or Steam Credits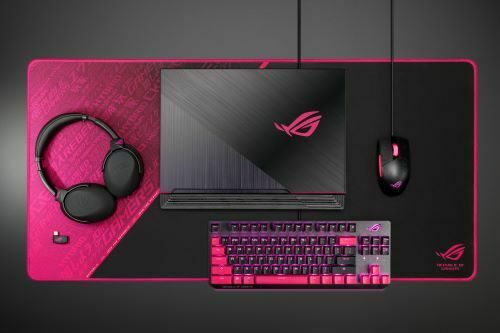 From July 15 – August 15 2020, end-users who buy a full set of ROG Electro Punk gaming peripherals can either get a copy of Cyberpunk 2077 Standard Edition PC Game (first 40 claims), or Php 1000 Steam credits (41st claim and succeeding). In order to claim your game or credit, head over to http://ph.rog.gg/punk4punk.
Availability and Pricing
| | |
| --- | --- |
| Model Name | SRP |
| ROG STRIX SCOPE TKL Electro Punk | Php 6,900 |
| ROG STRIX Impact II Electro Punk | Php 2,200 |
| ROG Sheath Electro Punk | Php 1,910 |
| ROG Strix Go 2.4 Electro Punk | Php 8,530 |