Let's backtrack a bit. In 2017, ASUS ROG introduced the Strix GL503. It eventually spawned two versions: the Hero and the SCAR. The former was meant for MOBA gamers while the latter is for Shooting. Last June, ASUS ROG introduced the updates of the GL503 during COMPUTEX 2018 – the ROG Strix GL504 Hero II and SCAR II. Having reviewed the ROG Strix GL503VD before, I was interested in getting either one of the two, though I was leaning more on the SCAR II since I play more FPS games like Overwatch.
Since our friends in ASUS know very well about my praises for the GL504, they sent me a ROG Strix GL504 Hero II review unit for evaluation. Not a SCAR II, I know but they're pretty much the same anyway so I didn't waste any time and started using this baby.
ASUS ROG STRIX GL504 HERO II REVIEW SPECS:
| OS: | Windows 10 Home |
| --- | --- |
| Display: | 15.6-inch Non-Glare IPS Full HD display, 144Hz, 3ms |
| Processor: | Intel Core i7-8750H processor |
| GPU: | NVIDIA GeForce GTX 1060, with 6GB GDDR5 VRAM |
| Storage: | 1TB 7200RPM 2.5' HDD, 128/256/512GB M.2 NVMe PCIe SSD |
| Memory: | 16GB up to 32GB DDR4 2666MHz (dual-channel) |
| Connectors: | 1 x USB3.1-Type C (Gen2); 2 x USB3.1 (Gen1); 1 x Microphone-in/Headphone-out jack; 1 x USB 3.1 (Gen1); 1 x HDMI 2.0; 1 x Mini Display Port 1.2; 1 x RJ45 LAN, 1 x SD Card Slot, 1 x Kensington lock |
| SRP | P104,995.00 |
THE UNBOXING: ASUS ROG STRIX GL504 HERO II REVIEW
I was working on the ROG Zephyrus M GM501 Review when this package arrived in my house. I usually receive thin boxes that only contains a review unit. Apparently, I was sent a complete retail set of the ROG Strix GL504 Hero II. The big package comes with a lot of goodies inside. Let's take a look.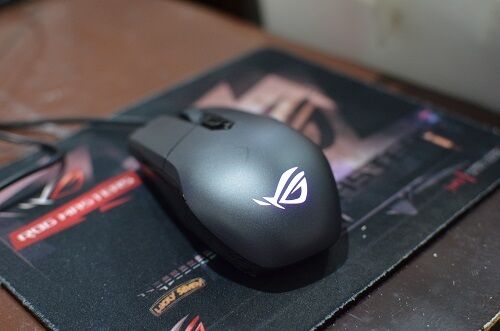 The ROG Strix Impact is a USB wired optical gaming mouse with ambidextrous design, clickable scroll wheel, DPI switch and indicator, and low-friction rubber cable. It's compatible with the Hero II's Aura Sync RGB Software.
The ROG Ranger backpack is a big bonus for new owners of the Hero II if they don't have a laptop bag yet. It's not heavy duty compared to the Shuttle II or the other Ranger line of bags, but this simple backpack with some ROG designs on it should be good enough.
The ROG keychain latch, stickers and user manuals are the other extras in the package. I was lucky enough to receive the keychain latch during the ROG For Those Who Dare event in Taipei last June.
THE LOOKS AND FEEL: ASUS ROG STRIX GL504 HERO II REVIEW
ASUS didn't make any radical changes with the design of the Hero II. It's pretty much the same as the Strix GL503, only slightly lighter. The cover is still made of aluminum with the ROG logo on the right side. Instead of the usual red, the ROG logo now has RGB. Whoever's staying in front of the Hero II will definitely be entertained by its dancing lights logo.
The layout in the keyboard area is what makes the Hero II distinct from the SCAR II. The QWER keys are highlighted which are commonly used in MOBA (Multiplayer Online Battle Arena) games, hence the Hero II is targeted for MOBA gamers. The design on the keyboard area also has a slash in the center with subtle ROG designs at the bottom. The SCAR II has WASD as highlighted keys and some sort of camouflage design on the keyboard.
There's also an RGB bar at the front of the keyboard. I know people my age may be too conservative to like it, but I do like the "RGB everything" this laptop offers. Maybe because I'm too bored with my old ROG Strix GL502VS.
On the left side of the Hero II are the power jack, RJ45, Mini Display, HDMI 2.0, two USB 3.1, Type C USB 3.1, and a 3.5mm headphone jack.
On the other side are the other Kensington lock, another USB 3.1 port and an SD Card slot. Other laptops have killed some of them, but ASUS still managed to include these ports as well as the SD card slot which I use for transferring photos from my DSLR Camera. The RJ45 port would come in handy in case WiFi is not working.
THE DISPLAY: ASUS ROG STRIX GL504 HERO II REVIEW
The display of the ROG Strix GL504 Hero II is 15.6 inches with Full HD resolution and uses an IPS panel commonly seen in high-end laptops. As seen above, the screen now has thinner bezels, around 2.33 cm narrower than the GL503. The webcam is now moved to the bottom right part of the display. While I laud the screen for having thin bezels and kinda forgiven the designers for giving the Hero II a thick bottom, I couldn't accept the fact that the webcam was placed in an awkward position.
What could make you easily forget about that webcam is the display's 144Hz refresh rate and 3ms response time. As a GL502VS user which has 60Hz refresh rate, I enjoyed the fast and smooth games I've played whether it's MOBA or FPS.
Generally speaking, the IPS display provided bright colors and can be viewed at different angles. I wouldn't recommend using it outdoors under direct sunlight.
THE PERFORMANCE: ASUS ROG STRIX GL504 HERO II REVIEW
Aside from the screen display, the ROG Strix GL504 Hero II's internals were also upgraded. It is now powered by a 8th Gen Intel Core i7-8750H with 16GB of RAM and its graphics card is a NVIDIA GeForce GTX 1060. These three give the Hero II sufficient horsepower to play most Triple A games in high settings.
These benchmark results are a bit lower than what I've expected but somehow they're within the range of its contemporaries with almost the same specs.
Since this is a gaming laptop geared for MOBA games, I played Heroes of the Storm. MOBA games like DOTA 2, League of Legends and Heroes of the Storm are not graphics intensive so I'm assured to have very smooth gameplay on any of these games.
Overwatch is playable at Ultra graphics settings and I averaged 108 frames-per-second while PUBG got me an average of 69.
Another area ASUS has made improvements on the Hero II is the HyperCool Pro Thermal System. It provides cooling performance so it can maximize the laptop's high-performance CPU and GPU. During my review period, my GPU's temperature measured between 72 degrees to 78 degrees Celsius.
THE BATTERY: ASUS ROG STRIX GL504 HERO II REVIEW
Like any other gaming laptops I've used in the past, I would only use the Hero II unplugged if it only involves typing, web browsing or video streaming. I usually average around 3.5 hours which is a lot better than a Zephyrus but still too short for me who needs a battery life that's similar to a MacBook Pro or an ASUS ZenBook.
DR'S CONCLUSION
I am pleased with the overall performance of the ROG Strix GL504 Hero II. It's the gaming laptop that would certainly suit my needs. While it's pretty much the same, I'm leaning towards a SCAR II which comes with GTX 1070, the same GPU of my GL502VS. However, it would cost more at P129,995 while the Hero II is P25,000 pesos cheaper (P104,995.) Pricey compared to the original Hero and SCAR but I'm willing to purchase it to upgrade my current gaming laptop.
The Hero II deserves a DR's Choice Award for its overall performance and value!
PROS
Screen with Thin Bezels
144Hz Refresh Rate with 3ms Response Time
GTX 1060
Cooler Temps
CONS
Awkward webcam placement
Quite Expensive