I first heard about the ROG Zephyrus G14 from fellow tech bloggers last year when they tested an evaluation unit which has a unique lid with animated LED lights. I was not really interested about it until the peeps from ASUS ROG came over last March before the lockdown and presented to us the upcoming ROG laptops. The Zephyrus G14 was one of them and after learning the laptop's configurations and capabilities, I became interested in it too. In fact, I'm even more interested to upgrade to a G14 than a Zephyrus Duo which I don't think I can afford. The Zephyrus G14 is a more realistic upgrade for me, but can it suit my needs? Let me share my ROG Zephyrus G14 review.
ASUS ROG ZEPHYRUS G14 SPECS:
| CPU | AMD Ryzen 9 4900HS |
| --- | --- |
| RAM | 16GB DDR4 |
| GPU | NVIDIA GeForce RTX 2060 Max-Q, with 6GB GDDR6 VRAM |
| Storage | 1TB PCIe 3.0 SSD |
| Display | 14" Full HD (1920x1080) 120Hz IPS-level Panel, 100% sRGB, Pantone Validated |
| Ports | 2 x USB 3.2 Gen 1 Type-A; 1 x USB 3.2 Gen 2 Type-C with DisplayPort 1.4 and Power Delivery; 1x USB 3.2 Gen 2 Type-C; 1x HDMI 2.0; 1x 3.5mm headphone jack; 1x Kensington lock |
| Connectivity | WiFi 6 802.11ax; Bluetooth 5.0 |
| Webcam | None |
| Operating System | Windows 10 |
| SRP | P109,995 |
THE UNBOXING – ROG ZEPHYRUS G14 REVIEW
The box of the Zephyrus G14 is big and I assumed it has some ROG accessories that comes with it.
I was right. There are some accessories included in the package of the ROG Zephyrus G14. First thing I saw is a stylish laptop sleeve case. There are two pockets in the sleeve where you can slip inside your small accessories.
The inner box houses the Zephyrus G14, charger and other accessories. It includes the ROG Strix Impact gaming mouse, which seems to be a standard freebie for Zephyrus units. Since this Zephy doesn't have a built-in webcam, ASUS also bundled the ROG Eye, a 1080 60fps webcam in the package.
I like the size of the charger that came with the G14. It's smaller than the usual chargers and also lighter to carry.
THE LOOKS AND FEEL – ROG ZEPHYRUS G14 REVIEW
My eyes almost bulged out of their sockets upon seeing the ROG Zephyrus G14 in Moonlight White. It doesn't look like a usual gaming laptop, and I mean it in a good way. Now don't get me wrong, most gaming laptops especially from ROG look cool, but there are some non-gamers who need the power of a gaming laptop for work. The small ROG branding on a silver metallic adds some class on to the clean look of the laptop.
Another reason why I was wowed by the G14 is its size. In a sea of 15″ gaming laptops, the Zephyrus G14 is the smallest I've ever held. At 1.6kg, it's like carrying an ultrabook to a meeting or a coffee shop with the power of a gaming laptop. Personally, this is my preferred size since I am always on the go.
Several vents are found at the rear portion of the G14.
Aside from additional vents, the left side of the laptop has a power jack, HDMI port, a USB Type-C port, and a 3.5mm headphone and mic combo jack.
On the other side are the Kensington lock, two USB 3.2 Type-A ports and another USB 3.2 Type-C port. One of these type-C ports can support Power Delivery charging and DisplayPort 1.4 cables.
The earlier Zephyrus models have an unorthodox keyboard placement but thank goodness the ROG Zephyrus G14 didn't follow the tradition. I never really complained about any of the ROG laptops' keyboards, but the keyboard of the G14 is the best I've used from ASUS. I really liked the clicks of every key I've pressed on and it's a joy to use. It doesn't have RGB (sorry #RGBisLife peeps) but it does have some white backlight, which honestly speaking is kinda hard to notice.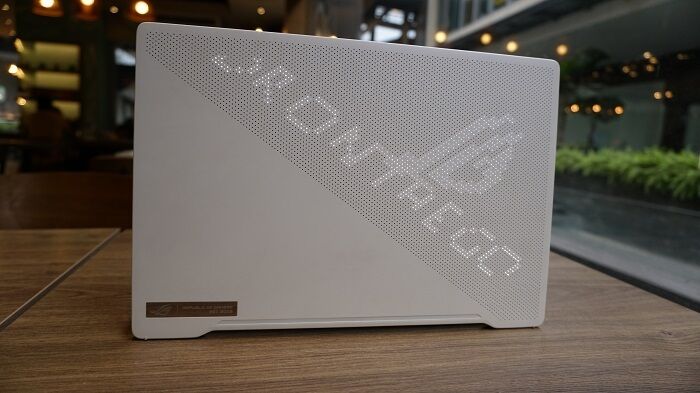 The laptop may not have any RGB lighting, but it does have AniMe Matrix display. This is a new way for gamers to express themselves, or basically try to catch the attention of anyone who sees this laptop with moving graphics. These can be customized with texts, images, or a combination of both. They can also be synced with the music you play on Spotify.
The Active Aerodynamic System or AAS is noticeably absent in the G14. The only other Zephyrus without AAS was the Zephyrus GA502, which coincidentally is also powered by an AMD Ryzen processor. Instead of having AAS, the G14 has an ErgoLift hinge copied from its ZenBook cousin. The back of the lid when opened acts like a stand for the Zephyrus which gives more airflow underneath the laptop.
THE DISPLAY – ROG ZEPHYRUS G14 REVIEW
This is the first Zephyrus, or any ROG laptop to have a display smaller than the usual 15-inch. The G14 variant I am using has a 14-inch IPS-level display with Full HD resolution and 100% sRGB. It also has a 120Hz refresh rate which is not that bad even I'm already used to displays with 144Hz. Bezels are thin on the top and sides and has a thick chin which I don't really mind. Colors are accurate for work (photo editing) and play.
THE PERFORMANCE – ROG ZEPHYRUS G14 REVIEW
This is my second time to review an AMD Ryzen-powered Zephyrus but I am more excited to check out the G14's latest 4th Gen Ryzen processor. The latest gen Ryzen processors have made some good impressions to both PC and gaming enthusiasts thanks to its top-notch performance. The variant that I have comes with a Ryzen 9 4900HS chip which made me even more excited to try it out. Of course, I had to do some benchmarks so here are the results:
With these benchmark results, I can say the Zephyrus G14 is one of the most powerful gaming laptops I have ever used. I had no problems at all leaving Chrome opened with multiple tabs for hours while multi-tasking with my photo and video editing software. I don't render videos at 4K, but just for the heck of it, I tried it with the G14 and the laptop handled it really well.
As much as I'm enjoying using a gaming laptop for work, I had to remind myself to play some games with the Zephyrus G14. GPU included for this model is an NVIDIA RTX 2060 Max-Q which I think is good enough for the games I usually play. I installed my favorite game Overwatch, as well as The Witcher 3 and Valorant. I average 140 fps on Epic video settings, 50 fps on The Witcher 3 and 200 fps on Valorant. As I said earlier, 120Hz is not that bad.
I always set my fans to Turbo mode to maximize the power of the Zephyrus G14 especially whenever I play games. This would naturally cause the laptop to become hot, and too loud. I usually reach 80 degrees Celsius which is my usual temp with ROG laptops. However, the keyboard area is quite hot for me to use while playing.
THE BATTERY LIFE – ROG ZEPHYRUS G14 REVIEW
I've always hoped that one day I will be able to experience a gaming laptop that can last up to 9 hours. The longest so far was my recent evaluation of the ROG Zephyrus S GX502, a gaming laptop that lasted me for more than 5 hours on a single charge. The folks from ASUS were excited with the G14 because of its legendary battery life, so I know I had to try it out for myself.
I'm averaging 9 hours with the Zephyrus G14, the longest battery life I've ever experienced with a gaming laptop! This is definitely ultrabook levels! Just to be clear, the 9 hours of runtime only involved blogging, web browsing, and photo editing. Video editing would definitely lessen the battery life but it could definitely last a lot longer than the usual 1-1.5 hours in a gaming laptop.
DR'S CONCLUSION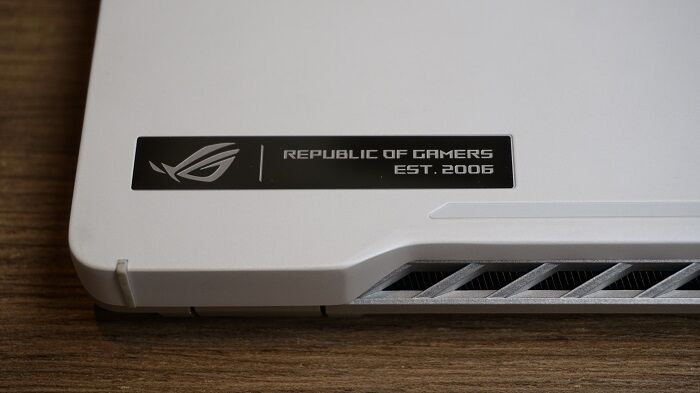 Looks like I've already found a replacement for my aging ROG Zephyrus S GX531. It still is an excellent gaming laptop and a reliable tool for content creation, but I am still yearning for a portability and battery life of an ultrabook with the power of a gaming laptop. The ROG Zephyrus G14 posses these qualities, and they suit me very, very well. Now that I have reviewed the G14, this is my main candidate as my next main work/gaming laptop.
PROS:
Clean design. Doesn't look like a gaming laptop.
Ultrabook size with a weight of 1.6kg
Improved keyboard
Powerful!
Very long battery life!
AniMe Matrix is unique and awesome
CONS:
It can get hot!
Fans can be very loud
Visit https://www.asus.com/Laptops/ROG-Zephyrus-G14/Features/ to know more about the ROG Zephyrus G14