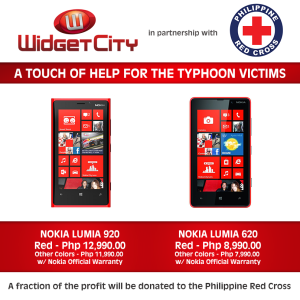 I find it hard to blog after we experienced the devastation caused by Yolanda last weekend. However, our friends from Widget City sent us news that we cannot afford not to blog.

Those who are looking for a new Nokia Windows Phone may want to check out Widget City's offerings. The Nokia Lumia 920 which used to retail at around Php 24,000 earlier this year can be bought for only Php 11,990 with the red color at a Php 1,000 more. If you want a cheaper alternative, the Nokia Lumia 620 can be purchased at Php 8,990 for the Red color and Php 7,990 for other colors.
The good news about this – a portion of these profits will be donated to the victims of Typhoon Yolanda c/o the Philippine Red Cross.
So head on to Widget City's online store and buy your new Nokia Windows Phone. And thank you Widget City for your initiative in helping out the victims of Yolanda.