A few weeks ago, Cherry Mobile launched their new series of Cosmos smartphones that piqued the local market's interests. I liked what I saw (I'm talking about the phones, not the gorgeous models in the event, thank you.) and I've been bugging Cherry Mobile to lend me one of those Cosmos units to review. Here it is, ladies and gents! Let me present to you the Cherry Mobile Cosmos X2.

SPECIFICATIONS:
OS: Android 4.2.1 (Jellybean)
Processor: 1.2GHz Quad-Core MediaTek MT6589 processor
Display: 720 x 1280 pixels, 4.8" (Corning Gorilla Glass 2) HD Super AMOLED
Wireless Connections: HSDPA+, Bluetooth 4.0, WiFi 802.11 b/g/n, GPS w/ A-GPS, FM Radio
Memory: 16GB Internal Storage, MicroSD up to 32GB, 1GB RAM
Connectors: Micro USB port
Camera: 18.0MP BSI with 1080p video recording at 30 frames per second with LED flash (Main), 5.0MP (Secondary)
SIM Card Slot: 2x Regular SIM required
Battery: 2,200 mAh
SRP: Php 11,699.00
Looks and Feel
I've played with the Cherry Mobile Cosmos X during the launch and I expected the X2 to have the same form factor. After inserting my 2 Smart SIM cards and the supplied battery, I realized that the X2 is different in style and weight. The corners are more curved and the weight is heavier than the Cosmos X, not to forget that the X2 is thicker at 9.9mm. Comparing the 2 Cosmos phones, I liked the X2 better because it has a more premium feel to it. The body of the Cosmos X2 is made of Indium tin alloy plating and the home button is made of brushed metal. The back cover is made of smooth but tough polycarbonate material which is kinda hard to remove. Out of curiousity, I tried to bend the back cover and it doesn't seem to break easily.
The display of the Cosmos X2 reminded me of the Samsung Galaxy S3 (when placed beside a Galaxy S4, the Cosmos X2 is like a long lost brother).  It is the first among the local brands to have a Super AMOLED HD screen, and I have never thought it would be found on a Cherry Mobile phone. I've used a Cherry Mobile Titan before, and a Flame 2.0, but I tell 'yah, the Cosmos X2 is the real deal! I found myself watching the latest episodes of Suits and The Newsroom with gusto unlike with any Cherry Mobile smartphones I've previously owned and used.
Overall, the looks and feel of the Cosmos X2 is not the typical Cherry Mobile Android smartphone that costs between Php 5,000 – Php 7,000.
MTK's Latest Processor

What are the other features found on the Cherry Mobile Cosmos X2 that were never seen on any of their phone models before? Aside from the 16GB storage, the latest MediaTek MT6589 was the processor of choice for the Cosmos series. According to Finbarr Moynihan, MediaTek's General Manager of International Sales & Marketing, "The MT6589 is a special achievement for MediaTek globally in many ways. Not only it is the world's first commercialized quad-core SoC, but also the world's first HSPA+ smartphone platform supporting Dual-SIM, Dual-Active functionality. With the MT6589, Mediatek has also become the first company to combine a power-efficient quad-core Cortex-A7 and leading edge 28nm manufacturing with TrustZone for system-level security. The integration of these compelling features makes the MT6589 a universal platform that delivers premium ultimedia capabilities with extremely low power consumption for an outstanding user experience."
I have mentioned in the Titan review that I had doubts about MTK's Dual-Core capabilities but it proved to be an efficient processor. Can the MT6589 impress me more? Based on my tests, it certainly did! I'm not a fan of doing benchmark tests, but I was compelled to use the one from AnTuTu to give me an idea how this processor fares against the competition.
The benchmark result shows a pretty good score. It's not in the same level of the Samsung Galaxy Note 2, Galaxy S3, and Nexus 7, but the benchmark score shows a lot of potential of what the processor can do. In my real world usage, the Cosmos X2 with the MT6589 processor performed really well. UI is smooth, transition from one app to another is quick, and I rarely experienced lags in my apps. The Cosmos X2 can handle multiple-opened apps but it can also slow down if too many were left opened. Just make sure to close those unused apps. All the games I've tried namely Streetfood Tycoon World Tour, Temple Run 2, and The Sims played well without any problems. The MTK MT6589 processor seems to be a real deal and I can say that I have now confidence on the Taiwanese chipmaker.
Dual-SIM Made Easier
The Cherry Mobile Cosmos X2 is a Dual-SIM smartphone that supports Dual-Standby. What irritates me in using a Dual-SIM phone is the number of steps needed to be clicked in the Settings page before I can change the default SIM card. The Cosmos X2 made it easier for me by swiping down to open the notifications window and select which SIM I would like to choose as the default for calls or SMS. These options will only show in the notifications window while you're on the phone or messaging app.
18 MEGAPIXELS??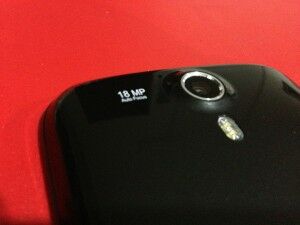 At 18 Megapixels with BSI, the Cherry Mobile Cosmos X2 currently has the highest camera resolution I've ever laid my hands on. Impressive as it may sound, I'm taking this with a grain of salt. It was never mentioned that 18 Megapixels was the true megapixel count and I have a hunch that it's only interpolated. What I mean is, the true megapixel count is lower and they altered this to make it higher. This has been a common practice by phone and digital camera brands since a decade ago. The more common ones were from HTC when they were still known as Dopod here in Asia.
Here are the photos I took with the Cosmos X2:
You can see that the Cosmos X2 is very capable of taking photos outdoors or indoors. However, I'm quite disappointed with the front camera as it wasn't able to produce the proper color I've expected. I took a few photos using the front camera and I am always disappointed with the results.
Fancy Functions
Cherry Mobile included some gimmicky functions like Direct Call and Smart Stay. If you have owned a Samsung Galaxy device before, then you'll have an idea how these works. For the benefit of others let me give a brief explanation of each. Direct Call lets the user call someone he is exchanging text messages with while Smart Stay makes the phone stay on as long as the user is facing the phone.
Battery
I believe smartphones nowadays should come with at least 2,100 mAh of battery capacity. Cherry Mobile has been listening lately as they have included a 2,200 mAh battery with the Cosmos X2. It gave me excellent battery life with an average of at least 15 hours a day and can reach up to 20 hours a day with 9% of juice left. For a Quad-Core powered phone with long battery life, the Cosmos X2 really impressed the hell out of me!
BOTTOMLINE
Cherry Mobile's theme in the recent launch was Bigger and Brighter, and with the newest Cosmos series especially the Cosmos X2, I finally understood why. It is time for the top local mobile phone brand to level-up again with the big boys by bringing the top technologies of international phone brands to the Cosmos series. It is time for them to make everyone aware that they are not limited to produce phone models that are common in the mid-range smartphone market. These technologies help make the Cosmos X2 probably one of the best smartphones Cherry Mobile has ever released.
I have never enjoyed a Cherry Mobile product this much after a long time and these premium features can make one's purchasing decision easier for a high-end Cherry Mobile smartphone. I am aware that they also have the Cosmos Z which has not been released yet, but personally, I'll put my money on the Cosmos X2.
LIKES:
Super HD AMOLED Display
MTK MT6589 processor
Main camera can take decent pictures
16GB Storage
Long Battery Life
DISLIKES:
Back-cover is very hard to remove
18 Megapixels seems to be interpolated
Front camera doesn't produce the proper color