Craving for a style and performance without breaking the budget? Look no more as Cherry Mobile releases it's summer entry- level phone with an intriguing design within its league and affordable price – the Cherry Mobile Flare Y7 LTE review. It definitely makes it's price hard to judge by sight with sophisticated quality at first glance.
CHERRY MOBILE FLARE Y7 LTE SPECS:
| OS: | Android Oreo 8.0 Go |
| --- | --- |
| Processor: | 1.5GHz MediaTek MTK6739 Quad-Core processor |
| Display: | 6.2" HD+ Display with 19:9 TrueView |
| Wireless Connections: | LTE, Bluetooth 4.0, WiFi b/g/n, A-GPS |
| Memory: | 8 GB Internal Storage expandable with a Micro SD card up to 32GB, 1GB RAM |
| Connectors: | Micro USB |
| Cameras: | 13 Megapixels (Main Camera), 5 Megapixels (Front) |
| SIM Card Slots: | 2x Nano SIM Cards required (hybrid) |
| Battery: | 2,800 mAh |
| SRP: | P4,299 |
UNBOXING: CHERRY MOBILE FLARE Y7 LTE REVIEW
The box holding the Flare Y7 is a slide type box that reveals the phone in one pull. It sits on the topmost level of the box along with the provided guide. Accessories contained within are the (1) earphones and (1) charger.
DESIGN: CHERRY MOBILE FLARE Y7 LTE REVIEW
Black is the color theme for the phone exterior. With that, it's chic, cool, and extremely easy to maintain! The darkness of the phone mostly covers possible fingerprints on the back, so in testing this phone, I didn't have to worry about being particularly conscious on how it would always look.
Cherry Mobile's Flare Y7 LTE does contain a dewdrop notch with minimized bezels despite being under Php 4,500! At the moment, it's unrivaled in the roster of entry- level smartphones. I think a 19:9 ratio is pretty amazing!
The edges and sides of the smart phone aren't rounded as most smartphones today are. It's clean cut for an easy grip, yet it might be too harsh of an edge for others used to a soft, fluid build.
It's cover isn't detachable on your own. Forget an easy to open cover, I can't even find screws! When in need of a repair, it's most likely best to leave it to the professionals. The back is made of plastic with a glossy finish. It looks slippery, yet it's easy on the hands. Again, extra points for grip! On it's weight, it's amazing on the hands. Not too uncomfortably light that you no longer feel that it's still an actual phone, and not too heavy that it's a pain to bring along.
On the back features the camera and flash well adjusted on the left side and a small 'cherry mobile' logo positioned at the upper center. It opts for a minimalistic look which I think it produces very well.
All the buttons (volume and lock) are located on the left side (from the screen orientation) which is a bit of a new thing for me. I, myself was used to having the volumes on one side and the lock on the other. However, it's not much of a problem once you get used to it.
To not be too overwhelmingly left heavy featured, the sim tray card that can be opened can be found on the right. It can hold two nano-SIMs or a SIM and micro-SD card. Totally up to your choices, but for me, I think it would've been better that two nano-SIMs and a micro-SD card could've been given the slot. The memory held in this phone is not that large, so it could use an SD card while still being able to carry dual SIMs.
The speakers and microphone are on the bottom of the phone and the charger and earphone jack on top. I like that arrangement. The charger and earphone jack being on top makes it very convenient at times when you really need to use the phone while it's charging.
On the whole, I find the design for Cherry Mobile's Flare Y7 LTE to be great and functional, yet I felt they could have done more with the design. It felt too much simple, like it's a just functional slim block. But then again, the Flare Y7 LTE is already one of the progressive entry- level smartphones. The design is still very much competitive with others on it's tier.
DISPLAY: CHERRY MOBILE FLARE Y7 LTE REVIEW
The display is a 6.2-inch HD+ TrueView 19:9 Notch Display that does it job effectively. It's not very recommended for intense viewing sessions where you'd want to appreciate the visuals. Though it's HD, it still doesn't fare well in producing 1080p or 60 fps videos which are everywhere right now.
Still, it's great to keep in mind that it's only less than Php 4,500. For that price, it's not that surprising in not being able to view 1080p or 60 fps videos as well you'd expect. The display however, is still comfortably okay for HD videos.
The big screen is definitely a plus too in advantages!
PERFORMANCE: CHERRY MOBILE FLARE Y7 LTE REVIEW
Not bad for it's price, but it's not necessarily good for games either.
More on the phone's performance, most of the pre- installed apps on the phone are running on the android go version.
The Android (Go Edition) is a watered- down version of android that will run as smooth as the full thing. It's built for entry- level smartphones as it's file size is smaller than regular. Meaning, more storage space for you, while still keeping up with the internet.
Apps that are pre- installed here in the Go Edition are; Google, Google Maps, Gmail, Google Assistant, and Youtube.
The Google Go is a new reimagined interface of Google. It's slightly different from what we're used to, but it's not hard to work around with. All in all, nothing too drastic. Furthermore, it loads web pages faster than the original. Mainly because it targets slower networks.
Google Maps Go however does have some big differences from the full thing. Google Maps Go doesn't feature real- time turn by turn navigation, location sharing, and sweet, subtle features Google Maps has. Though, you can be assured that the app can do the important things without a hitch.
On Gmail, it's fresher and faster as well. Again, as all go edition apps are designed to be, it takes up less storage and data! Personally, I liked this version better. It organises my emails more neatly than the original and it loads faster.
Google Assistant Go isn't really something I used on the daily basis. But when I do try it, it does do it's work perfectly. There are certain limitations on Google Assistant Go when put head to head on the real version. First off, the hands- free controls aren't supported. Therefore, in some that's used to using the full version Google Assistant that may be a problem. More missing features are up next, but I do think that's the only main thing that might hold you back on this app. Still, I don't use Google Assistant anyway so it didn't pose a problem for me.
YouTube's Go Edition isn't something I really enjoyed (Sorry!). On here, I felt like my actions were so limited. I couldn't view the comments, the recommendations were so few, and the interface was confusing. For example, I kept pressing the download button since it was on the right.
In the end, the only thing I'm unsatisfied with is the Youtube Go!
CAMERA: CHERRY MOBILE FLARE Y7 LTE REVIEW
The camera is not that good for selfies. But, the leeway in that is the flash makes everything much clearer. It's a go signal for students as the flash with the rear camera makes notes easy to read.
In low light setting, the camera doesn't feature as much details as it should.
With good lighting however, wonders can be made!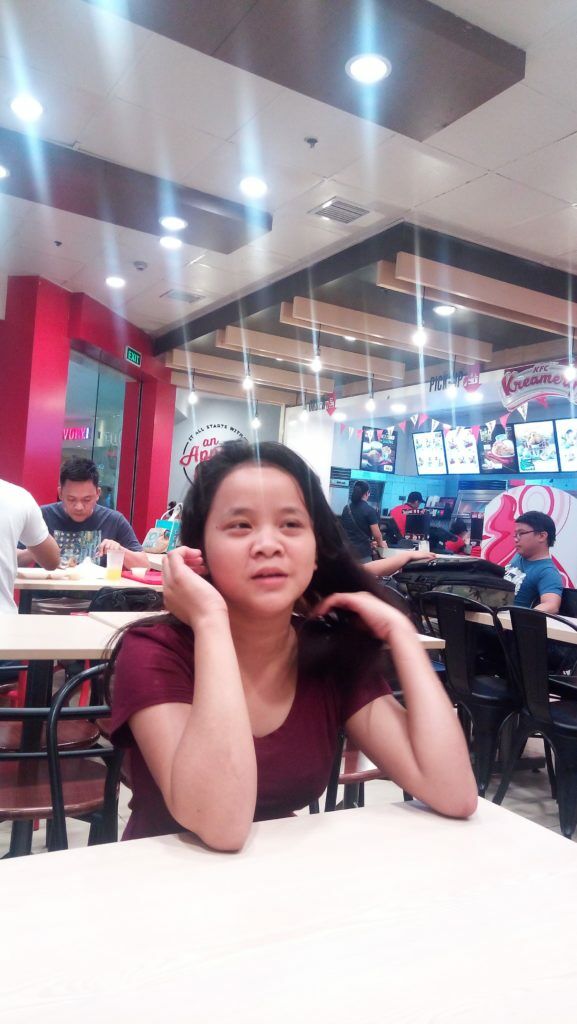 Therefore, with the cameras built in on the Flare Y7, I wouldn't say that it's to be recommended for people who like taking shots a lot.
BATTERY: CHERRY MOBILE FLARE Y7 LTE REVIEW
This battery can still pack a punch! Won't last you a whole day if you're using LTE, but it's good enough to keep you satisfied at home without charging every hour.
CONCLUSION
Cherry Mobile's Flare Y7 LTE changed my perspective of an entry- level phone by a lot! It handles itself nicely for it's relatively cheap price.
Pros:
Awesome Design
Impressive Entry- level Display
Affordable
Cons:
Not for gaming
So- so camera
HD at only 720p