The Cherry Mobile Selfie is exactly what its name proposes: a selfie phone. With 13MP rear and 13MP front cameras, every snap-happy person will definitely enjoy this device, especially since it's only priced at Php 9,999. However, it's still a phone, and it still has to perform as well as any other device in its price range. Read on to see what's hot and what's not.
Cherry Mobile Selfie
Display: 4.7-inch HD IPS display at 1280 x 720 pixels with Corning Gorilla Glass 3 protection
OS: Android 4.4 (KitKat)
Processor: 1.7 GHz Octa-Core MT6592 processor
Graphics: Mali 450 GPU
RAM: 2GB RAM
Internal storage: 16GB expandable up to 32GB via microSD
Camera/s: 13MP rear camera with dual LED Flash, supported by Sony Sensor
13MP front-facing camera with LED flash
SIM/s: Dual SIM (micro and nano, with nano slot doubling as microSD slot)
Network and Connectivity: 3G, HSPA+, WiFi 802.11 b/g/n, Bluetooth 4.0
Battery: 2,300 mAh battery
Price: Php 9,999
Design and Build
The Selfie has a 4.7-inch display, but it looks and feels bigger than that, probably because of how it's shaped. Instead of the usual top and bottom tapering to a squarish slope, the Selfie's edges are  rounded, and they make for an unusual and unique design, which properly accommodates the huge lens of its 13MP front-facing camera.

The back panel of the phone is made of sophisticated-looking matte plastic, but you'll probably gloss over that as its rear 13MP camera and dual LED flash really command attention.
Personally, I would have wanted a more discrete design. After all, the LG G3 has a 13MP rear camera as well, but it isn't as blatantly set as the Selfie's. However, it seems that the Selfie is all about standing out, so if that's the case, then it has done its job well.
Flipping the phone to its side, you'll find the SIM/microSD slots at the right edge. The Selfie accommodates a micro and a nano SIM, and the nano SIM slot also doubles as a microSD slot. Beneath it is the selfie button, which triggers a timer so you won't have to scramble to pose for your shot. Since the right edge is occupied, the volume rocker has been placed on the left edge, while the power button is at the top.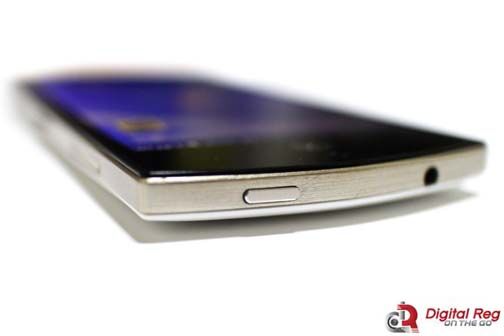 Display
The Selfie has a passable 1280 x 720 that shows clear and crisp visuals. However, pixels can get obvious at certain angles.
In an outdoor setting with environmental glare or direct sunlight, the Selfie's display can be hard to use, and you may have to tinker with the brightness settings as its auto-adjust settings seem to have a hard time compensating.
Software and User Interface

The Selfie sports Android 4.4 KitKat with a fairly simple user interface. Of course, the usual pre-installed Cherry Mobile apps are there, such as the Cherry Mobile Fun Club and the Pinoy App Shop. You may want to update the system as well as its Google apps first for less bugs and smoother downloads.

The Selfie does not feature a multi-tasking window, so if you're looking to turn off your apps, you'll need to do it with the usual back button.
Performance

As the Selfie is an octa-core phone, it definitely has no problem running heavy games or apps. Brave Frontier, an online mobile game which usually lags on lesser phones runs smoothly on the Selfie. Curiously, though, Batman: Arkham Origins runs and immediately shuts down, but I think it may just be an issue with the app.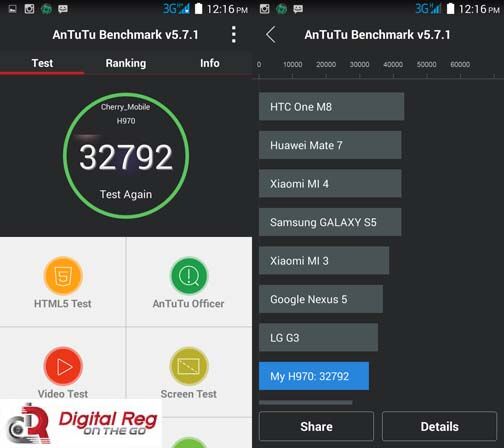 The Selfie has an impressive score of 32,792 on Antutu, running behind the LG G3, which is considered one of the best phones of 2014.
Cameras
Here is were the Cherry Mobile Selfie really shines. It's rear camera captures vibrant colors even in washed out, cloudy environments. Moving objects such as vehicles are captured without blurring.
In dark environments though, the Selfie's rear camera gives grainy results similar to any other less powerful camera. When it compensates with its dual LED flash, the lighting becomes too harsh that double shadows can be seen behind the subject.
The front-facing camera is also a lot of fun. It can capture subtle changes in color, as seen in this selfie where I was sitting beneath a yellow umbrella and the light is reflected on my face. It also sports a beautify feature.
Battery
The Selfie sports a 2,300 mAh that's enough to last a day on moderate usage, which includes intermittent online activities, texting, calling, and video viewing. However, if you're heavy on using your data connection, the Selfie may only last you half a day.
Conclusion
The Cherry Mobile Selfie promises hours of fun for casual photographers, and with its octa-core processor, it can also efficiently multi-task, even if it isn't really its main thrust. The Selfie isn't for the serious yuppie who hops from one meeting to the next; it's for the laid back person who loves capturing both special and mundane day-to-day moments and sharing them with friends. For those who value sharing their lives with those important to them more than anything else, Php 9,999 is a good investment.