The ASUS Zenfone 6 was announced a couple of weeks ago in Vienna. What's interesting in this launch is they announced only one phone model. In recent years, ASUS would announce a series of new Zenfones on launch day (last year, they trimmed it down to three.) They may only launch one phone model so far, but honestly speaking, it looks great!
We were able to get some hands-on time with the Zenfone 6 at the exhibit booths during ASUS 30th Anniversary Press Event. The phone has more accents on its side compared to the Zenfone 5, and its shiny surface is reminiscent of the ASUS Zenfone Max Pro 2.
I love bezel-less screens and I am happy that ASUS did away with the notch. With no obstructions, I will surely enjoy watching Netflix and YouTube on this phone. Screen size is 6.4-inches with Corning Gorilla Glass 6. It is powered by the latest Qualcomm Snapdragon 855 processor which makes this phone one of, if not the crème de la crème.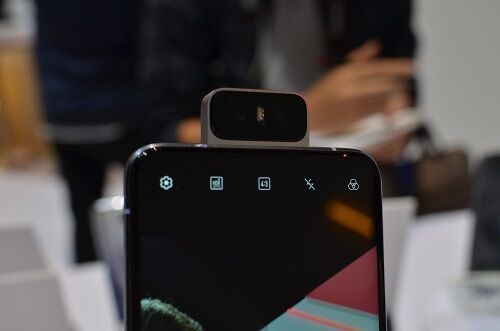 The most interesting part of this phone is the flipping camera. The common issues (which are legit issues for some) of phones with notches are the front cameras. While other phones have pop-up cameras like the OPPO F11 Pro, ASUS cleverly used a flipping mechanism. The dual-cameras are placed at the back, but once the user needs it for self-portraits, the cameras would flip from the back to the front! How cool is that?! You'll be assured that the camera quality for taking scenic photos would be the same for your selfies! Cameras are composed of 48 Megapixels with Sony IMX586 sensor and 13 Megapixels with ultrawide lens. Sample photos I took look great indoors.
Check out my hands-on video of the ASUS Zenfone 6 at the ASUS 30th Anniversary Press Event last night:
No word yet if the Zenfone 6 will reach PH soil, but we certainly hope they will.