There is a special place in my heart for low-tier phones that look and perform great for their price. Sure, they may not be as cheap as other brands, but you get the premium experience of more expensive phones for less, plus you don't feel short-changed every time you play with it.
This is what I like about the LG Leon – it may not be LG's best, but it definitely feels almost like it.
LG Leon Specifications:
Display: 4.5-inch FWVGA (220 ppi)
Processor: 1.3GHz Quad-Core
Camera: Rear 8MP  / Front VGA
RAM: 768MB
Memory: 4GB, expandable up to 32GB via microSD
Battery: 1,900mAh (removable)
OS: Android 5.0 Lollipop
Network: 3G/HSPA+
Size: 129.9 x 64.9 x 10.9mm
Price: Php 5,990
Unboxing
The LG Leon pack includes the unit, a 1,900 mAh battery (not in photo), a USB connector, a travel adapter, a quick-start guide, and a warranty card.
Design and Build
The first thing you'll notice about the Leon is that it's pretty hefty. The weight feels good, considering a lot of phones now are too light making them easy to drop. Much like its more expensive siblings, it has the same clean edges that extend to a sloped back panel finished in a classy-looking back panel, on which you'll find the everything — the camera, the LED flash, the volume rocker, the power button, and the speaker.
There isn't any notch to wedge your fingernail on to easily pop off the back panel, so if you just trimmed your nails, you may need a bit of help. Underneath the cover is the Leon's 1,900 mAh removable battery, as well as SIM and microSD slots.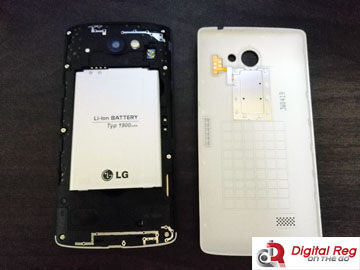 Display
The FWVGA display at 220 ppi doesn't seem like much on paper, but it works for its the Leon. The 4.5-inch screen doesn't need much to work with, and LG has still managed to deliver clear and crisp colors without visible pixelation.
Under direct sunlight, the display is still visible, albeit a bit dim.
Performance
Similar to the Magna, the Leon runs on Android 5.0.1 Lollipop, which is a great treat for a phone at the lower end of the price spectrum. UX, LG's homegrown UI, makes everything clean, sleek, and buttery smooth. Sure, the 768MB RAM won't be able to keep up with really hectic gaming and multitasking, but you can trust the Leon for your regular daily usage.
The Leon got an Antutu score of 16,626, and falls right under the ASUS ZenFone 5.
Cameras
Once you start snapping, you'll immediately realize that the 8MP rear camera isn't one if the Leon's strengths. Shots are a bit washed out, even in bright environments. Grains noticeably appear once you take shots in low lighting.
The front VGA camera obviously isn't made for selfie-loving folks.
From here you'll figure out that the Leon isn't made to be your go-to camera phone. If you're really into mobile photography, better get the LG G4.
Battery
The 1,900mAh battery is enough to last you a solid 5 hours of regular data usage, and around 6 1/2 hours on WiFi. Keep away from graphics heavy online games, though, as you're juice will definitely drain faster than that.
Conlcusion
Here's what the Leon is not: it's not the ultimate camera phone and it's not the best gaming platform. Not by a long shot. But here's what the Leon is: it's a good, low-tier phone from a premium brand that focuses more on functionality and organization rather than all the extra bells and whistles. It's a phone that won't let you down when you need it, and you're sure to always have a good working experience with it. Sure, it's still a bit more expensive than cheaper brands with the same specs, but look at it this way — you've got LG to back you up, and you've got a sweet-looking phone that doesn't look its price.
If you're looking for a budget friendly Android Lollipop device that delivers and you're not too bothered about not having top-of-the-line peripherals, then the Leon is for you.