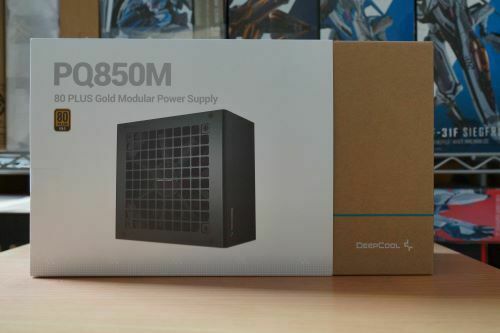 Another recent DeepCool PC Component that was recently released is the PQ850M power supply. And it is another part that I've borrowed for the Intel i7 build review. However, I don't have the necessary equipment (yet) to actually measure power usage, hence this is more of an impression of the power supply.
PQ850M Design
DeepCool did a good job with releasing its new set of power supplies with their rebranding. There are two product lines: PQ and PF. PQ Series are fully modular power supplies, while PF Series using the non-modular setup. What makes the design different from older DeepCool power supplies is the grille design. It uses larger square holes, consistent to their design philosophy. Though one thing to note about the larger holes for the fan, and the rear could be prone to dust getting in. This holds true when it's facing upwards with the PSU shroud having the same hole size. For the next iteration or version, a filter of sorts could help.
Internally, the circuit design for the PQ series comes from Seasonic's Focus line of power supplies. This information is confirmed. It can easily be searched over the internet, and read in other in-depth reviews of the PQ1000M version of the power supply. Therefore, expect high quality capacitors and other parts installed here as well.
Installation
The PQ850M unit comes in a simple brown box with sleeve. Inside is the PSU along with a smaller box containing the 24-pin power cable, two EPS 12v power cable for the CPU, three PCIe cables for the GPU, two SATA cables and one each for legacy Molex and Molex/SATA combo cable. Additional accessories that I normally do not encounter in PSU packages are Velcro straps, and a 24-pin Tester.
With a length of 150mm, the PQ850M fits well in even the most compact of ATX cases. Upon installation I found it best to first insert the PSU at an angle, then attach the modular cables that will be utilized before screwing in the PSU to the case. I used the 24pin, all of the EPS 12v power cable, one PCIe cable, and a SATA cable. The cables are plastic sleeved in black, making it neat out of the box when installed to the motherboard headers.
Summary
The DeepCool PQ850M (and other models of the PQ line) offers a no-frills power supply option for those looking to upgrade or build a new PC that requires high wattage and high efficiency. With its power design coming right off one of the better power supplies in the market, then it's a good investment. It costs around Php 7,312.50 online in DeepCool's Official Lazada Store. You may also try to check at DeepCool's Official Shopee Store just in case.