Now that the ASUS Zenfone 5 has been announced at the Mobile World Congress in Barcelona, Spain, let me share you a sneak peak of this brand new shiny phone. I won't be discussing too much about its hardware or software since this is not yet the final retail version. Nevertheless, you'll be able to see what the phone looks like as well as comparisons with other phone models. Full review will be made once the final retail unit is already available.
ASUS ZENFONE 5 SPECS:
| OS: | Android 8.0 Oreo with ZenUI 5 |
| --- | --- |
| Processor: | Qualcomm Snapdragon 636 Octa-Core processor | Adreno 509 |
| Display: | 6.2" Full HD+ IPS Display, 2.5D Curved Glass |
| Wireless Connections: | LTE-A, Bluetooth, WiFi 802.11, A-GPS, GLONASS |
| Memory: | 64 GB Internal Storage expandable with a Micro SD Card up to 2TB, up to 4GB RAM |
| Connectors: | USB Type-C |
| Cameras: | 12 Megapixels Sony IMX363+ 8 Megapixels f/1.8 (Main Cameras), 8 Megapixels f/2.0 120 degrees wide-angle (Front) |
| SIM Card Slots: | 2x Nano SIM Cards required |
| Battery: | 3,300 mAh |
| SRP: | P19,995.00 |
FIRST IMPRESSIONS: HARDWARE
The ASUS Zenfone 5 is surprisingly light to hold. I also brought with me the ASUS Zenfone 4 for comparison and it's heavier than the newer Zenfone. What material does it use? Is it still made of glass and metal? I reckon it's still a combination of glass and metal but I will find out next time on what made this phone lightweight.
Now I'm sure what people will talk about first is the notch found on top of the Zenfone 5. People may or would like to think that ASUS copied the iPhone X, but that's not the case. According to an ASUS Philippines representative, the notch was necessary so they can place the earpiece and front camera. Unlike the iPhone X, the Zenfone 5 maximized the bottom screen where the Android control buttons would pop-up when needed.
The large 6.2″ screen looks vibrant. ASUS did a good job of maximizing the screen display when normally phones of this size have 5.5″ screens. I think they still used IPS Display for this and I was told that the screen ratio is 19:9. Too bad I don't have any videos available and check if it can support full screen viewing while on landscape mode. We were not allowed to connect to the internet so we can't test it with YouTube either.
The back still has that concentric design which ASUS has been using for years. The secondary camera is now placed under the first camera, which is again similar to the iPhone X. The fingerprint scanner is now located at the back.
Here are comparison photos between the ASUS Zenfone 4 and the ASUS Zenfone 5: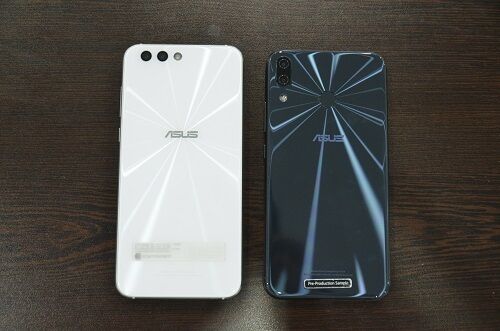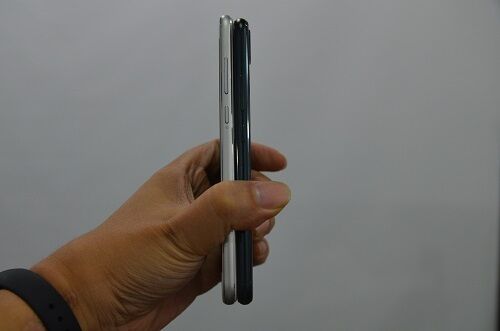 The Zenfone 5 is slightly smaller and lighter than its predecessor, yet packs a bigger screen display.
Here are comparison photos between the Zenfone 5 and my iPhone X:
FIRST IMPRESSIONS: SOFTWARE
We don't have the full specs yet but I'd like to think that this is already on Android 7.0 Oreo. If you're planning to buy the Zenfone 5, you'll be glad to know that ASUS is priming this phone for the next OS version. That's how forward thinking they are. Back to the software, I haven't noticed any new apps added on the unit we played with. That might change though, but I hope there wouldn't be much bloatware which they have already addressed. ZenUI has been updated but we couldn't see much since it's not connected to the net. We'll take a closer look on the software when we get our review unit.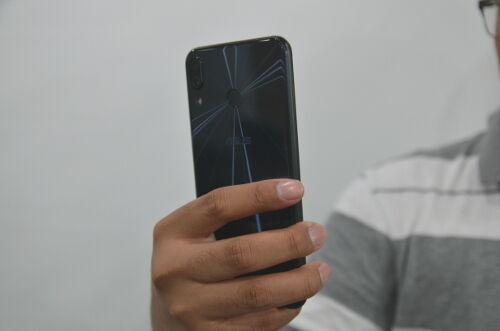 The ASUS Zenfone 5 is probably the best looking Zenfone we've had so far. Though I have yet to see how it performs in the real world usage, I'm pretty sure it will live up to our expectations. I can't wait to review this phone when it comes out in Q2.