The Huawei Mate 40 Pro became my main device two weeks ago and used it for my work, personal, and entertainment activities despite the lack of Google Mobile Services. Like what I did with my Huawei P40 Pro, I kept an open mind to evaluate the smartphone as a whole. Other people think that lacking Google is already the end of the world for them. Personally, I do not see it that way, and this is why I am able to appreciate and at the same time find flaws on this latest flagship from Huawei. So if I were you, keep an open mind while I share my Huawei Mate 40 Pro review.
HUAWEI MATE 40 PRO REVIEW SPECS:
| OS: | Android 10 with EMUI 11 |
| --- | --- |
| Processor: | Huawei Kirin 9000 5G 3.13 GHz Octa-Core processor | MALI-G78 |
| Display: | 2772 x 1344 6.76" Full HD+ OLED with 90Hz refresh rate |
| Wireless Connections: | 5G, Bluetooth 5.2, WiFi 802.11 a/b/g/n/ac/6, NFC, A-GPS, GLONASS, IR |
| Memory: | 256GB Internal Storage expandable with a Nano Memory Card up to 256GB, 8GB RAM |
| Connectors: | Type-C USB 3.1, On-the-Go |
| Cameras: | 50 Megapixels f/1.9 wide, 12 Megapixels f/3.4 periscope telephoto 5x zoom, 20 Megapixels f/1.8 ultra-wide (Main) 13 Megapixels f/2.4, TOF 3D (Front) |
| SIM Card Slots: | 2x Nano SIM Card (Hybrid) |
| Battery: | 4,400 mAh |
| SRP: | TBA |
THE LOOKS AND FEEL
I am drawn to the Huawei Mate 40 Pro's handsome looks. I really dig the curved edged display which makes the phone very sexy. However, some people think that the exposed edges of the screen can be prone to accidental touches during operation, or worse, damages. I agree with these sentiments but the design won me over. Aside from its good looking aesthetics, the phone is solid to hold. You'll definitely notice its premium feel the moment you pick it up.
What I began to appreciate after using the Mate 40 Pro for the past two weeks is its size. I've always wanted bigger phones for their bigger screens, but I now like the size of the Mate 40 Pro because they're not too large nor too small for my hands. I think it's almost the perfect size for a phone to bring and use whatever the occasion is.
2020 saw a lot of smartphones' cameras arranged in a rectangular-shaped camera module. Instead of joining the bandwagon, the Mate 40 Pro retained its circular module from the Mate 30 series but made it even better. Huawei calls it the Space Ring camera system which looks very unique. Friends who saw my review unit in person liked its arrangement as the rectangular ones are starting to look cliche.
The black variant is so shiny I sometimes use it as my mirror. I prefer the Mystic Silver for its color gradients and matte finish but I'm cool with the black color since it doesn't look boring like other black phones in the market. However, the shiny mirror-like surface of the Mate 40 Pro can be filled with fingerprint smudges so you have to be ready with your cloth to wipe it off. Like the P40 Pro, the back panel of the Mate 40 Pro is made of glass which can be slippery at times to hold. To prevent it from slipping off that would result to breaking the phone, use a case! For the meantime, I am using the silicon case that came with the package and it has saved me once when I recently dropped the phone on the floor. Whew!
THE DISPLAY
The Mate 40 Pro has a 6.76′ Full HD+ OLED display, which is slightly bigger than the P40 Pro. The notch in the middle was removed and was replaced with a capsule-shaped camera cut-out which looks modern now. I wish the gap between the two front cameras are smaller though.
The screen size is just right and I have absolutely no issues with its color reproduction after weeks of reading work documents, websites, and streaming multimedia files. The Mate 40 Pro also offer 90Hz screen refresh rate which is quite disappointing. As a flagship phone for the brand, I was expecting for the Mate 40 Pro to have a 120Hz refresh rate on its screen.
Click here to purchase the Huawei Mate40 Pro from the Official Huawei Store at Shopee!
THE PERFORMANCE – HUAWEI MATE 40 PRO REVIEW
The Huawei Mate 40 Pro is equipped with the newest Kirin 9000 5G chipset. Unfortunately, I am not able to measure this new chipset's capabilities with the usual benchmark apps I use so I have nothing to show in his part of my review. However, I am definitely convinced that this chipset is indeed top-tier after two weeks of using it as my main phone. Navigation is smooth, apps load quickly and multi-tasking is a breeze. The phone has 256GB of internal storage and 8GB of memory which is just enough, though you can opt for more storage with a NanoMemory card if you can source one locally.
For mobile games, I installed Asphalt 9: Legends, Garena Free Fire and Naruto Slugfest downloaded from the Huawei AppGallery while the other games like Mobile Legends: Bang Bang, League of Legends: Wild Rift, and Call of Duty Mobile were installed via apk file sources. All of these games were set to their highest video and graphics settings and the Mate 40 Pro played all them flawlessly. What I noticed is the back of the phone slightly heating up but like any other phones set to their highest graphic settings, this is already expected. It's not hot enough to burn your hands. The sounds are loud too thanks to its stereo speakers found on the top and bottom parts of the phone.
As I've said at the start of this review, I kept an open mind of using the Mate 40 Pro without Google Mobile Services and its apps. Instead, I relied on the Huawei AppGallery, Petal Search and other apk sources to give me the apps I need. For my work and personal Gmail accounts, I simply used the email app of the phone and downloaded Waze and Here We Go maps from the AppGallery as my navigations apps. The built-in Huawei Browser is okay, but I learned that I can also install Google's Chrome browser on the Mate 40 Pro. I did just that and it became my default browser. Vanced is a very good YouTube app alternative but I still access the m.youtube.com site via Chrome for updated trending content.
This has been my setup for both my Huawei P40 Pro and Huawei MatePad Pro and I haven't installed any Google Mobile Services workaround on them up to now. I am contented with my setup and if ever I need to use any apps that require Google, I just use the web browser instead. Now if you really need Google Mobile Services and their apps, then there are tutorials available on YouTube that you can watch and follow.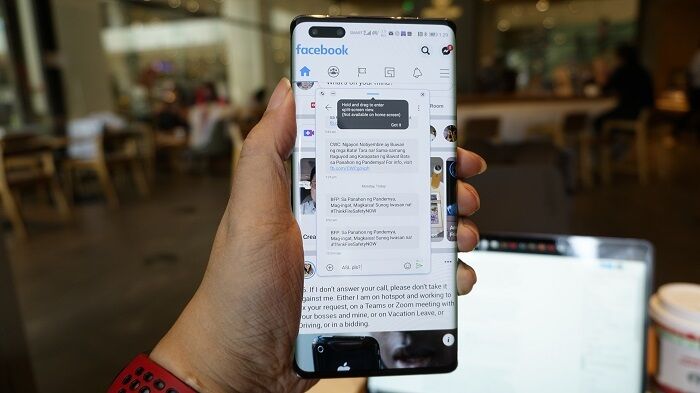 EMUI 11 based on Android 10 is already pre-installed on the Mate 40 Pro and I found its new features very useful! Apps on Floating Window has already improved as you can now resize them according to your preference. EMUI 11 also lets users switch one app to another smoothly using the app dock which gets minimized into a bubble. If you have more than one app opened from the app dock, you can quickly access one of them by tapping on the bubble. For me, this is better than pulling up the recent apps list which you have to scroll and find the app you need to open.
THE CAMERAS
The Mate 40 Pro is composed of three camera lenses: 50 Megapixels wide, 12 Megapixels telephoto, and 20 Megapixels ultra-wide. Having used the P40 Pro as my phone in recent months, I have high expectations that the Mate 40 Pro's cameras can be a reliable companion for shooting photos and videos on the fly. I was not disappointed. Huawei always takes photography seriously and it shows with the quality of these photos taken by the Mate 40 Pro. Pictures were sharp, well detailed, and the colors were very accurate. Haven't had much issues taking photos at night.
Here are my sample photos taken with the Huawei Mate 40 Pro:
THE BATTERY LIFE
The Mate 40 Pro is packed with a 4,400 mAh battery. In my two weeks of usage, I averaged around 13 hours per day which usually consists of phone calls, social media, video streaming and occasional gaming. Charging the phone won't take long as the 66W charger that came in the package can juice up the Mate 40 Pro in just an hour!
DR'S CONCLUSION – HUAWEI MATE 40 PRO REVIEW
Looking past the lack of Google, I found the Huawei Mate 40 Pro as one of the best smartphones released this year. I loved the phone's overall design and performance. Cameras are excellent I didn't have to rely on my mirrorless camera for weeks. Right now, I am tempted to upgrade from my P40 Pro and pre-order the Mate 40 Pro.
PROS:
Curved edged display doesn't cause accidental touches
Excellent Cameras
Great overall performance
Super fast charging
CONS:
Phone is slippery and a fingerprint magnet.
Easy to break when dropped.
More expensive than previous model
Add the Huawei Mate40 Pro to your cart now!
More information about the Huawei Mate 40 Pro can be found HERE.