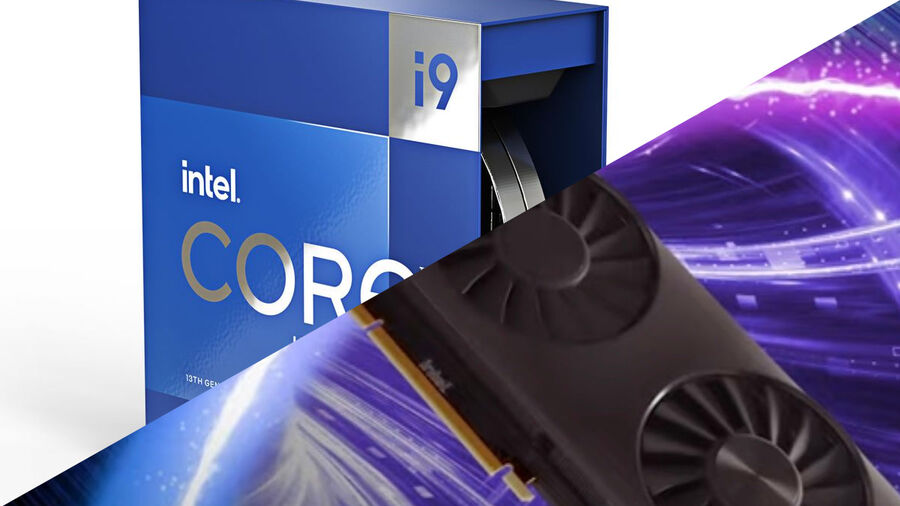 Tons of new products were released this year by Intel. To help you understand them completely, here are the most important information you need to know about the newest Intel 13th-Gen Raptor Lake processors and Intel Arc Alchemist GPUs. Here's the breakdown:
Intel 13th Gen Processors – Raptor Lake
Like every generation of Intel CPUs, there is an upgrade to its predecessor that will bring a revamped core architecture. That means it will bring more cores and new features to its latest generation. So far, there are six CPUs available at launch, but there will for sure be other desktop SKUs and laptop versions coming at a later date.
Here is a briefer version with all the latest features that we are getting with the latest Intel 13th Gen Raptor lake CPUs.
Up to 24 cores and 32 threads
Up to 8 Raptor Cove Performance cores (P-Cores) and 16 Gracemont Efficiency cores (E-Core)
Intel Thread Director – It manages the distribution of the workloads and sends the tasks to the optimized thread.
DDR4 3200 and DDR5 5600 support.
x4 PCIe 4.0 and x16 PCIe 5.0 support.
Thunderbolt 4 / USB 4
XMP 3.0 support.
Intel Killer Wi-Fi 6E.
Still uses LGA 1700, same socket with its 12th Gen Processor.
Here are the specifications of the six CPU models that were announced recently.
The newest Intel 13th Gen Raptor Lake chips are fabbed on its "Intel 7" process and have a performance gain of 15% single-threaded performance, and 41% gain in multi-threaded, with an overall performance scaling of 40% compared to its previous generation, the Alder Lake.
All Intel 13th Gen Raptor Lake processors were launched on October 20 along with the Z790 motherboards. As for the non-K CPUs and the B760 and H760 chipsets, there is no official announcement yet about it, but there are rumors that it will be announced on January 5, 2023 at CES.
Intel Arc – The Latest GPU in the battle
Intel is officially joining the battle between Nvidia and AMD Radeon competition, introducing their first generation GPU with its codename – Alchemist. This will also come in both add-ons desktop cards, and laptop form factors.
Here are some of the specifications of the Intel Arc Models for its add-ons desktop cards. We included a link of the Intel product page in the GPU model for your convenience to see the full specifications, but as for writing the Arc A580, it has no product page.
| | | | | | |
| --- | --- | --- | --- | --- | --- |
| Arc Alchemist Model | GDDR6 Memory | Memory Bandwidth | Xe Cores | Graphics Clock Speed | Total Board Power |
| A770 16GB | 16GB | 560GB/s | 32 | 2100MHz | 225W |
| A770 8GB | 8GB | 512GB/s | 32 | 2100MHz | 225W |
| A750 | 8GB | 512GB/s | 28 | 2050MHz | 225W |
| A580 | 8GB | 512GB/s | 24 | 1700Mhz | 175W |
| A380 | 6GB | 186GB/s | 8 | 2000Mhz | 75W |
| A310 | 4GB | 124GB/s | 6 | 2000Mhz | 75W |
For the mobile SKUs, there will be A350M, A370M, A550M, A730M, and A770M. Those mobile SKUs will be expected to be power constrained. As of the moment, there were also variants in the professional markets – the Pro A40 and Pro A50, that were announced.
Here are the breakdown of some of the features of the Intel Arc Alchemist:
XeSS (Xe Super Sampling): AI-Enhanced Upscaling feature from Intel, it is similar to its competitors Nvidia DLSS, AMD FSR 2.0 and FSR 2.1.
Ray Tracing Support
DirectX 12 Ultimate
Intel Deep Link – A technology of Intel to sync between its Intel CPU and GPU to unleash a new level of performance and efficiency
AV1 Encoding – It is an open source and performs better than Nvidia NVENC and H.264 encoders.
As for its performance, the Arc A300 series is in their entry-level market range, the Arc A500 series is in the midrange market range and the A700 series is in their high-end market range. And so far, according to Intel, the performance of the A770 will be between the Nvidia RTX 3060 and the RTX 3060 Ti. As for the Arc A750, it is 5% faster than the RTX 3060 on average. And lastly, the Arc 380 is slightly ahead of the GTX 1050 according to Gamers Nexus.
Intel is committed to developing furthermore its GPU department as they released its Multi-Year Roadmap of the Intel Arc. There will be future generations of Intel Arc like Battlemage, Celestial, and Druid.
For the prices, the Arc A750 will start at $289, the Arc 770 at $329, and the A770 Limited Edition at $349. So far, the Intel Arc A750, Arc A770, and the Arc A770 Limited Edition have been released last October 12, 2022. But the A580, A380, and A310 still have no release date on the global market. On the other hand, the A380 is technically out already but only in China. The official price of the A380 in China is 1030 Yuan converted to USD which will be $143.57 as of writing.
With all of the products that were recently released by Intel, we hope that you got the information that you will be needing for choosing the best model for your desktop needs.