It's been four years since I last held a Lenovo smartphone. The brand known for making very good PCs tried to penetrate the mobile phone market for years but couldn't seem to break in. Once, they even had the late basketball great (and my idol!) Kobe Bryant as an endorser way back in 2013. Last May 26, Lenovo announced their return to the Philippine smartphone market with the entry of their three phone models: the Lenovo K5 Play, K5 Pro and S5 Pro. Today, we'll be sharing our K5 Play review which we've been playing around for the past couple of weeks. If you are looking for a new smartphone that doesn't break your wallet, then we suggest for you to stick around and read our review.
LENOVO K5 PLAY SPECS:
| OS: | Android 8 Oreo |
| --- | --- |
| Processor: | 1.4GHz Qualcomm Snapdragon 430 Octa-Core processor | Adreno 505 |
| Display: | 1440 x 720 5.7" HD+ IPS LCD Display |
| Wireless Connections: | LTE, Bluetooth 4.2, WiFi 802.11 a/b/g/n, A-GPS, GLONASS |
| Memory: | 32 GB Internal Storage expandable with a MicroSD card up to 128GB, 3GB RAM |
| Connectors: | Micro USB |
| Cameras: | 13 Megapixels f/2.2 + 2 Megapixels f/2.4 (Main Cameras), 8 Megapixels f/2.0 (Front) |
| SIM Card Slots: | 2x Nano SIM Cards required (hybrid) |
| Battery: | 3,000 mAh |
| SRP: | P3,990 |
THE UNBOXING
The packaging comes in a white box with a picture of the K5 Play.
The back of the box shows a Motorola logo. Why? Because Lenovo purchased Motorola several years ago, and they're using the latter's expertise in producing smartphones.
Inside the box are the K5 Play, Micro USB Cable, USB Charger, Silicon Case and some manuals. Noticeably missing is a pair of earphones, possibly to cut costs.
THE LOOKS AND FEEL
The K5 Play's slim form factor makes the phone look sexy and appealing. Found on the right side of the phone are the power button and volume controls.
At bottom are the 3.5mm headphone jack, Micro USB port and speaker grille.
It may only be an entry-level phone, but Lenovo wants to make it as stylish as possible. It has a shiny back cover which can be mistaken as glass, when it's actually made of polycarbonate. The downside of using this material is it's easily prone to scratches and can attract dust and fingerprints. If you want to protect your phone, use the silicon case that comes with the package.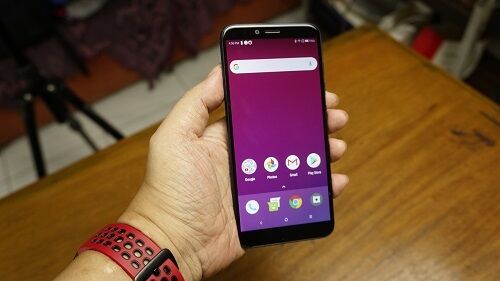 I love the K5 Play's slim form factor. It's lightweight and not cumbersome to hold.
THE DISPLAY
Screen size of the K5 Play is measured at 5.7″ using IPS LCD technology with an HD+ resolution of 720×1440. Display is bright and colors look accurate, though some might find the bezels too big as if we're still in the year 2017. Not an issue for me though. As long as the screen produces accurate colors, I'm a happy camper.
THE PERFORMANCE
Unlike most entry-level phones using MediaTek processors, Lenovo opted for a 1.4GHz Qualcomm Snapdragon Octa-Core processor. I was told that this is the most affordable smartphone powered by Qualcomm, and after checking other entry-level phones in the market, I can confirm that statement is correct.
Let's check the benchmark scores below:
Not surprised with the benchmark scores of the K5 Play since other phones in this price range produce almost the same results. However, in spite of having a Snapdragon 430, actual use of the phone felt kinda sluggish. I also experienced some delays whenever I wake up the phone from hibernation. These quirks don't happen all the time though. I'm glad that Lenovo gave the K5 Play 3GB of memory which is becoming the standard with entry-level phones nowadays.
Mobile gaming is possible with the K5 Play but I recommend adjusting it to the lowest video/graphic settings to be able to play properly. Asphalt 9 Legends is playable but stutters with higher graphics settings. The same can be said for Call of Duty Mobile.
The quick panel is unusually placed at the bottom, which made it easier for me to access by swiping up with my thumb instead of reaching the top part of the phone to slide down. The shortcuts can also be arranged according to your preferences.
What annoyed me in the K5 Play are the pop-up ads that sometimes appear on the lockscreen. I suspect this is what causes the phone to slow down.
Another issue here is that it still runs on Android 8.0 Oreo. From the looks of it, Lenovo might not have any plans to update it at least to Android 9 in the near future.
THE CAMERAS
The K5 Play is equipped with dual cameras: 13 Megapixels f/2.2 and 2 Megapixels f/2.4. Check out my sample photos below:
I must say the pictures turned out really well. As long as you have good lighting, the camera can do the rest. It can also take bokeh photos as well by setting the camera mode to Dual. Night photos are out of the question, so if you are going to make any attempts, do not expect any positive results.
The same can be said with the 8 Megapixel selfie camera. Again, just make sure you have enough lighting, otherwise, selfies under low light conditions look ugly with a lot of noise.
THE BATTERY
Battery capacity of the K5 Play is rated at 3,000 mAh. The phone averaged 12 hours which isn't bad given its capacity. Too bad it doesn't support Qualcomm's Quick Charging feature.
DR'S CONCLUSION
For an entry-level phone, the Lenovo K5 Play is a pretty good option for those who need a smartphone with good cameras. Having reviewed entry-level phones throughout the years, it's rare to find an entry-level phone with good cameras. I can say this is the K5 Play's advantage against its competition in this price segment. What also makes it sweeter is instead of selling it at P5,490, Lenovo Philippines brought it down to ONLY P3,990. So if you're in the market for a very affordable smartphone that can do the basic things and take good pictures, consider buying the K5 Play.
PROS:
Slim form factor
Stylish
Decent Cameras
Affordable Price
CONS:
Sluggish once in a while
Annoying Pop-Up Ads
Android 8.0