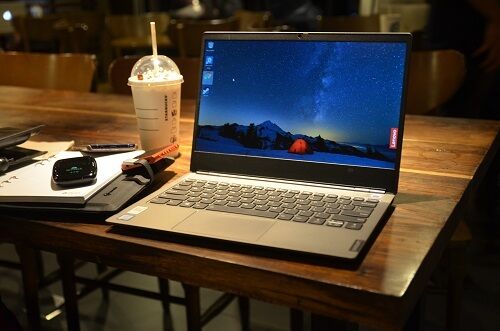 The Lenovo ThinkBook was introduced last year to cater the Millenials and Gen-Z workforce who wants to work with style. It originated from the ThinkPad line of laptops but without its classic black color and the pointing stick located at the center of the keyboard. I am more interested in reviewing the new ThinkPad (I have used ThinkPads in college and owned a ThinkPad T22 more than a decade ago) but since there are a lot of young professionals these days, I've chosen the Lenovo ThinkBook 13c to review instead. I am also in search of a new work laptop and this ThinkBook seems a capable candidate. Let me share you my review.
LENOVO THINKBOOK 13S SPECS:
| OS: | Windows 10 Pro |
| --- | --- |
| Display: | 13.3-inches IPS antiglare with Dolby Vision HDR FHD 1920x1080 |
| Processor: | Intel Core i5-8265U processor |
| GPU: | Intel Integrated Graphics |
| Storage: | 512GB NVME SSD |
| Memory: | 8GB DDR4 |
| Connectors: | 2 x Type-A USB 3.1 Gen 1; 1 x Type-C USB 3.1; 1 x Audio combo jack; 1 x Standard HDMI; |
| SRP | P58,990.00 |
THE LOOKS AND FEEL: LENOVO THINKBOOK 13S REVIEW
To attract the younger workforce, Lenovo did away the popular black color found in their ThinkPads in favor of a modern-looking Mineral Gray. It's the same color as Apple's MacBooks, and since the ThinkBooks are also made of aluminum chassis Lenovo could entice this target market to go for their laptops as cheaper and reliable alternatives. It looks like an Ideapad without the ThinkBook logo embossed on the lower corner of the lid, which is sturdy by the way.
The ThinkBook 13s is 15.9mm thick and weighs 1.3kg. Personally, this is my ideal size and weight for a notebook PC that is easy to carry and slip inside a small messenger bag. Ports on the side are for charging, HDMI, Type-C USB 3.1 and a headphone jack.
Found on the other side of the ThinkBook 13s are two Type-A USB 3.1 ports. For its thickness, I wish Lenovo still included an SD Card slot. And while I understand that the ThinkBook is meant for users to be able to work anywhere, I still think it should have a Kensington security lock slot.
What I love about Lenovo is the quality of their keyboards. This was my observation after reviewing three of their laptops and my experience with the ThinkBook 13s is the same. I did not find any issues using the keyboard even when typing blog posts for hours. It has a white backlight which makes the keyboard visible whenever I want to work in the dark.
A fingerprint scanner is located on top of the keyboard. Security is important these days and these young workers will be able to protect their work data with this feature.
THE DISPLAY: LENOVO THINKBOOK 13S REVIEW
The display of the ThinkBook 13s is measured at 13.3″ with Full HD resolution. Bezels were made thin to make the laptop's footprint smaller. Even with the smaller bezels, they were still able to retain the webcam on top of the display. It has a thick chin though but it doesn't annoy me at all. I found the screen quality more than adequate for office work and even for watching videos.
One feature of the display that some users may find useful is the ability to tilt the screen up to 180 degrees. Though I doubt some may push the screen as far as that angle, the fact that the ThinkBook can do it means users can adjust to that angle if they prefer to. The hinge is made of zinc-alloy and has the powdered-metal technology to endure 25,000 open-and-close cycles so you don't have to worry about slamming your notebook over and over again if you hate your boss at the office.
THE PERFORMANCE: LENOVO THINKBOOK 13S REVIEW
The ThinkBook 13s we are reviewing is powered by an Intel Core i5 8th Gen processor integrated Intel UHD 620 graphics. Another variant is also powered by an Intel Core i5 processor but with a different GPU – an AMD Radeon 540X 2GB GDDR5 VRAM.
Here are our benchmark scores:
With the Intel Core i5 processor, the ThinkBook 13s can manage all office tasks from typing documents to spreadsheets and presentation decks. It is also capable for photo-editing if needed. I appreciate the large 512GB of SSD storage which not only lets me store a lot of files in the laptop, but having an SSD will make let me boot up the ThinkBook 13s faster and quickly access my files. The 8GB of memory was able to keep up with my daily busy tasks of juggling open apps including more than 10 open tabs in Google Chrome.
Lenovo Vantage can be very helpful for Millenials/Gen Z users who are clueless about using technology. Opening the Vantage application will let them check if their Anti-Virus softwares are enabled, as well as their VPNs and WiFi Security. It also has a password manager for proper safekeeping.
I was not able to try this, but Lenovo assures that the ThinkBook 13s can protect itself from accidental water-spills, extreme temperatures and vibrations.
THE BATTERY – LENOVO THINKBOOK 13S REVIEW
Battery is rated at 45Whr. In my usage for the past three weeks, I was averaging 8 hours of usage on a single charge. Tasks involved are typing documents and blogging, spreadsheets, watching YouTube, and the usual web browsing. I rarely pull-out the charger from my bag!
DR'S CONCLUSION
After using the Lenovo ThinkBook 13s, I am already convinced what Lenovo was trying to achieve with the young professional workforce. While these kids aspire machines produced by the fruit company in Palo Alto, I think the Lenovo ThinkBook 13s is a very good alternative that has the same minimalist design that can handle all the heavy workload. It's cheaper too and with its security features, you can be assured that your work is safe and sound.
PROS:
Ideal Laptop size for People on-the-go
Made of Aluminum (Premium Built)
Large 512GB SSD Storage
8GB memory
Long battery life
CONS: