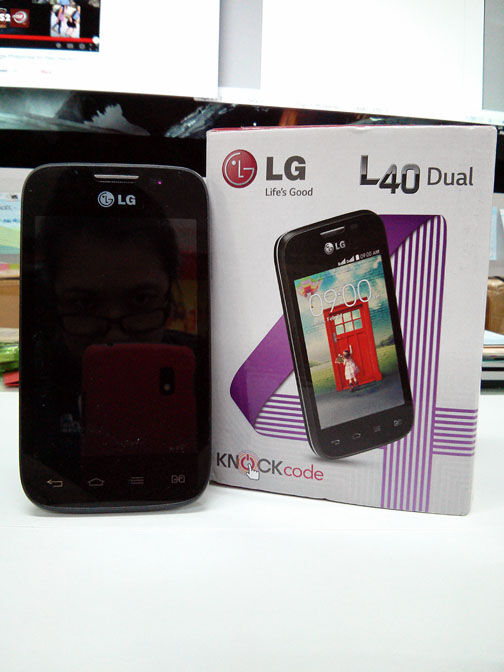 A few months ago, the LG launched the L Series, a new line of phones aimed towards younger, hipper audiences who enjoy technology on-the-go. One of them is the L40, considered to be the "high end" of the low end bracket.
When I managed to get my hands on a review unit, I have to admit that I was not initially impressed. However, as I used it throughout the week, I was pleasantly proven wrong.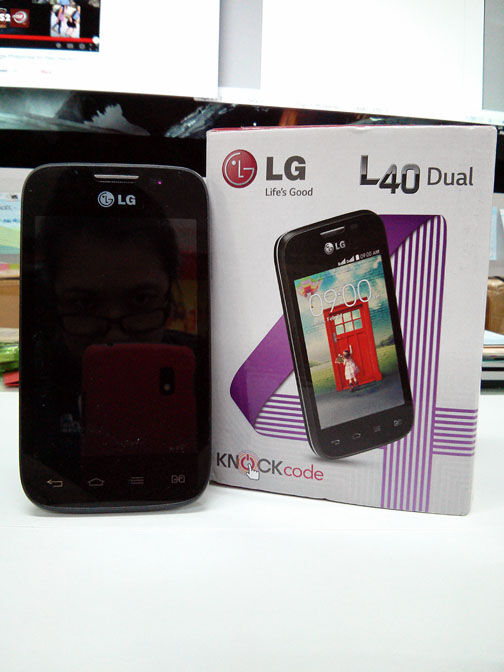 SPECS
OS: Android 4.4 KitKat
Processor: Dual Core 1.2 GHz Cortex-A7
Display: 3.5-inch IPS LCD capacitive touchscreen, 320 x 480 pixels
Wireless Connections: HSPDA (14.4MBPS), Wi-Fi 802.11, Bluetooth 4.0m, b/g/n, FM Radio
Memory: 4GB expandable via microSD up to 32GB, 512MB RAM
Connectors: MicroUSB
Camera: 3MP
SIM Card Slot: 2 x regular SIMs
Battery: 1,540mAH
LG L40 Price: Php4,790

THE UNBOXING
The L40 package comes with the unit, the battery (not in photo), a USB charging cable, a USB charging head/travel adapter, in-ear earphones, a quick start guide, a pamphlet of LG mobile service centers, and an LG Mobile Warranty Card.

LOOK AND FEEL
The L40 looks similar to many other phones in its price bracket. It has smooth, sloping edges that move towards the textured black panel, which I personally like. Below the screen are capacitive buttons for the back command, home, and the pull-up menu. The fourth button is for easy SIM card switching. The hard button for power up and sleep are on the right edge, while the volume buttons are on the left.
Even when encased in plastic, the phone feels sturdy, something which I would attribute to its weight. Unlike other budget phones that seem frighteningly light, the L40 feels just right in my hand, weighing just enough to make me feel that it won't accidentally slip out of my grasp.

DISPLAY
The L40 has clear display for its price. Even with a low resolution of 320 x 480 pixels, LG has managed to make images and videos look vibrant and crisp. However, grains become noticeable upon close inspection, and become more pronounced when caught on camera.
Here's where the L40 surprised me. It runs on Android 4.4 KitKat, with a simple and clean UI that enhances the experience. One of the features that separate it from other budget phones is the Knock Code, a security option which allows the user to use a pattern of taps instead of a numeric or gesture sequence to unlock the phone. At first I thought that it would be awkward especially when I would need to do it on the fly, but the L40 is very precise and responsive when it comes to recognizing input that it's very easy for me to discreetly use the Knock Code even with one hand.
Another cute feature is the Quick Memo, which is accessible from the top tray. Quick Memo writes notes over anything that the phone displays – including videos – and saves it as screenshots to the gallery. It really comes in handy for those additional notations on Google Maps or during those times when I just want to fawn over my favorite Game of Thrones character.
Lastly, LG's UI is a star of efficiency and simplicity. I love how clutter-free everything looks, from file management to the gallery. At one glance, it gives me everything I need to know without having me swipe all that much.
PERFORMANCE
The dual core processor is great for heavy online usage and basic multitasking of simpler apps, but the 512MB RAM is sort of a hindrance to a totally fluid experience. There are a few hiccups here and there, and there's that persistent force download function that keeps on going even after going offline, but all in all, the L40 rates above average for daily use and the occasional gaming. In fact, it let me enjoy plenty of fun hours with the RPG Stone of Life with good quality sounds played at high volume and never once did it lag.

CAMERA
The L40 sports a regular 3MP primary camera that works okay in different lighting conditions. Indoors, it provides good contrasts, although low lighting makes its shots a little too grainy.
Outdoors, it produces good colors, but some parts tend to be washed out.
Not having a front facing camera is a bit of a let-down, especially since the L40 is geared towards a younger crowd who are obsessed with selfies. However, it seems that the guys from LG have already thought this through and provided the L40 with the Cheese Shutter, a function that uses words such as "cheese" and "whiskey" to trigger the shot. It makes things easier especially when using the rear camera for selfies.
BATTERY LIFE
The L40's 1,540mAH battery has managed to give me six to seven hours of continuous usage. This includes three to four hours of online activity and approximately two hours gaming. Personally, that's pretty great for an entry level phone.
CONCLUSION
For a phone that costs Php4,790, the L40 delivers just what you need and more. It breaks the big brand budget phone stereotype, making you dig deeper into its system for those little, well-thought of functionality jewels that add up to a great mobile experience. Although it's true that there are other phones in its price range that offer higher specs, the L40 is a phone that you'll get because you know that it's not just a party of super-powered cores and huge RAMs – it's a lifestyle in your pocket. You'll start out not expecting much out of it, but the L40 will definitely surprise you in more ways than one.

YAYS!
Android KitKat
Great, innovative UI
Display that impresses even at low resolution
Generally smooth performance

NAYS
No front-facing camera
Force downloading of apps that never seem to quit even when offline
512MB RAM