We talked about the LG Magna last February, and recently about its price update (it's now Php 9,990 from the original SRP of Php 10,990). Now we'll review this sleek-looking mid-range device and see if it's as competitive as we initially thought it is.
LG Magna Specifications
Display: 5.0-inch HD at 720 x 1280 pixels (294 ppi)
OS: Android OS, v5.0.1 (Lollipop)
Processor: 1.3GHz Quad-Core processor (MediaTek)
RAM: 1GB
Internal Storage: 8GB, expandable via microSD up to 32GB
Wireless Connections: 3G, 2G, Wi-Fi, Bluetooth
Camera: Rear 8MP / Front 5MP
SIM Card Slot: Dual SIM (micro)
Battery: 2,540 mAh
Price: Php 9,990
Unboxing
The LG Magna package contains the unit and its battery, a travel adapter, a USB connector, a pair of earphones, a quick-start guide, and a mobile warranty card.
Design and Build
LG seems to have found its own iconic look with its sleek, clean, and slightly curved design. There are no buttons found on the edges; instead the power button and the volume rockers are at the back, resting just beneath the Magna's 8MP camera.
We totally love the textured plastic finish of the Magna, and it seems to be a recurring thing for this line of mid-range phones. It gives it a more sophisticated, premium look that other devices in its price range fail to achieve.
Flipping back to the Magna's display, you'll find that it sports four capacitive buttons: one for back, one to return to the home page, one for multitasking window, and one for quick SIM switching. Of course, as with every current LG phone, the Magna sports the knock feature which enables you to wake the device from sleep with two taps.
Display
The Magna has minimal bezel and a bright screen that works okay under sunlight. Sure, there are devices with displays that have much higher resolution, but this one works for a premium brand's mid-range line. You'd think that it were an HD screen, what with its in-cell technology that makes things look sharper and brighter. Even if pixels do become obvious in glaring contrasts, watching videos and playing graphics-heavy games can be more than satisfactory.
UX features

UX is LG's very own user interface over Android 5.0.1 Lollipop, and it brings to the Magna several features found in its high-end devices, including the "Cheese Shutter", its voice activated function for taking photos with both rear and front cameras. You'll need to clearly shout one of the trigger words to use this feature, though, as often times the phone won't hear or understand you.
The UX is very clean and intuitive. First-time smartphone users won't get threatened by how it looks, as it makes the Magna seem like a properly conceptualized digital organizer. If you need more proof on how organized the UI is, check out the things under "Settings" and find how everything is neatly categorized.
Performance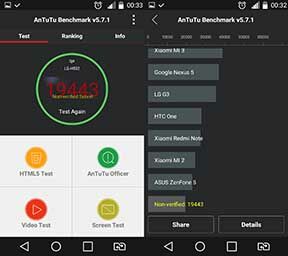 The Magna's quad-core processor works well, even while multi-tasking or gaming. Lags are rare, but may happen if you have two heavy games such as Hungry Shark and Brave Frontier open at the same time. Call quality is clear, and audio is pretty loud without sounding like it came out of a tin can, while internet connectivity is stable.
We're not expecting a very high Antutu ranking for the Magna as it is pegged as a mid-range phone, but it got the score of 19,443, which isn't bad at all.
Camera
The 8MP rear snapper of the Magna takes pretty decent shots with ample lighting. However, shots in low-light environments or rooms flooded by yellow lamps come out grainy, and at times, overly yellow.
The 5MP front camera, on the other hand, doesn't perform as good as I expected it too. Considering that it was initially marketed as a selfie phone, shots were grainy, and faces had this perpetual "beautified" look that isn't what you'd call flattering. It would have been better if LG gave users the option to activate its "beauty" feature rather than be stuck with pore-less and instantly made-up selfies.
Battery
The Magna's 2,540 mAh battery can last you a solid 5 to 6 hours of regular usage that includes calling, texting, chatting, staying online via data or WiFi, playing games and viewing videos.
Conclusion
I was honestly expecting the Philippine market to get an LTE Magna, but sadly, its not meant to be. The 3G version of the phone may be a bit steeply priced for some, but two of the factors that would probably get you to buy is that it is an LG, and that it comes with Android Lollipop out of the box. Putting the price a notch lower than the original is a good move from LG, especially that it has a lot of competition these days (read: ASUS). If this had LTE, it seriously would be a very sweet deal. However, in it's own right, it's still a pretty decent and well-designed phone. If you have extra cash to spend and you want to forgo LTE for a great build and UI, then the Magna is for you.