Around the start of the month, LIAN LI released their first AIO cooler series, the LIAN LI GALAHAD 240 and 360. Two color variants are available, black and white for the two lengths offered. The GALAHAD features a unique triple chamber pump design. It has a PWM high static pressure fans to ensure optimal thermal and noise management. The GALAHAD is compatible with the latest AMD and Intel sockets and the tubes included are 400mm in length and braided. Both fans and CPU block have Addressable RGB which can be connected to our motherboard's lighting software.
Focus on Performance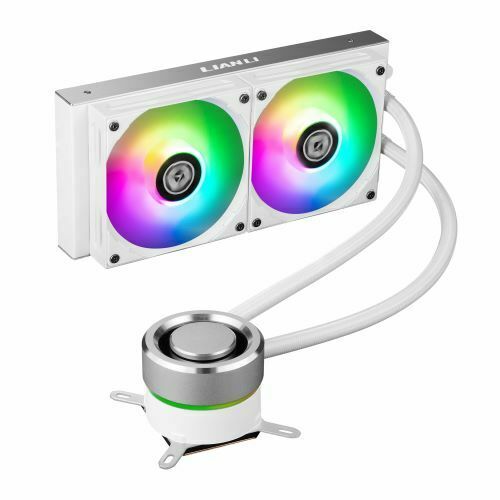 The LIAN LI GALAHAD 240 and 360 delivers performance through a combination of triple chamber pump design, low-noise high airflow fans, and a high density aluminum radiator. The CPU Block consists of a cold plate chamber, a connecting chamber and a pump chamber. By using this design; it eliminates flow dead zones, providing a direct path and maximum pressure over the cold plate fins. This leads to faster heat dissipation overall.
The pump operates less than 20 dBA at full speed and the PWM fans has a range of 800 and 1900 RPM. The GALAHAD will not affect gaming experience due to excessive background noise. Fans have a maximum airflow of 69.176 CFM. And have an air pressure of 2.6 mmH20, making the included high static pressure fans quiet and powerful. The water block uses an industrial grade motor, fluid dynamic bearing design and extra magnetic support for the GALAHAD fans.
Premium Quality
The GALAHAD features premium quality and design. The aluminum housing of the radiator and CPU block gives the GALAHAD a classic and robust look. The GALAHAD comes with a braided 400mm braided water-pipe. It fits perfectly on mid tower and full tower chassis.
The fans and CPU block come with addressable RGB LEDs. They can synchronize with the motherboard's lighting software. It will be able to support a wide array of lighting effects due to this, as well as 17 modes with 7 solid colors available. LIAN LI bundles a RGB controller to provide the different lighting modes, and switching between is easy. We can rotate the CPU Block to align the logo. It also comes with a magnetic aluminum cap that we can remove to display the LIAN LI logo.
The GALAHAD comes with a 5 year warranty. It is available for pre-orders starting July 31, 2020. It has an MSRP of $119.99 USD for the 240, and $149.99 USD for the 360. To learn more, visit the official page at: https://www.lian-li.com/galahad-240-360/