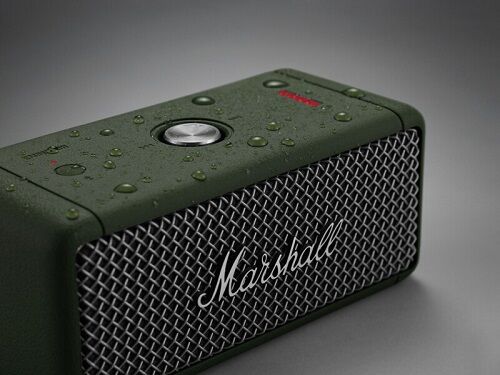 Heads up, audioheads! The Marshall Emberton Forest is the newest color of this portable speaker and we think it would look awesome to bring along during hiking or camping trips. This latest color is exclusive only at DigitalWalker.ph! It is also available in the original black and cream colorways.
The Marshall Emberton is a compact portable speaker with the loud and vibrant sound only Marshall can deliver. Emberton utilizes True Stereophonic, a unique form of multi-directional sound from Marshall. Experience absolute 360° sound where every spot is a sweet spot. With 20+ hours of playtime, you can enjoy the superior sound of Marshall for hours on end.
ALSO READ: Marshall Major IV Now Available at Digital Walker and Beyond the Box
With its Forest colorway, the Marshall Emberton is the perfect companion during trekking or camping trips. It only weighs less than a kilo and can be easily inserted inside your bag. Remotely play music from your smartphone or tablet via bluetooth while hiking or while setting up camp. No matter what you do, the Emberton can last 20+ hours of playback on a single charge. It can certainly blend well with the outdoors while it plays your favorite headbanging music which only Marshall can deliver. And just in case it rains, the Emberton has IPX7 water resistance so no need to worry if it gets drenched.
Here are the quick specs of the Marshall Emberton Forest:
20+ Hours of Playback
Superior Sound from Marshall
IPX7 Water Resistance
Portable at only 0.7KG
Bluetooth 5.0
The Marshall Emberton Forest is now available for an SRP of P8,790. Get P500 OFF on your purchase when you use the code DWEXCLUSIVES at DigitalWalker.ph.