MSI has unveiled two custom GeForce RTX 30 Series GPUs: GAMING TRIO and VENTUS. In this article, we are providing an overview on the two model lines as well as special features applied by MSI.
Overview of MSI GeForce RTX 30 Series GPUs
MSI introduces two model lines for the new NVIDIA Ampere architecture:
GAMING TRIO
MSI refreshes the GAMING TRIO GPU model line for GeForce RTX 30 series by changing the overall look; while maintaining its balance of performance, cooling and low-noise. Included in the updated model lineup is the new TORX Fan 4.0 design that has its pairs of fan blades bound with an outer link. This creates a rim that focuses airflow into the updated TRI FROZR 2 cooling system.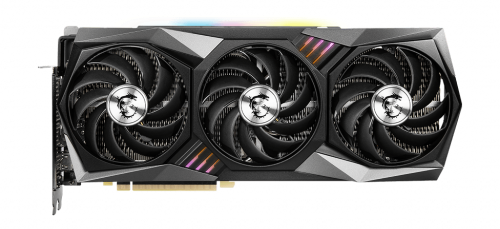 For its back-plate, a matte-black finish color provides a sleek look. While the back-plate itself reinforces the graphics card, and acts as a passive cooler.
Mystic Light provides lighting to the graphics card. Through Mystic Light Sync; connects the graphics card with other components through Dragon Center utility software.
VENTUS
The popular VENTUS graphics card line is back and bigger than ever. It is enhanced with TORX Fan 3.0 and available in triple and dual fan variants. VENTUS' performance-focused design maintains the essential aspects of the graphics card to accomplish any task at hand. These include a robust cooling system, a reinforcing back-plate in brushed-finish, and a rigid industrial aesthetic. This makes the graphic card suitable for any build.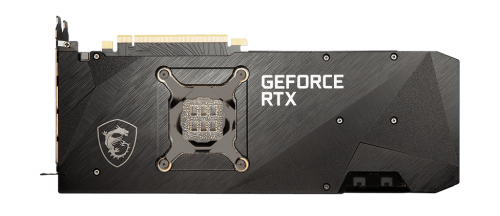 Livestream
GAMING and VENTUS together will spearhead MSI's GeForce RTX 30 Series line-up, however; more are planned to arrive in the near future.
MSI held a livestream last September 2, 2020 to cover more on the details of these new graphics cards. You can watch the stream here:
GAMING TRIO Specifications
| | | | | | | |
| --- | --- | --- | --- | --- | --- | --- |
| MODEL NAME | GeForce RTX™ 3090 GAMING X TRIO 24G | GeForce RTX™ 3090 GAMING TRIO 24G | GeForce RTX™ 3080 GAMING X TRIO 10G | GeForce RTX™ 3080 GAMING TRIO 10G | GeForce RTX™ 3070 GAMING X TRIO | GeForce RTX™ 3070 GAMING TRIO |
| GRAPHICS PROCESSING UNIT | NVIDIA® GeForce RTX™ 3090 | NVIDIA® GeForce RTX™ 3090 | NVIDIA® GeForce RTX™ 3080 | NVIDIA® GeForce RTX™ 3080 | NVIDIA® GeForce RTX™ 3070 | NVIDIA® GeForce RTX™ 3070 |
| INTERFACE | PCI Express® Gen 4 | PCI Express® Gen 4 | PCI Express® Gen 4 | PCI Express® Gen 4 | PCI Express® Gen 4 | PCI Express® Gen 4 |
| CORES | TBD | TBD | TBD | TBD | TBD | TBD |
| CORE CLOCKS | TBD | TBD | TBD | TBD | TBD | TBD |
| MEMORY SPEED | TBD | TBD | TBD | TBD | TBD | TBD |
| MEMORY | 24GB GDDR6X | 24GB GDDR6X | 10GB GDDR6X | 10GB GDDR6X | 8GB GDDR6 | 8GB GDDR6 |
| MEMORY BUS | 384-bit | 384-bit | 320-bit | 320-bit | 256-bit | 256-bit |
| OUTPUT | DisplayPort x 3 (v1.4a) / HDMI 2.1 x1 | DisplayPort x 3 (v1.4a) / HDMI 2.1 x1 | DisplayPort x 3 (v1.4a) / HDMI 2.1 x1 | DisplayPort x 3 (v1.4a) / HDMI 2.1 x1 | DisplayPort x 3 (v1.4a) / HDMI 2.1 x1 | DisplayPort x 3 (v1.4a) / HDMI 2.1 x1 |
| HDCP SUPPORT | Y | Y | Y | Y | Y | Y |
| POWER CONSUMPTION | TBD | TBD | TBD | TBD | TBD | TBD |
| POWER CONNECTORS | 8-pin x3 | 8-pin x3 | 8-pin x3 | 8-pin x3 | 8-pin x2 | 8-pin x2 |
| RECOMMENDED PSU | TBD | TBD | TBD | TBD | TBD | TBD |
| CARD DIMENSION (MM) | TBD | TBD | TBD | TBD | TBD | TBD |
| WEIGHT (CARD / PACKAGE) | TBD | TBD | TBD | TBD | TBD | TBD |
| DIRECTX VERSION SUPPORT | 12 API | 12 API | 12 API | 12 API | 12 API | 12 API |
| OPENGL VERSION SUPPORT | 4.6 | 4.6 | 4.6 | 4.6 | 4.6 | 4.6 |
| NVLINK SUPPORT | Y | Y | N/A | N/A | N/A | N/A |
| MAXIMUM DISPLAYS | 4 | 4 | 4 | 4 | 4 | 4 |
| VR READY | Y | Y | Y | Y | Y | Y |
| G-SYNC® TECHNOLOGY | Y | Y | Y | Y | Y | Y |
| ADAPTIVE VERTICAL SYNC | Y | Y | Y | Y | Y | Y |
| DIGITAL MAXIMUM RESOLUTION | 7680×4320 | 7680×4320 | 7680×4320 | 7680×4320 | 7680×4320 | 7680×4320 |
Ventus Specifications
| | | | | | | | | |
| --- | --- | --- | --- | --- | --- | --- | --- | --- |
| MODEL NAME | GeForce RTX™ 3090 VENTUS 3X 24G OC | GeForce RTX™ 3090 VENTUS 3X 24G | GeForce RTX™ 3080 VENTUS 3X 10G OC | GeForce RTX™ 3080 VENTUS 3X 10G | GeForce RTX™ 3070 VENTUS 3X OC | GeForce RTX™ 3070 VENTUS 3X | GeForce RTX™ 3070 VENTUS 2X OC | GeForce RTX™ 3070 VENTUS 2X |
| GRAPHICS PROCESSING UNIT | NVIDIA® GeForce RTX™ 3090 | NVIDIA® GeForce RTX™ 3090 | NVIDIA® GeForce RTX™ 3080 | NVIDIA® GeForce RTX™ 3080 | NVIDIA® GeForce RTX™ 3070 | NVIDIA® GeForce RTX™ 3070 | NVIDIA® GeForce RTX™ 3070 | NVIDIA® GeForce RTX™ 3070 |
| INTERFACE | PCI Express® Gen 4 | PCI Express® Gen 4 | PCI Express® Gen 4 | PCI Express® Gen 4 | PCI Express® Gen 4 | PCI Express® Gen 4 | PCI Express® Gen 4 | PCI Express® Gen 4 |
| CORES | TBD | TBD | TBD | TBD | TBD | TBD | TBD | TBD |
| CORE CLOCKS | TBD | TBD | TBD | TBD | TBD | TBD | TBD | TBD |
| MEMORY SPEED | TBD | TBD | TBD | TBD | TBD | TBD | TBD | TBD |
| MEMORY | 24GB GDDR6X | 24GB GDDR6X | 10GB GDDR6X | 10GB GDDR6X | 8GB GDDR6 | 8GB GDDR6 | 8GB GDDR6 | 8GB GDDR6 |
| MEMORY BUS | 384-bit | 384-bit | 320-bit | 320-bit | 256-bit | 256-bit | 256-bit | 256-bit |
| OUTPUT | DisplayPort x 3 (v1.4a) / HDMI 2.1 x1 | DisplayPort x 3 (v1.4a) / HDMI 2.1 x1 | DisplayPort x 3 (v1.4a) / HDMI 2.1 x1 | DisplayPort x 3 (v1.4a) / HDMI 2.1 x1 | DisplayPort x 3 (v1.4a) / HDMI 2.1 x1 | DisplayPort x 3 (v1.4a) / HDMI 2.1 x1 | DisplayPort x 3 (v1.4a) / HDMI 2.1 x1 | DisplayPort x 3 (v1.4a) / HDMI 2.1 x1 |
| HDCP SUPPORT | Y | Y | Y | Y | Y | Y | Y | Y |
| POWER CONSUMPTION | TBD | TBD | TBD | TBD | TBD | TBD | TBD | TBD |
| POWER CONNECTORS | 8-pin x2 | 8-pin x2 | 8-pin x2 | 8-pin x2 | 8-pin x2 | 8-pin x2 | 8-pin x2 | 8-pin x2 |
| RECOMMENDED PSU | TBD | TBD | TBD | TBD | TBD | TBD | TBD | TBD |
| CARD DIMENSION (MM) | 305 x 120 x 57 mm | 305 x 120 x 57 mm | 305 x 120 x 57 mm | 305 x 120 x 57 mm | 305 x 121 x 52 mm | 305 x 121 x 52 mm | TBD | TBD |
| WEIGHT (CARD / PACKAGE) | 1397g / 2016g | 1397g / 2016g | 1370g / 1986g | 1370g / 1986g | TBD | TBD | TBD | TBD |
| DIRECTX VERSION SUPPORT | 12 API | 12 API | 12 API | 12 API | 12 API | 12 API | 12 API | 12 API |
| OPENGL VERSION SUPPORT | 4.6 | 4.6 | 4.6 | 4.6 | 4.6 | 4.6 | 4.6 | 4.6 |
| NVLINK SUPPORT | Y | Y | N/A | N/A | N/A | N/A | N/A | N/A |
| MAXIMUM DISPLAYS | 4 | 4 | 4 | 4 | 4 | 4 | 4 | 4 |
| VR READY | Y | Y | Y | Y | Y | Y | Y | Y |
| G-SYNC® TECHNOLOGY | Y | Y | Y | Y | Y | Y | Y | Y |
| ADAPTIVE VERTICAL SYNC | Y | Y | Y | Y | Y | Y | Y | Y |
| DIGITAL MAXIMUM RESOLUTION | 7680×4320 | 7680×4320 | 7680×4320 | 7680×4320 | 7680×4320 | 7680×4320 | 7680×4320 | 7680×4320 |