The MyPhone Rio 2 Lite, which was launched last month, may seem like every other budget phone at first glance. However, a week with it has made me think otherwise. Check out our review and see the things that got DR on the Go impressed.
MyPhone Rio 2 Lite Specs
Display: 4.7-inch IPS LCD at 480×800 resolution, 199ppi
OS: Android 5.0 Lollipop
Processor: 1.3GHz quad-core processor
RAM: 1GB
Internal Storage: 8GB internal storage expandable via microSD up to 64GB
Camera/s: 8MP rear camera with autofocus and LED flash, 2MP front camera
Network and Connectivity: Wi-Fi 802.11n, 3G HSPA+, Bluetooth, GPS
SIM/s: Dual SIM with dual standby
Battery: 2120mAh
Price: Php4,599
Unboxing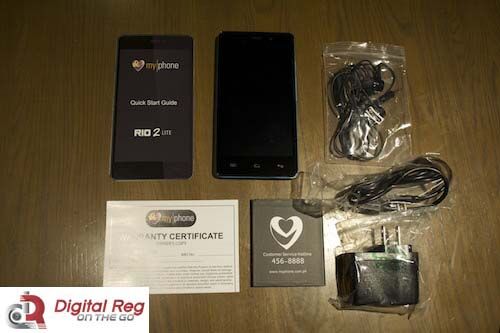 The MyPhone Rio 2 Lite package comes with the unit, earphones, a removable battery, a USB cord, a charger head, a quick start guide, and a warranty certificate.
Design and Build

With its pretty low price point, it doesn't come as a surprise that the Rio 2 Lite is encased in plastic. However, it does look and feel sturdy, and it weighs nicely when held in one hand. At the front is its 4.7-inch display, below which are capacitive buttons for back, the main menu, and for options.
Flip the phone over and you'll be greeted by its matte plastic finish, which helps keep the casing finger-print free. The speaker is located at the bottom while you'll find the 8MP rear camera and flash at the upper left corner. On the phone's left edge is the power and the volume rocker. Pull open the back panel and you'll find that the Rio Lite 2 supports a regular SIM and a microSIM. You'll also find the slot for your microSD.
Display
For a phone with a 480×800 display resolution, the Rio Lite 2 can show impressively vivid colors, although with a seemingly light touch of warm filter. However, it does have a pixel count of 199ppi, so if you look closely, you'll find jagged pixel edges. It is quite forgivable, though, and you'll still get treated to wonderful visuals.
Under direct sunlight, you'll get screen glare at certain angles, and you may have to adjust your brightness settings to compensate. Indoors and in low light, the Rio 2 Lite's display really impresses, especially if you factor in its price.
Software and User Interface

The Rio 2 Lite is loaded with Android 5.0, so that's one huge plus right there. There's very little bloatware which you can easily delete. Although its interface is very easy to navigate (as every Lollipop phone basically is), I do have a few nitpicks.
For one thing, I can't seem to change the size of the font within the messaging app, so I'm stuck with these huge letters which the person beside me in the MRT can probably read. Another thing is that although Android 5.0 Lollipop is built for multi-tasking, the Rio 2 Lite doesn't seem to bank on this feature, leaving out the option to view all your running tasks at once. So if you're playing a game and would want to answer your friend's Facebook message, you'll need to use the main menu button to go out of the app, do your thing, and search for your previous app once again within the app drawer. I wish that they just used the options button to view all running tasks. Lastly, since the Rio 2 Lite sports all basic Google apps, you pretty much have two of everything: two camera apps, two galleries, etc. It gets slightly confusing especially if you're in a rush.
That being said, we love the fact that the Rio 2 Lite's UI is very clean and simple, and we seriously hope that more budget phones follow its lead. After all, no one really likes bloatware.
Performance

If there's one thing about the Rio 2 Lite, it's pretty fast. It ranks right under the Asus ZenFone 5, which still remains to be a solid device in spite of being dated. Antutu gave it a score of 20,232, which is not bad at all.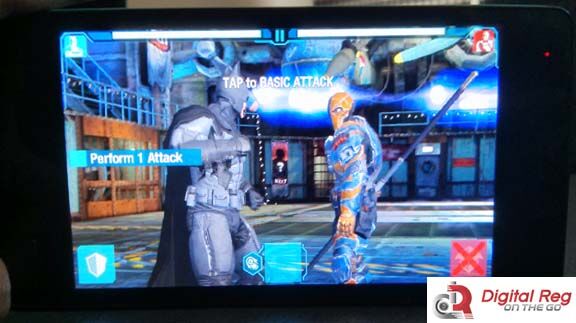 I was pleasantly surprised that the Rio 2 Lite could handle the vibrant colors of animated 8-bits such as Brave Frontier, and graphics-heavy 3D games such as Batman:Arkham Origins. There was no lag at all, and paired with great and clear sound, it makes for an awesome gaming device.
Speaking of sound, as much as the Rio 2 Lite's speaker can pound out decibels, it's call quality could have been better. Voices seem far away, and are sometimes muffled even if the signal is high. MyPhone may want to think of improving this aspect in its later versions.
Cameras
The Rio 2 Lite sports a reliable 8MP camera. Colors are crisp and sharp, and the lens adjusts well in low light. There are times when shots seem washed out, but most of the time, you get more than what you've bargained for.
The front camera is similarly good. What I like about it is that it also features depth of field, which a lot of front cameras in budget phones don't seem to have.
Battery
At full charge, the Rio 2 Lite can last a good 8 hours with regular use, which includes going online, texting, calling, and running games. Battery may drain quicker when with continuous app download. On standby, the Rio 2 Lite can last a little more than a week.
Conclusion
The Rio 2 Lite is a solid budget phone, and probably one of the best choices out there if you're looking for something that really performs but won't leave a hole in your pocket. It's pretty obvious that MyPhone really thought this one out, and it can even compete with its own Android One phone, UNO. All in all, it's something that I can recommend, and I'm sure that those who've bought it don't regret that they did.