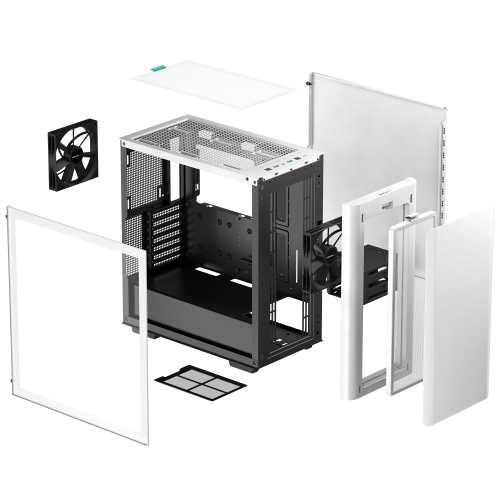 DeepCool announces the CK Series Mid-Tower Cases, consisting of CK500, CK500WH, CK560 and CK560WH. All cases deliver a balance of airflow, silent performance and exceptional cooling for the modern-day builder. There are two colors: black or white.
The CK Series deliver a no-nonsense approach to a clean, sleek computer chassis design. For Minimalist Builders that appreciate the CK500 and CK500WH minimal solid front panel; they can be rest assured that airflow performance is not hindered thanks to enlarged ventilation outlets throughout the front, top, and rear panels for additional air movement. For Builders wanting more airflow, the CK560 and CK560WH feature a unique cross-hair patterned steel front panel. All cases offer a clean aesthetic and fits a modern day look while being feature-packed for additional hardware expansion and upgrades.
Exceptional Cooling with Optimized Thermal Management
The CK Series Mid-Tower Cases features improved airflow panels in front, top, and rear with larger ventilation outlets to improve circulation. The CK500s boasts two pre-installed 140mm airflow fans that help improve cooling performance while keeping noise at a minimum. While the CK560s carry a total of four pre-installed fans help enhance cooling performance with the front three ARGB fans illuminating your system build. The CK560s also conform to builders who appreciate airflow designs are treated to a unique cross-hair patterned steel front panel.
Wide, Spacious Interior With Support In All The Right Places
The CK Series Mid-Tower Cases supports up to E-ATX motherboards as well as a large CPU cooler height up to 175mm and GPU lengths up to 380mm. Cooling capacity is optimized on the CK SERIES, with up to 6x 120mm or 5x 140mm cooling fans and support for AIO radiators up to 280/360mm through the front panel and 240/280mm on the top panel. An Anti-Sag / Adjustable GPU Support Bracket allows it to be positioned in two different locations accordingly for various sized graphics cards.
The Rest Of The Amenities
The CK Series Cases offer easy access to the front panel with a simple quick release for its dust filter tray. Both side panels offer captive thumbscrews with a slide and lock mechanism. Tool-Free storage capacity ensure the user can install up to 2 x 2.5" SSDs directly onto the backplate with an efficient push-pin mount and 2x 3.5" HDDs underneath in tool-free drive cage trays for ample and discreet storage. Front I/0 includes: 2x USB 3.0 Type-A, 1x USB 3.1 Type-C, 1x Combo Audio Mic Jack.
DeepCool CK Series Availability, Warranty and Pricing
The DeepCool CK SeriesMid-Tower Cases is available on the DeepCool worldwide network of authorized retailers and distributors.
The CK Series Mid-Tower Cases are backed by a one-year warranty, alongside the DeepCool worldwide customer service and technical support network.
For the latest pricing of DeepCool CK Series Mid-Tower Cases, please refer to the DeepCool website or contact your local DeepCool sales representative.