Smart made some new changes to their premium postpaid plans that will enable them to offer services that suits best with the higher segment of their market. The new Smart Infinity Plans now include some of the services that are currently being offered in their Smart Postpaid Plans. These are the Roaming Plan, a Consumable Plan, a Tri-Net Plan, and a Multi-Plan.
The Roaming Plan is for the Infinity subscriber who travels for business or leisure. It comes with travel assistance perks that is perfect for those who are always commuting from one place to another.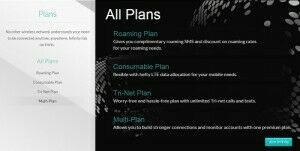 The Consumable Plan has all the flexible and highest volume allocation for LTE. They can subscribe to Flexibundles' Data Packages and value-added services without being charged on top of their bill.
Tri-Net Plans feature unlimited calls and text messages to Smart, Sun, and Talk 'N Text subscribers.
Lastly, the Multi-Plan is ideal for families where everything is monitored under 1 account.
Smart Infinity Subscribers will still enjoy additional perks like VIP Customer Service, VIP Network Access, and VIP Rewards and Privileges.
For more information, visit the Smart Infinity page: http://www.smart.com.ph/infinity/plans.