My first time to use a phone from OnePlus was a year ago. It was a OnePlus 5 and I was so delighted by its specs and performance. I figured that if I were to purchase a flagship phone, it has to be a OnePlus phone. Last month, our good friends from Digital Walker, the country's largest retailer of premium gadgets and accessories (and also my favorite gadget store since 2004) sent me a review unit of the latest and greatest flagship to date – the OnePlus 6! Check out my OnePlus 6 Review.
ONEPLUS 6 REVIEW SPECS:
OS:
Android 8.1 Oreo with Oxygen OS 5.1
Processor:
2.8 GHz Qualcomm SDM 845 Snapdragon 845 Octa-Core processor | Adreno 630
Display:
6.28" 1080x2280, 19:9 ratio FHD+ Optic OLED Display with Corning Gorilla Glass 5
Wireless Connections:
LTE-A, Bluetooth 5.0, WiFi 802.11 a/b/g/n/ac, NFC, A-GPS, GLONASS
Memory:
64/128/256 GB Internal Storagek, 6/8GB RAM
Connectors:
USB Type-C 2.0
Cameras:
16 Megapixels f/1.7 1.22um gyro-EIS, OIS + 20 Megapixels f/1.7 1.0um (Main Cameras), 16 Megapixels f/2.0 1.0um (Front)
SIM Card Slots:
2x Nano SIM Cards required
Battery:
3,300 mAh
SRP:
64GB/6GB: P30,990
128GB/8GB: P33,990
256GB/8GB: P37,490
THE UNBOXING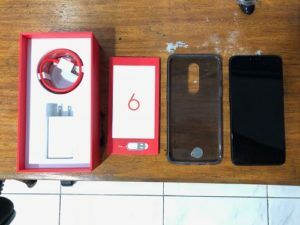 The package includes the OnePlus 6, USB Dash Type C Cable, USB Dash Charger Head. Silicon Case, SIM Card Ejector and User Manual. The case seems to be tough enough to withstand accidental drops, so I suggest you apply it immediately on to the phone. I'll explain in a moment why it's needed.
THE LOOKS AND FEEL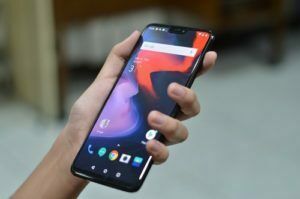 While OnePlus makes their flagship killer phones with killer prices they still make their phones look desirable. The OnePlus 6 is mostly covered with glass which the company claims has better wireless reception than metal. The sides of the back are curved to make it look slimmer when placed on top of a surface. Overall the phone looks certainly attractive especially when the screen is turned on.
Having said that, there are trade-offs for a phone with an all-glass design. First, it's darn slippery. There were several instances where the OnePlus 6 slipped off from a table, from my hand while holding another phone, and from my pair of slacks. Second, because it's made of glass it will definitely become a fingerprint magnet. So as I have suggested earlier, do yourself a favor and use the case that came with the package. But if you're someone like me who likes to ogle at the OnePlus 6's sexy appearance, don't use a case and just be extra careful.
THE DISPLAY
The OnePlus 6 comes with a 6.28-inch OLED display and a screen ratio of 19:9. Colors are lively as expected and have deep blacks. I can even view the screen on outdoors. The screen resolution is 1080 x 2280 which is lower than what the other flagship phones are offering, which is quite a bummer but I don't mind about it.
I love the almost bezel-less sides of the phone. However, like with most flagship phones out there the OnePlus 6 also has a notch. I have mentioned in my previous phone reviews that I do not give a damn about the notches. They are necessary for the manufacturer to place the earpiece and cameras. If you still want to have a "notchless" screen, OnePlus made that as an option found in the phone's settings.
THE PERFORMANCE – ONEPLUS 6 REVIEW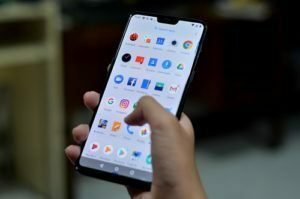 In my opinion, a smartphone can't be a true flagship if it's not using the best processor in the world. Qualcomm's Snapdragon 845 is the crème de la crème of mobile processors and the choice of other flagships like the Samsung Galaxy S9/S9+, the LG G7 ThinQ and fellow flagship killer ASUS ZenFone 5Z.  Prior to its release, OnePlus fans were eagerly excited to know on how the Snapdragon 845 would perform with the OnePlus 6. When I received the review unit late last month, I immediately installed Antutu Benchmark to find out for myself. Here's the benchmark score I was able to get: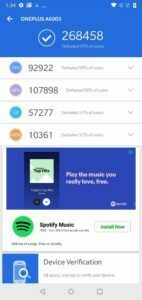 This is the highest score I've ever got in Antutu! It even outscored the Samsung Galax S9 and S9+. Check the screenshot below: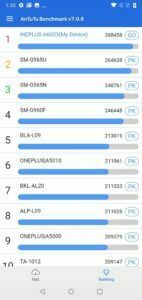 Now that I have the one of the fastest phones in the planet, how does it translate to real world performance? It was excellent! The combination of the fastest processor and 6GB of RAM ensures that I don't encounter any bottlenecks during my usage. During my COMPUTEX trip in Taipei earlier this month, I relied on it heavily for communication, mobile blogging and social networking. It did not give me any issues for the whole busy week.
It's also an ideal gaming phone. I played PlayerUknown's Battlegrounds (PUBG Mobile) and Asphalt 9: Legends and they all performed smoothly. Both games were set to the highest video quality and they did not stutter at all. The only small issue I encountered here is the phone getting slightly hot during long gameplays.
I always use the Face Recognition display and it worked most of the time even in low light conditions. The alert slider found on the right side of the phone was very helpful during situations I had to set it on mute instead on fumbling on the shortcuts in the notification bar.
THE CAMERA
Dual-Cameras are not new to OnePlus, having used this setup since the OnePlus 5. Most of the photos I took turned out sharp and I'm generally satisfied with the results. There were some photos fellow bloggers took with their Huawei P20 Pro which I compared with the ones taken with the OnePlus 6, and I admit it's no match to the former's imaging prowess. I don't mind at all. What matters to me is the phone is capable of taking pictures with quality that is still better than all mid-range level phones. Here are some sample photos:
THE BATTERY LIFE
The battery capacity of the OnePlus 6 is 3,300 mAh. I average at least 16 hours of usage on a single charge. This involves a lot of social networking usage, emails, YouTube streaming and 30 minutes of games. During my COMPUTEX trip in Taipei, I used the OnePlus 6 as my WiFi hotspot for my other phone. I averaged 9 hours per day while it was used as a hotspot. I can really say that the battery life overall was really impressive!
To charge the OnePlus 6, it is highly recommended to use the USB Dash Cable and Charger that came with the package. This will enable quick charging that can charge the phone up to 50% in more or less 30 minutes.
DR'S CONCLUSION – ONEPLUS 6 REVIEW
I have no plans to change to a new smartphone, but if ever I do I will pick the OnePlus 6. I'm aware it's not water resistant, doesn't have AI and its camera quality are nowhere near the other flagship phones. Nevertheless, the phone is one of the fastest in the world which I can rely on work, play mobile games at their highest settings and take photos that are above average than what mid-range phones can provide. I can settle for the base version of 64GB Internal Storage with 6GB of RAM that only costs P30,990 at Digital Walker. The OnePlus 6 Review made me so happy overall, so I am giving this phone a DR's Choice Award!
PROS:
Premium All-Glass Design
Fastest Snapdragon Processor with 6GB RAM provides unparalleled performance.
Can play mobile games at highest settings
Generally takes nice images
Flagship features for P30,000
CONS:
It's slippery
Camera quality is not at par with other flagship phones
Not water resistant
* Special thanks to Digits Trading for giving us the opportunity to review the OnePlus 6 Review unit. The OnePlus 6 is available at select Digital Walker outlets.